8 Albums To Get You Through Autumn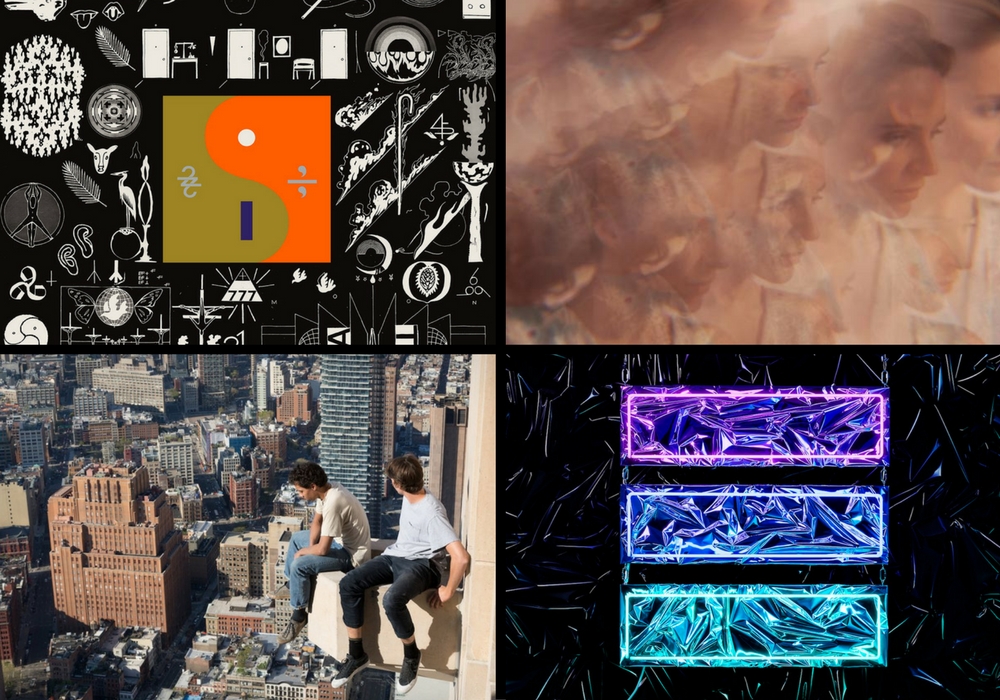 Dig out your gloves and scarves because autumn is upon us: the season for bonfires, fireworks and crunching leaves. The autumnal weather inevitably signals not only a change in our wardrobes, but also our listening habits – no longer are we yearning for sunny, beach-themed tracks. Instead, our playlists are filled with strong indie beats, low-key piano and warm, soothing vocals. We've selected 8 of our favourite recently released albums that will charge you through autumn and into December with a smile on your face.
Bastille – Wild World (Released: 9 Sep)
'Pompeii' may have been the song of the summer when it was released three years ago, but Bastille's latest album Wild World has got autumn written all over it. With the much-anticipated follow-up to Bad Blood comes change, progression and an eclectic mix of songs and styles that are an absolutely perfect accompaniment to the longer, colder nights. From the upbeat, radio-friendly tones of album opener 'Good Grief' to the slower, more melancholic tones of 'Two Evils', Dan Smith's distinctive vocals ring throughout to guide you through a mismatch of styles, inspiration and incredible pop storytelling – '80s pop culture references and all.
With Wild World, Bastille has come back bigger, better and bolder than before – and there's nothing better than soaring vocals and powerful anthems to get you through the turn of the season. With electro-pop influences, plucking guitar riffs and lyrics that always leave you something new to catch and hold on to, it's the perfect way to while away the autumn days. MD
Gavin DeGraw – Something Worth Saving (Released: 9 Sep)
Whilst DeGraw's brand of blue-eyed-soul is perfect for any season, his latest album is the ideal record to chase away the autumn chill. The singer-songwriter's music is always filled to the brim with soul, swaying rhythms and honest lyrics, and Something Worth Saving feels like a natural progression from 2013's Make a Move.
Though nothing could beat DeGraw's self-titled 2008 album, Something Worth Saving is an amalgamation of pop, light rock and bluesy beats – 10 songs that display DeGraw's maturity as an artist, each of them bringing something different to the musical table. 'Kite Like Girl' is one of the album's highlights, but it has strong competition from the heartfelt 'Harder To Breathe' and the supremely catchy, hand-clapping 'Annalee'.
DeGraw is one of the most consistent singer-songwriters around and if you've enjoyed his previous five studio albums, you won't be disappointed with the sixth. NX
Bon Iver – 22, A Million (Released: 30 Sep)
Supposedly conceived during a period of great personal struggle on a deserted Greek island, 22, A Million is modernity crumbling and rebuilding simultaneously – and that's forgetting the unfathomable cover art; it's the sound of a man exploring catharsis under new-age – and in instances self-made – principles of music-making, and then pushing it as far as his desire to rehabilitate requires him to.
Justin Vernon hinted at this last time, but it was far less calculated. Where previously the auto-tuned vocal snippets and off-kilter samples seemed to be implemented somewhat unnecessarily and as excess to the sombre songs beneath them, here they never feel abused. Instead, and much like all samples and loops on 22, any treatments assigned to tape are done so intuitively and with grave attention to detail, highlighting Vernon's ascension as a modern-day songwriter and composer. Look no further than track #3 for the best example, where what initially appears to be an improvised session between Vernon and his Vocoder quickly cements itself as a stunning minimalist ballad, arranged just so to give his voice the leverage to project all the gut-wrenching notes necessary to get your knees wobbling. 22, A Million should be taken as a tool for progress. Build with it, not against it. NT
Kings of Leon – Walls (Released: 14 Oct)
Kings of Leon's seventh studio album, Walls, is a great return for the Nashville boys, going back to their roots of raw guitar music.
Kicking off proceedings is the thundering lead single, 'Waste A Moment', with its punchy sing-along choruses reminiscent of 2008's 'Use Somebody' – this is alternative music at its best. While the entire album is worthy of repeat listens, 'Reverend' is a standout point, taking a slower pace with powerful vocals from frontman Caleb Followill and impressive guitar rhythms allowing the music to do the talking.
Unlike previous offerings, Walls has a much more relaxed feel with 'Conversation Piece', 'Wild' and 'Muchacho' having a soft, subtle sound that will please Kings of Leon fans new and old alike. CD
Two Door Cinema Club – Gameshow (Released: 14 Oct)
Two Door Cinema Club released their third studio album at the beginning of October and it proved to be their best offering yet, with plenty of catchy pop melodies to keep toes tapping way into November.
'Are We Ready? (Wreck)' sets the tone for the album and features everything you could want from an opening track – it's fun, original and great to bounce along to. Yet it's 'Bad Decisions' that resonates after the album ends, with an 80's inspired feel complete with synthesizes and electric keys.
Overall the album takes a different approach to previous records from the band, showing their willingness to experiment in style and creativity. CD
Agnes Obel – Citizen of Glass (Released: 21 Oct)
It's a travesty that more people haven't heard of Agnes Obel. The platinum-selling Danish singer/songwriter is one of the very few artists who doesn't follow trends. Ethereal vocals and layered string arrangements characterise her new album, Citizen of Glass, giving the whole thing a very gothic, mournful sound. A more sweeping, experimental record than Philharmonics (2010) and Aventine (2013), this latest collection is gloriously eerie, delicate in places and shrill in others.
The abstract nature of the album might not please fans of the more intimate previous two, but this is one of the most atmospheric and accomplished albums you'll hear all year. As usual, there are instrumental tracks like 'Red Virgin Soil', but it's when Obel's vocals merge with the instruments that everything comes together so beautifully, as heard in 'Mary' – an almost six minute long song that closes the album. One listen just isn't enough. NX
Jimmy Eat World – Integrity Blues (Released: 21 Oct)
The ninth (yes, ninth!) studio album from Arizona rockers Jimmy Eat World feels very much like a brand new chapter for the band. They've been around for over twenty years and to hear them branch out is immensely satisfying for anyone who's followed the band since the Bleed American/Futures days. This is the boldest and most confident the four-piece has ever sounded and whilst lead singer Jim Adkins keeps that trademark sound running through Integrity Blues, it's good to hear how far they've progressed.
While 'Through' is classic Jimmy Eat World, tracks like 'Integrity Blues' or 'Pass the Baby' – with its killer Royal Blood-esque rock instrumental from the 4-minute mark – reveal a fearless, experimental side to the band, one that's not afraid of taking risks to win new, younger listeners. This is definitely one of 2016's best rock records. NX
Empire of the Sun – Two Vines (Released: 28 Oct)
Although autumn is in full swing, that's no reason to ditch all the sunny-themed albums. Two Vines, released by Aussie two-piece Empire of the Sun, is an upbeat record that will keep you feeling summery going into the winter months, and beyond.
Track highlights include 'To Her Door', 'First Crush' and 'Lend Me Some Light', which all tone down the overall pace of the album, often feeling like you're listening to an entirely different band. However, the album's standout song is 'Ride', which is fun, catchy and memorable – the perfect single release.
Combining everything that's good about the band's latest release, 'Digital Life' is an enigmatic track featuring high falsettos and electric keys – something you can listen to over and over again. And that's the beauty of this album – it gets better with each play. CD