10 of the best new books to read this September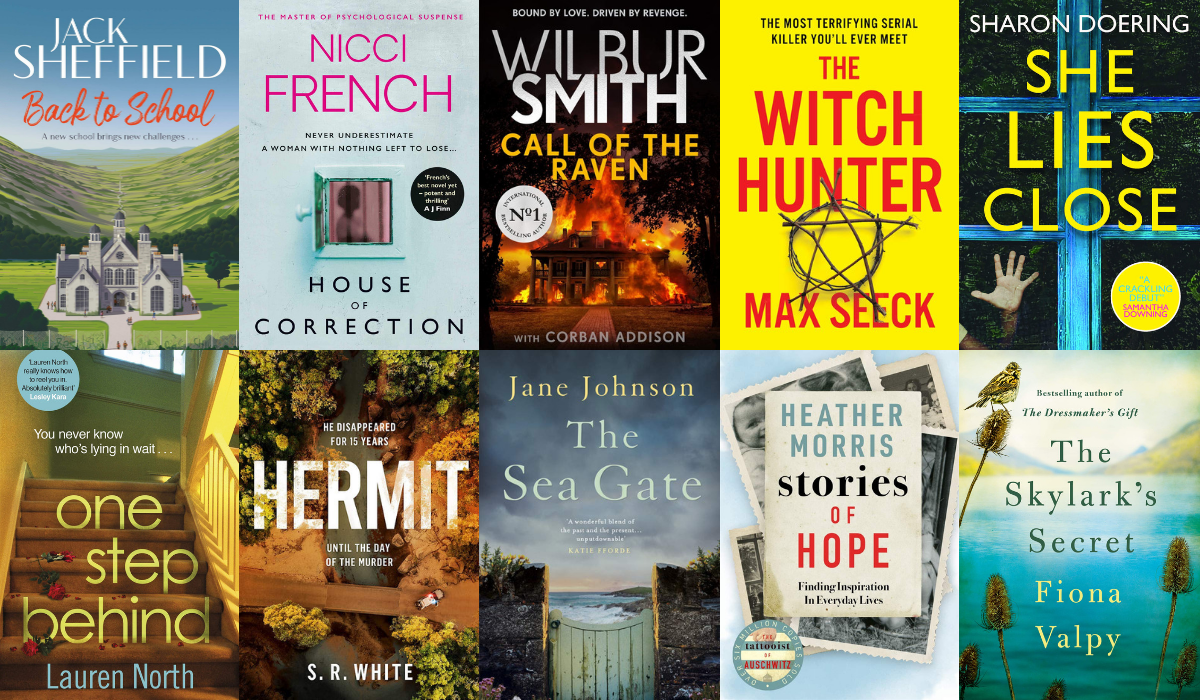 September is a bumper month for the world of publishing, with hundreds of new books released last week, and many more to follow in the next few weeks. Even the most dedicated of bibliophiles will be feeling overwhelmed by the sheer volume of new books being published at the same time.
Whether you love settling down with the latest thriller, or are in need of a novel that will help you cling on to summer just a little bit longer, there's unequivocally something for everyone hitting shelves this month. Here's our pick of some of the best books September has to offer.
Be sure to check out our latest reviews for more on this month's new books.
The Sea Gate by Jane Johnson
Jane Johnson's latest novel is a beautiful generational story set against the backdrop of Cornwall that weaves between WW2 and the present day. When she discovers a letter from her late mother's elderly cousin begging for help to save her beloved home, Rebecca travels to the crumbling Cornish house. Peeling back the paint and plaster, she begins to uncover secrets that have been buried for more than seventy years – secrets of love, tragedy and the chaos of wartime. A perfect fusion of history, romance and mystery, The Sea Gate is an atmospheric and heart-warming novel that's easy to lose yourself in. (3 September, Head of Zeus)
Back to School by Jack Sheffield
As children head back to the classroom, what better time to indulge in a nostalgic book about a teacher navigating his first year at a primary school. It's 1969 and newly qualified Jack Sheffield is appointed to a rough school on a North Yorkshire estate that looks more like a prison. Heather View is underfunded and helmed by a head teacher who doesn't seem to care, but Jack is determined to give the students a good education. In these uncertain times, there's a certain comfort in taking a trip back to a simpler era. Add in Sheffield's wry humour and witty observations and this is a genuine joy to read. (3 September, Bantam Press)
One Step Behind by Lauren North
Jenna is a doctor, a wife and a mother. She also has a stalker. He leaves disturbing gifts at her door, sends cruel emails to her colleagues and she sees him every time she leaves her house. She doesn't know who he is and she feels powerless. That is until the day he's brought into Jenna's hospital after a serious accident and suddenly it's Jenna who has the power. But what is she willing to do to keep it that way? Fuelled by an instantly intriguing premise, One Step Closer is a gripping and pacy psychological thriller that constantly keeps you guessing. (3 September, Corgi)
Call of the Raven by Wilbur Smith with Corban Addison
Pushed back from its original publication date in April, readers have had a long wait to get their hands on Call of Raven – the prequel to A Falcon Flies. But, as with every one of Wilbur Smith's books, it was worth waiting for. This action-packed historical adventure follows the equally loved and despised Mungo St John – who first appeared forty years ago –  as he travels down a dark path of vengeance and survival. This is the very definition of a page-turner but what makes it so compelling is its complex protagonist, a character described by Smith as "both Dr Jeckyll and Mr Hyde". It's a must-read for fans of the Ballantyne series. (3 September, Zaffre)
House of Correction by Nicci French
Tabitha is awaiting trial for the murder of a man. There's a strong case against her and whilst she can't remember what happened on the night of the crime, she's convinced she didn't kill him. So convinced that she decides to represent herself and prove to everyone else that she's innocent – not an easy task when you're an outcast and are living within the confines of a cell. The latest book by Nicci French – the pseudonym for writing duo Nicci Gerrard and Sean French – is a smart and suspenseful courtroom drama that's darkly amusing and entertaining too. (3 September, Simon & Schuster)
She Lies Close by Sharon Doering
Sharon Doering's debut psychological thriller centres on recently divorced insomniac Grace, who moves into a new house with her two children in search of a fresh start. Instead, she finds herself living next door to a strange middle-aged man suspected of being involved in the disappearance of a five-year-old girl. As gossip swirls, Grace develops a fixation with Leland, her suspect neighbour, and she becomes increasingly desperate to uncover the truth of what happened to little Ava Boone. A dark, emotionally charged story that explores mental health, motherhood and dangerous obsession. (8 September, Titan Books)
The Witch Hunter by Max Seeck
The first book in Seeck's Helsinki-set crime series follows Detective Jessica Niemi as she takes on a case involving brutal murders that mirror scenes from a bestselling author's novels. Jessica soon realises that this is not the sadistic work of a single person and as the clock starts ticking down, the detective has a race against time to catch the killers before they claim yet more victims. If you only read one nordic noir novel this Autumn, make it The Witch Hunter – a chilling female-led thriller that will please fans of Lisbeth Salander and Stieg Larsson's Millennium trilogy. (17 September, Welbeck Publishing)
Hermit by S. R. White
When a shopkeeper is killed in the wild bushlands of Australia, the prime suspect is the silent man found at the scene of the crime – a man who vanished 15 years earlier. Why did he disappear and where has he been? Is he dangerous and did he kill the shopkeeper? These are the questions that plague detective Dana Russo, who has just 12 hours to interrogate him and persuade him to speak. The increasingly intense interviews will force Dana to confront both the man's past and hers too. Like Chris Hammer before him, S. R. White has written a tense, compulsively readable crime novel that immerses you in the atmosphere of rural Australia. (17 September, Headline)
Stories of Hope by Heather Morris
With her debut, The Tattooist of Auschwitz, and its follow-up, Cilka's Journey, Heather Morris gifted readers with fictions inspired by true stories of love and survival in the face of adversity. Her new non-fiction book expands upon the people and tales that Morris previously wrote about, including the life of Lale Sokolov, the real life tattooist she befriended. Stories of Hope is ultimately a book about the art of listening and its power to inspire hope. Exploring the tales of people she's met and listened to over the years, Morris shares their stories and what we can learn from them: compassion, understanding, patience, resilience and courage. As we move further away from the events that defined history, it's more important than ever to carry on these stories into the future. (17 September, Manilla Press)
The Skylark's Secret by Fiona Valpy
Based on the true story of the Arctic Convoys which set off from the shores of Loch Ewe during World War II, The Skylark's Secret is the tale of a gamekeeper's daughter who falls in love with the laird's son who is called away to serve on the convoys. Decades later, singer Lexie leaves London's West End and returns to the small highland village, where she discovers secrets that make her question everything she thought she knew about her parents and the sacrifices they were forced to make. With an evocative setting and immersive historical detail, Fiona Valpy's latest novel is a moving drama about family, love, grief, forgiveness and belonging. (29 September, Lake Union Publishing)