Book Review: Star Wars – Resistance Reborn by Rebecca Roanhorse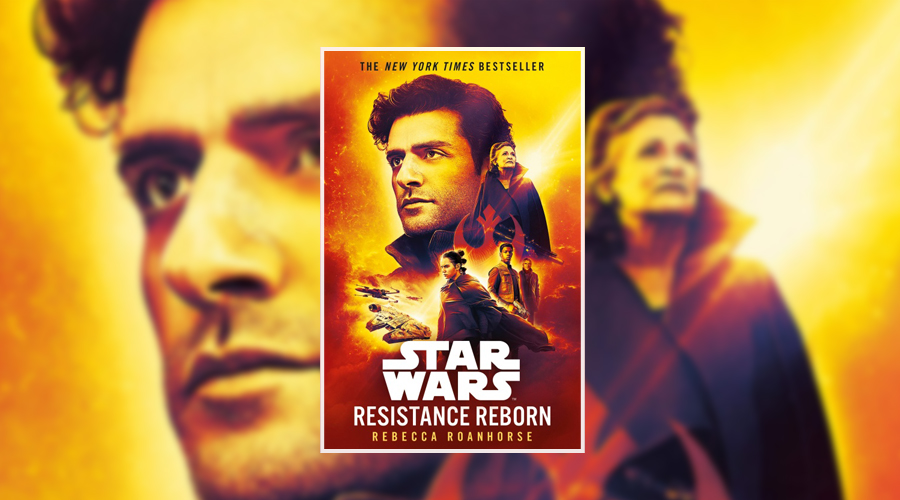 As you'd probably expect from a Star Wars novel, Rebecca Roanhorse's Resistance Reborn reads like an action blockbuster, jumping from scene to scene and from character to character in a whirlwind of excitement that feels right at home in this franchise. Between exciting new missions to complete, wonderful new planets to explore and the threat of the First Order looming large over everything, this novel fits seamlessly into the wider canonical Star Wars universe and, best of all, it's an enjoyable read in and of itself too.
Resistance Reborn bridges the gap between 2017's The Last Jedi and 2019's concluding film The Rise of Skywalker, telling the story of the Resistance survivors in the immediate aftermath of the Battle of Crait as they grieve their losses, come to terms with their mistakes and attempt to build themselves and their forces back up to continue the fight against the First Order. The driving force of this novel is a simple one: in the wake of the devastating losses suffered in The Last Jedi, the Resistance needs leaders, generals and strategists, and it's down to our heroes to track them down and recruit them to the cause after General Leia Organa's last call for help went unanswered. Of course, it's a task easier said than done when it becomes apparent that the First Order is also rounding up Rebel sympathisers and high-ranking officials and shipping them off to labour camps where they're meant to fade into obscurity, leaving those brave enough to help fight isolated and scattered across the galaxy.
But mostly, this novel is about one Poe Dameron in particular, as he continues to come to terms with the consequences of his actions in The Last Jedi – and in that regard, Resistance Reborn is an absolutely necessary book. This novel tracks Poe's early progress from the "trigger happy flyboy" who disobeyed direct orders and led a mutiny that resulted in the decimation of the Resistance's ships and numbers and sees him take the first steps towards becoming the leader that we're introduced to in The Rise of Skywalker. Resistance Reborn, then, sees Poe set out to make amends, to admit his mistakes and make the choice to do better next time, and encourage others to do the same too.
"That was it, then. She'd counted ten X-wings, an A-wing, Poe's loaner from the Hutt, two smaller civilian transports, and that yacht. Not a lot with which to fight your enemy, but more than they'd had yesterday. And so it would go. Every day more than yesterday until they had a fighting force. Or at least that was the idea."
As is the case in most classic Star Wars narratives, Resistance Reborn quickly splits its core cast of characters into different groups and follows each of them on their separate missions and, while none of these missions lack for action, fight scenes or humour, it's inevitable that some of these subplots hold up better than others. Perhaps unsurprisingly, Poe's story is a highlight as he and fellow Star Wars favourite Finn embark on a heist story, going undercover at a party in Coronet City on Corellia in a bid to get their hands on some important information that could help the Resistance. Between Poe's typically over-confident quips, his relationship with Finn and the underlying importance of Poe's story in particular, this is one plot line that quickly grabs your attention and, more importantly, keeps it even when the other narratives are at the forefront.
With this being an extended canon book, we're also re-introduced to some characters that aren't in the films but appear in other media, and it's gratifying to see that they easily fit in to the story being told here. Shriv Suurgav returns, leading the mission to liberate starfighters from Bracca and proving a stand-out character in his own right, while more members of Poe Dameron's Black Squadron continue to play a key role in the Resistance's efforts in this book – not least in serving a key purpose in Resistance Reborn's underlying driving force of helping Poe come to terms with his actions and grow from them. By contrast, Leia and Rey are peripheral figures here, with Rey's severely limited role feeling particularly extraneous, while Leia at least gets to make key decisions and serve as a model for Poe and his own emerging leadership style.
As a whole, Resistance Reborn is strong entry in the wider Star Wars canon, even if the story itself isn't particularly unique or unexpected. We know, going into this, that the key players are going to live to see another day (and star in another film), so any threats to the likes of Leia, Rey, Chewbacca, Finn or Poe are simply inconveniences to overcome, and not something that will leave readers with any huge amounts of tension or fear. But that doesn't stop this novel from being an entertaining new story that's rich in nods and links to its source material. Resistance Reborn answers some of the lingering questions left after The Last Jedi, particularly with regards to how the Resistance began to build itself back up again to the operation we saw in The Rise of Skywalker, making this a must read for all Star Wars fans looking to enjoy every adventure possible.
There's nothing new here and nothing that will particularly enhance your viewing of the films, nor will it fill in all the gaps of the one-year jump between the two films either. But what you will get is a charming and enjoyable Star Wars adventure that focuses in on one of the sequel trilogy's best-loved characters and gives the Resistance all the hope it needs after one of its darkest days to begin to build itself back up again and continue the fight.
★★★
Star Wars: Resistance Reborn was published by Del Rey Books on 25 August 2020