Book Review: All The Stars and Teeth by Adalyn Grace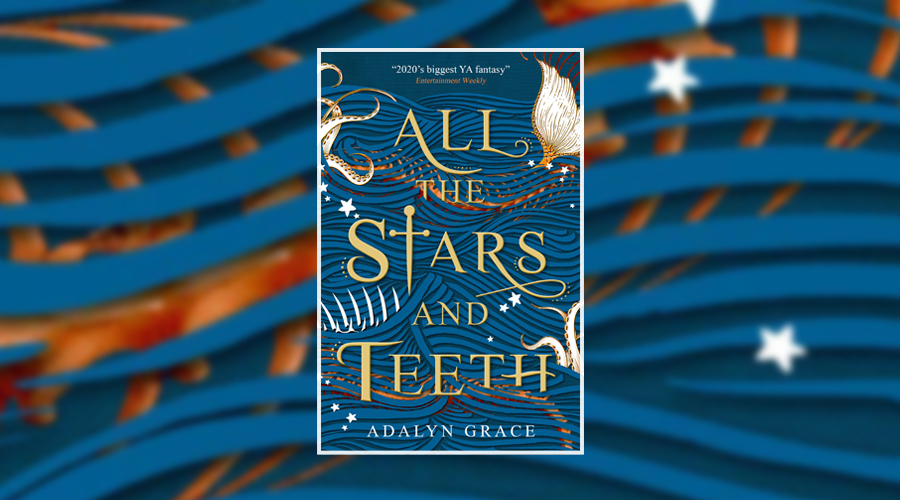 With the bewitching magic of Stephanie Garber's Caraval and the seafaring adventures of Alexandra Christo's To Kill A Kingdom, Adalyn Grace's All The Stars and Teeth is one of this year's most exciting YA fantasy debuts. It takes readers on a treacherous voyage across the high seas, introducing a rag-tag crew consisting of a princess, a pirate, a magical healer and a mermaid. They might be a motley bunch but if there's one fictional gang I'd like to join, it's definitely this one.
As princess of the island kingdom Visidia, Amora Montara has been training her whole life to take over from her father as High Animancer, the master of souls. The rest of the realm have the freedom to choose their magic, anything from healing to time manipulation to controlling the elements, but Amora's was preordained from birth. Yet before she can secure her place as the heir to the throne, Amora must display her magic in front of her people and prove her mastery of the dangerous soul magic. Amora has always had faith in her ability but on the one night she mustn't fail, she does exactly that.
Losing control during her demonstration, Amora brutally and publically tortures a man to death. Imprisoned and facing the possibility of execution, she's unexpectedly freed by a mysterious pirate called Bastian, who strikes a deal to help her not only prove she's fit to rule, but to hunt down an enemy that threatens the entire Montara reign. In return, Amora agrees to help Bastian reclaim the magic that was stolen from him, at the same time breaking the curse that saw him flee his own home. Their voyage will see them cross paths with legendary sea monsters, duplicitous soldiers and a vengeful mermaid who might just be their ace card.
There's nothing quite like a seafaring tale to remind me why I love fantasy so much. All The Stars and Teeth invites us aboard a ship that's more than it seems, with a cryptic, overconfident captain at its helm, evoking an adventurous Pirates of the Caribbean feel that's impossible to resist. The story crackles with magic – both the enchanting, good kind that makes you wish magic existed in the real world, and the frightening, bloody kind that makes you actually glad it doesn't. Grace balances the magic with action, romance, beautiful world-building and sincere emotion, making this a coming-of-age tale that's both captivating and high-stakes.
Yet the story wouldn't be half as entertaining if the central crew weren't such a loveable bunch. Amora is a courageous and inquisitive protagonist who wants the best for her kingdom. Unburdened of her role as princess, she feels free sailing across the ocean, discovering a kindred spirit in Bastian, who's spent his whole life running from his own home but also yearning to return. Amora's sense of duty makes her a character you want to succeed and not a chapter goes by where you're not cheering her on. Also along for the ride is Ferrick, Amora's betrothed who is almost too nice for his own good, and a fierce mermaid called Vataea, who's hands down the real star of the story and deserves her own spin-off.
Refreshingly, Grace gives her novel a satisfying ending that could just about stand-alone. Thankfully it doesn't have to, with a sequel, All the Tides of Fate, due next year. If only I could perform time magic and get my hands on it now…
★★★★
All the Stars and Teeth was published by Titan Books on 4 August 2020