10 books that are perfect gifts for Father's Day 2019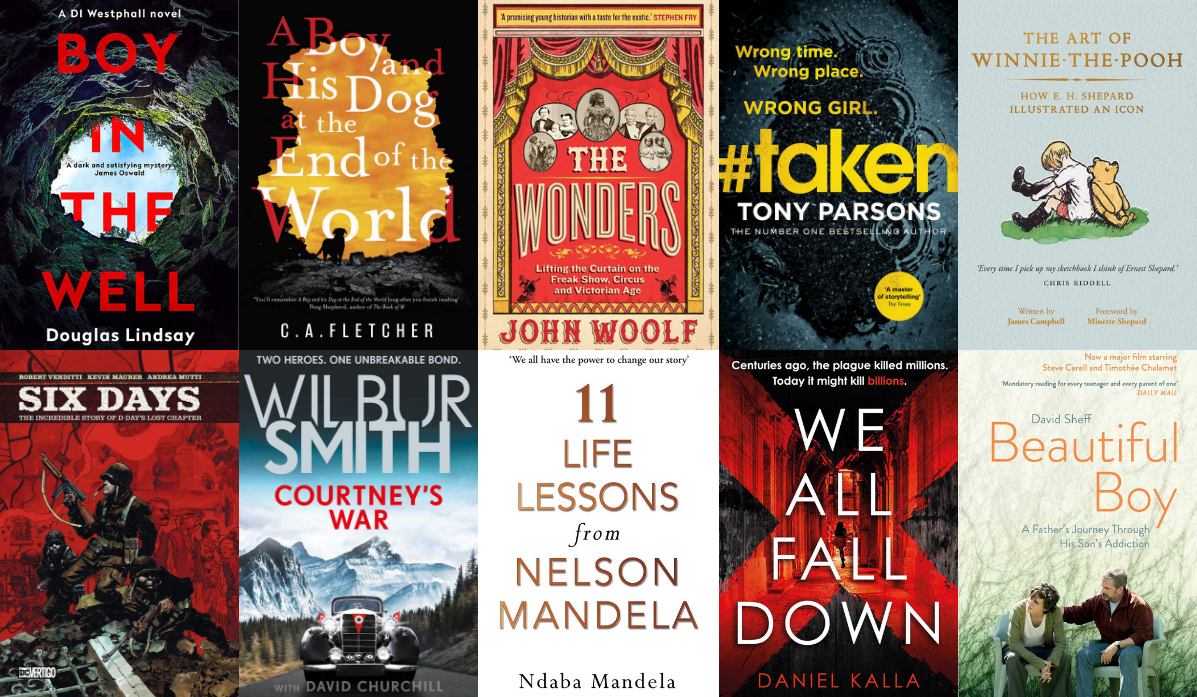 Father's Day is fast approaching on the 16 June, 2019. We've got you covered with ten books to suit every Dad's bookish taste, from wise life lessons and fascinating non-fiction to gripping thrillers and historical tales.
11 Life Lessons from Nelson Mandela by Ndaba Mandela
At eleven years old, Ndaba Mandela was invited to live with his grandfather, despite only having met him once during a prison visit. Their relationship grew and evolved over the years, with Ndaba learning from his grandfather's perceptive principles and profound life lessons.
Told with the kind of personal understanding that could only come from someone who knew and loved Mandela, this book is more than just a memoir or a biography.
It's a candid insight into the man behind the many myths, exploring his philosophies on injustice, forgiveness, resistance and freedom. (2 May, Windmill Books)
Courtney's War by Wilbur Smith
The highly anticipated sequel to 2017's War Cry is a must-read for Wilbur Smith fans. It reunites readers with lovers Saffron Courtney and Gerhard von Meerbach as they're torn apart by World War Two.
Now a Special Operations Executive, Saffron is hunted by the Nazis after being sent to Belgium to investigate an intelligence leak, whilst Luftwaffe pilot Gerhard is forced to fight for the regime he opposes, enduring the Battle of Stalingrad, before being embroiled in the 20 July plot.
This latest installment in the Courtney Series is an epic, sweeping historical novel of love, courage, betrayal and the brutality of war. (16 May, Zaffre)
Taken by Tony Parsons
When a young mother is mistaken for the mistress of one of London's most powerful gangsters and kidnapped whilst driving home with her baby in the backseat, DI Max Wolfe is called in to investigate the crime.
His hunt for the missing woman takes him into a world of career criminals, dark, dangerous secrets, and blurred lines between justice and revenge.
Tony Parsons' sixth book following the determined Detective Wolfe is a fast-paced, twisty and cleverly plotted crime novel that will have you hooked from start to end. (18 April, Century)
We All Fall Down by Daniel Kalla
Daniel Kalla's epidemic thriller centres on NATO infectious diseases expert Alana Vaughn as she investigates a devastating strain of the plague, which killed more than a quarter of the world's population eight hundred years ago.
With the sickness already spreading, Alana teams up with Byron Menke, her counterpart at the World Health Organisation, and the two face a desperate race against time to discover the source of the disease before it's too late.
Fascinating and frightening in equal measure, We All Fall Down is reminiscent of Dan Brown's Robert Langdon book series, with a large helping of Contagion thrown in for extra suspense. (2 May, Simon & Schuster)
The Art of Winnie the Pooh by James Campbell
This beautiful keepsake book offers a behind-the-scenes look at the evolution of English artist and book illustrator E. H. Shepard's work – from his early sketches through to the more refined artwork we know and love today.
It's a rare treat to see the first ever drawing of Pooh Bear, as well as get a glimpse at family photographs and memorabilia.
The Art of Winnie the Pooh is perfect for anyone who loves A. A. Milne's beloved Bear of Very Little Brain and art in general. (1 November, LOM Art)
A Boy and His Dog at the End of the World by C. A. Fletcher
Fans of Adrian Walker, M. R. Carey and Sarah Davis-Goff will love Fletcher's post-apocalyptic tale about the end of the world and the devotion between a boy and his canine companion.
Griz has lived a sheltered life on a remote Scottish island, shielded from the rest of ruined Britain. When a thief steals his dog, Griz leaves his safe haven and ventures out into a forgotten world, discovering the extent of its collapse and gaining a greater understanding of what matters in life.
Fletcher combines suspense and human drama with vivid world building and compelling characters, resulting in a deeply poignant story. (25 April, Orbit)
The Wonders by John Woolf
Historian John Woolf lifts the curtain on the extraordinary performers and circus acts whose talents and 'freak' appearances helped to define the Victorian era.
Coming hot on the heels of the popularity of The Greatest Showman, The Wonders introduces readers to a world of supreme spectacle; of giants, dwarfs, bearded ladies, Siamese twins and the many marginalised people pushed to the back of history books.
It's full of fascinating, tragic, thought-provoking and heart-warming real life stories of people who embraced their differences, using their disabilities to their advantage and becoming celebrities in their own right. (2 May, Michael O'Mara)
Beautiful Boy by David Sheff
Reissued to coincide with the film adaptation released earlier this year, David Sheff's memoir chronicling his son's crippling drug addiction and his difficult road to recovery really packs a punch.
It explores the trials of fatherhood with heart-rending detail and the helplessness of a parent watching their child descend into substance abuse.
First released over ten years ago, Beautiful Boy isn't an easy read but it's an incredibly moving and important book told with real honesty and insight. (27 Dec, Scribner)
Six Days: The Incredible Story of D-Day's Lost Chapter
War novels and historical non-fiction books have long been a staple Father's Day gift but Six Days offers up something a little unusual.
With intense, life-like art, Venditti and Maurer's graphic novel tells the true story of a group of American paratroopers who land in the French countryside a full eighteen miles southeast of their intended target, deep into enemy territory. The French citizens of Graignes vote to look after the soldiers, knowing full well what will happen if the Germans catch them harbouring Americans.
What unfolds is a tale of survival, bravery, morality and loyalty that captures both the cruelty of war and the kindness of strangers. (14 May, DC Vertigo)
Boy In The Well by Douglas Lindsay
The second book in the DI Westphall series returns to the Scottish Highlands for another darkly compelling and atmospheric murder mystery.
When the recently deceased body of a young boy is discovered at the bottom of a well that's been sealed for two hundred years, Westphall has the unenviable task of identifying #Boy9.
As with Lindsay's previous book, Song of the Dead, this is no ordinary investigation and the list of suspects isn't as clear-cut as it initially seems. Lindsay blends the past and present with eerie, supernatural undertones, building a mysterious puzzle that you have to unravel. (30 May, Mulholland Books)