The Umbrella Academy is a very good show. If you aren't completely hooked by episode 1 – I was, but that might just be my stanning for Ellen Page – then you will be before the season is done.
Part of what makes the show so entertaining is the wonderful ensemble cast, with Aidan Gallagher's Five being a clear highlight for many viewers, though personally I adored Diego (David Castañeda) and Klaus (Robert Sheehan), along with Vanya (Ellen Page). It's also a perfectly soundtracked show, with standout scenes featuring songs that are as iconic as Sense8's 'What's Up', namely Toploader's 'Dancing In The Moonlight', Tiffany's 'I Think We're Alone Now' and, to a lesser extent, 'Shingaling' by Tom Swoon.
Adapted from the comic book series by Gerard Way and Gabriel Bá, The Umbrella Academy follows a group of people who were all adopted at birth by a billionaire industrialist and who, it turns out, in most cases, have unique powers.
Reunited by the death of their father figure, Sir Reginald Hargreeves, his adopted children return to their home as adults, having been apart for years. Fractured, yet inherently linked by the shared experience growing up with a father who designated them numbers instead of names, they are forced to find some kind of common ground when an apocalypse comes calling.
Hargreeves adopted seven children: Luthor/One (Tom Hopper), Diego/Two, Allison/Three (Emmy Raver-Lampman), Klaus/Four, Five, Ben/Six (Justin H. Min) and Vanya/Seven. Yet when they reunite Five is missing and Ben/Six is dead. The loss of two of the children is still affecting the internal relationships of the group. Through flashbacks we see them as children and learn more about the events which led to the more hostile or sympathetic dynamics between them. We also get to meet the other members of their makeshift family, including well rendered CGI chimp Pogo (voiced by Adam Godley), who takes more of an emotionally caring stance with the children, and robot/AI Grace (Jordan Claire Robbins) who mothers the children, performing the practical duties in the home.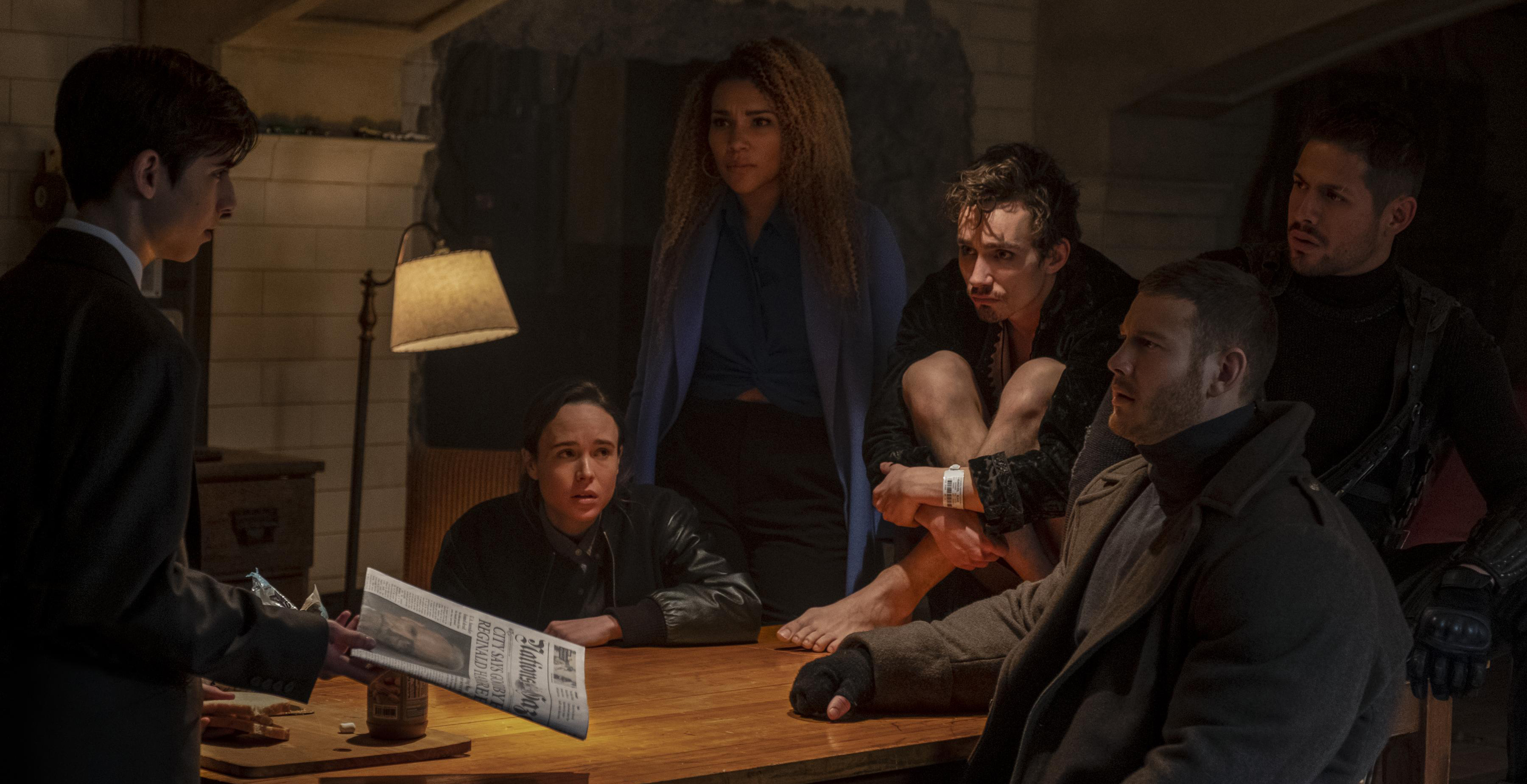 Naturally, with a host of colourful characters who are forced to work together to stop the end of the world, there's more than just one problem to solve. In addition to trying to avert the impending apocalypse, two hitmen, Cha-Cha (Mary J. Blige) and Hazel (Cameron Britton), have been sent after certain members of the family. There are also further family secrets waiting to be uncovered, and a mysterious organisation is hovering in the wings via The Handler (Kate Walsh).
The show manages to fit a number of branching storylines into its 10 episode first season and never gets lost or feels like it has filler. Even a "what if" style episode near the end of the season works well, showing the likes of the Titans series, also recently released on Netflix, how it should be done. There are some plotlines that I would've liked to have seen explored more, chiefly Klaus' relationships, and some – related to Luthor and Hazel – I could've had less of, but overall the balance is there.
The Umbrella Academy is a joy to watch. It's silly and action packed, with great visuals, good practical effects and a diverse cast of characters who showcase the different paths that one can take from the same upbringing, as well as how a gift can both empower or corrupt. It's like a grittier X-Men that doesn't make the mistake of going all DC movie on itself. TV shows about superpowered people are taking a turn for the weird, and it's a great lateral move for the genre. With DC's Doom Patrol set to bring another wonky anti-hero super-team to screens, hopefully The Umbrella Academy is only the tip of the iceberg. It's also already been renewed for season two, so if you end up loving it, there's plenty more to look forward to.
★★★★