It's 7:00pm, and in an Islington eatery down the road from Union Chapel, a motley crew is gathered. Label PRs, bloggers and journalists, they have convened to witness once again the heart-pulling power of live music. Veterans of many a show, they fall to anecdotal sparring, eyes shining, eager mouths stumbling over cherished stories. Stage lights blaze behind their eyes. Arancini and scallops fall to the sound of enthusiasm shared. A common language is spoken, gigs and artists giving emotions and experiences. Most of those present have not met before tonight, but in minutes the conversation passes from pleasantries to soul excavation.
The fulcrum on which this mind-meeting turns is an Australian band named The Teskey Brothers. Skinny, hairy beach bros in denim shirts and desert boots, a glance at them brings the sound of ukuleles flittering over the surf. Looks, however, can be famously deceptive, and Josh Teskey is a master of deception. Beneath his barbie-and-bevvies smile curls a voice of serious force. Otis Redding and Bobby Bland are there; the Black Crowes' Chris Robinson stalks in the shadows for 'Pain and Misery'. Together, the noise the group make is a sweet, strong soul, with blues piping at the seams.
Pack all that into Union Chapel and you've got yourself a classy gig. The press caravan winds its way into the balcony and the lights go. What follows is a hymn to timeless style, confirmation that popular music's power to move is not bound by fashion or decade. There's nothing new under the sun, and even less beneath the roof of Union Chapel this evening. The Teskey Brothers make no pretention to invention or alchemy. The music that they purvey had its belle epoque in the 1950s and 1960s, but in the hands of these young men, its sumptuous flavour is as tantalising as ever.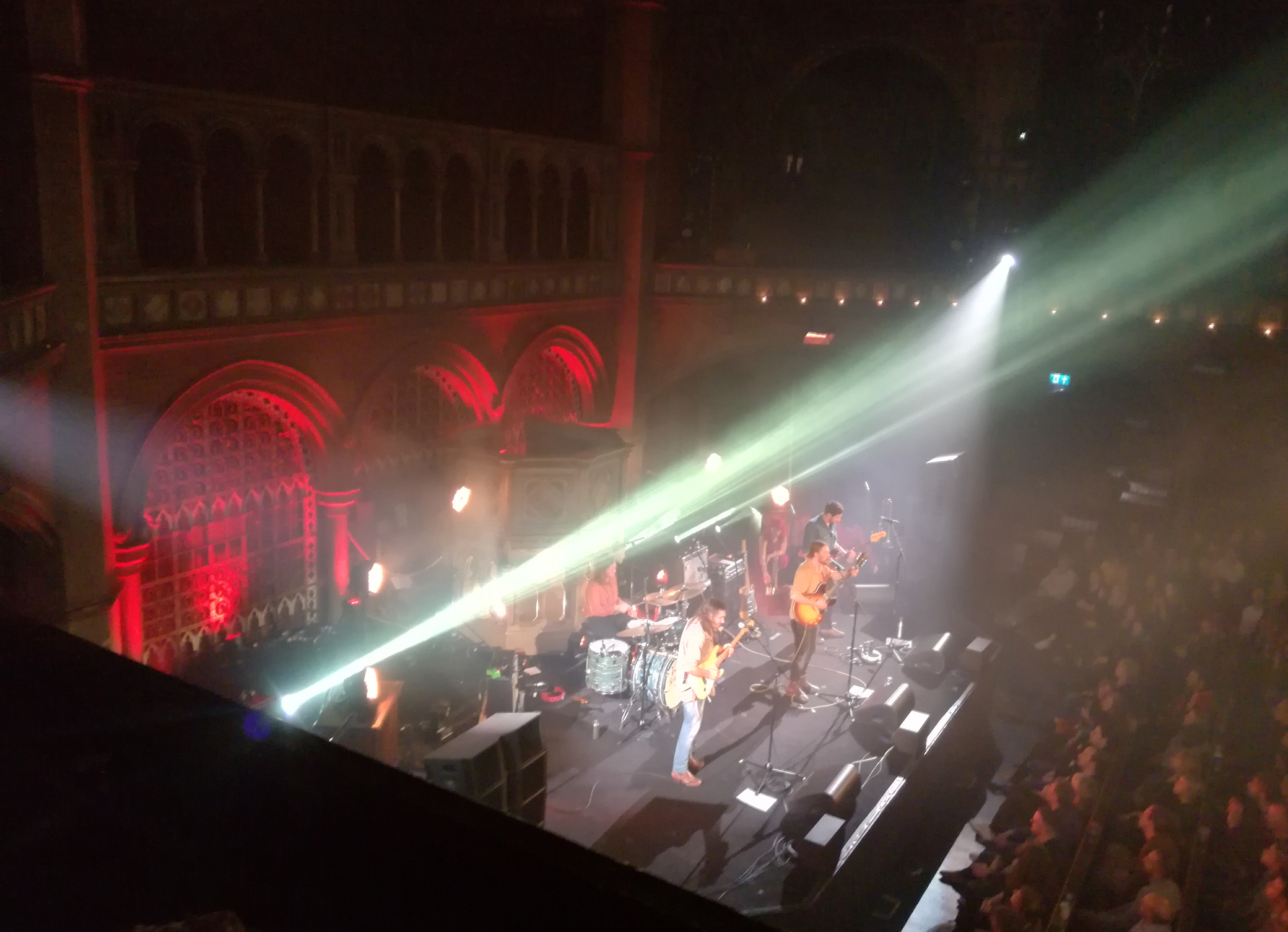 The set is a 90-minute swing through the tones of Detroit, Chicago and Memphis, complete with swabbling guitar tones, hopping basslines and harmonicas impersonating shouty wives, all tied together by that voice. There's a nagging suspicion that without Teskey's pipes, this bunch would still be duking it out with the ten thousand other blues bands in the world's bars – but they do have them, and with them it's a quite delightful experience. When he pulls away from the mic and roars over us a cappella, the goosebumps come out to play.
There are some choice moments – a decelerated cover of Michael Jackson's 'The Way You Make Me Feel'; the 12-minute 'Honeymoon', which manages to be so epic that Teskey actually warns us to brace up at the start without descending into dull noodling; a righteous double-barrel of brass solos during the encore.
It's an easy-going roll of a set, with plenty of gentle chitchat between numbers and a prevailing sense of fun. They may sing of heartbreak and loss in a musical language rooted in pain, but there's never any real sense that this performance comes from darkness. I see no demons exorcised beneath the pulpit. Instead, we're with four dudes honkin' the blues, taking the classical columns for juke joint stakes. We see that it's good.
A rough-hewn diamond of a show, made all the more joyous by the presence of excellent people. Get yourself acquainted with Josh Teskey's voice.