The best non-fiction, poetry and gift books for Christmas 2021

From celebrity memoirs and behind-the-scenes companions to poetry collections and special keepsakes, here's our non-fiction and gift book guide for Christmas 2021.
The Audacity by Katherine Ryan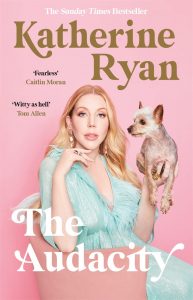 "I've come to accept that being audacious is a gift I can't escape", says Canadian comedian, writer and actress Katherine Ryan. And by extension, this memoir is a gift you don't want to escape. Full of Ryan's characteristic wit, courage and straight-talking honesty, The Audacity details her journey from a naïve waitress at Hooters to a superstar of comedy, with all the lessons and insights she's learnt along the way. If you're a fan of Ryan's stand-up shows, panels, sitcoms or podcast, this is an absolute must-read.
Buy now: The Audacity – Blink Publishing
Letters of Great Women by Lucinda Hawksley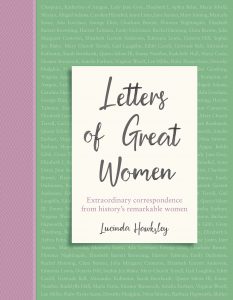 There have been many great women throughout history and the greatest tragedy is that they aren't alive to see much how their work and minds are appreciated today. That's why Lucinda Hawksley's Letters of Great Women is such a compelling and significant book. Structured around 50 letters, it celebrates extraordinary women in history, from all walks of life and from all around the world. Included in the collection are letters from Louisa May Alcott, Marie Curie, Rosa Parks, Katherine of Aragon, Ada Lovelace, Florence Nightingale, Eleanor Roosevelt, Amelia Earhart and many more. It's a beautiful coffee table book that holds great meaning and inspiration.
Buy now: Letters of Great Women – Welbeck
Baggage: Tales From A Fully Packed Life by Alan Cumming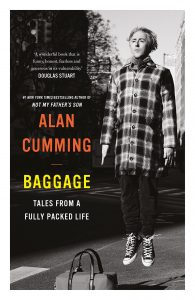 Following on from his 2014 best-selling memoir, Not My Father's Son, which explored his childhood in Scotland and his family history, Alan Cumming's new book delves into the actor's adult life – from his failed relationships and his struggle with mental health, to his professional triumphs and friendships with iconic figures in show business. Baggage reveals the highs and lows, the good and the bad of Cummings' life in and away from Hollywood, and how it's shaped who he is today. Candid, poignant, enlightening and hearteningly authentic, it's a wonderful, fearless book.
Buy now: Baggage: Tales From A Fully Packed Life – Canongate Books
You Are Your Best Friend: Everyday Rituals For Self Care by Anisa Makhoul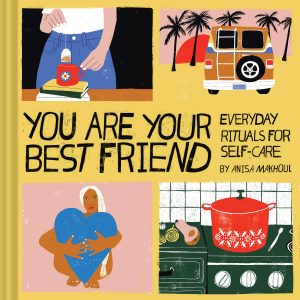 What does self care actually mean? In this bold and beautifully illustrated book, Anisa Makhoul offers thoughtful and uplifting tips for navigating the pressures of every day life. There's practical advice, fun activities, and strategies to help change your mind-set, filter out toxicity and cultivate self-love. The small size of the book means it's perfect for dipping in and out of when you need a little positive and empathetic encouragement too.
Buy now: You Are Your Best Friend – Chronicle Books
Pepsi & Shirlie: It's All in Black and White by Pepsi Demacque-Crockett & Shirlie Kemp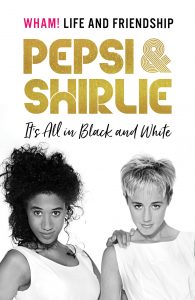 Pepsi and Shirlie have shared friendship and a musical bond for over 35 years. Now they've shared their story from the beginning, starting with their childhoods and their initial meeting in 1982 to their rise to stardom with Wham! and the successful careers that followed. It's All In Black and White is a book about friendship, fame and the highs and lows of life – both as a duo and individually. What shines through the book is the power of true friendship and how it endures through hardships, coming through stronger than ever.
Buy now: Pepsi & Shirlie – Welbeck
Big Veg by Gerald Stratford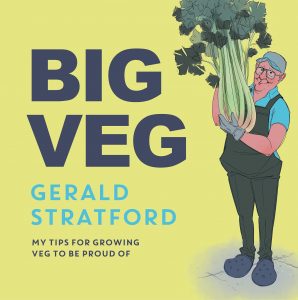 One of the positive things that many people took away from lockdown was the pleasure of growing your own veg – whether it's something as small as pot herbs or more adventurous veggies that need their own garden patch. In this gentle and informative handbook, Gerald Stratford, the gardening granddad and social media sensation, shows us how to grow-your-own with month-by-month guides and tips based on his decades of garden know-how. A perfect gift for anyone with green fingers.
And Away… by Bob Mortimer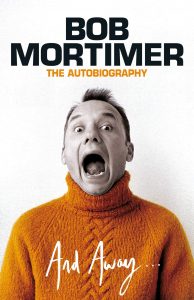 Bob Mortimer is without doubt one of the UK's best-loved comedians and it's not a stretch to call him a national treasure. He's most recently charmed and amused fans alongside long-time friend Paul Whitehouse in Gone Fishing and now he's delighting readers with his first autobiography named after the catch phrase made popular by the hit series. Like the man himself, And Away… is warm, funny and effortlessly entertaining, telling Bob's life story with a simplicity and sincerity that's impossible not to love.
Buy now: And Away… – Gallery UK
The Literary Almanac by Francesca Beauman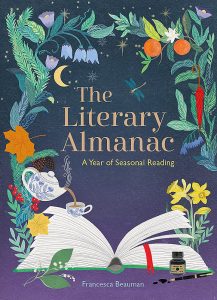 The Literary Almanac is THE perfect gift for bibliophiles. The book recommendations – which range from beloved classics like The Count of Monte Cristo and Anna Karenina to more recent favourites including Elizabeth Gilbert's City of Girls and Elena Ferrante's Neopolitan Quartet – echo the changing seasons and the way our reading habits shift at the same time. There are monthly musings, timelines, bookish listicles, extracts and fascinating titbits – not to mention original artwork that's so lovely you'll want to frame it all.
Buy now: The Literary Almanac – Greenfinch
Old Possum's Book of Practical Cats by T. S. Eliot / Old Toffer's Book of Consequential Dogs by Christopher Reid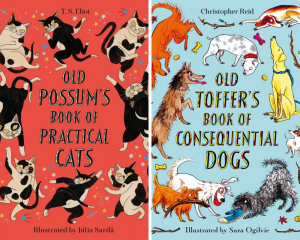 These witty poem collections make wonderful gifts for cat and dog lovers. Playfully illustrated in full colour by Júlia Sardà and Sara Ogilvie, they bring the words of T. S. Eliot and Christopher Reid to life in a fun and lively way. Old Possum's Book of Practical Cats is a perennial favourite, made even more famous by Andrew Lloyd Webber's musical Cats, whilst Reid's companion volume – written 80 years after Eliot's book – is just as charming.
Buy now: Old Possum's Book of Practical Cats – Faber
Buy now: Old Toffer's Book of Consequential Dogs – Faber
Fun, Fast & Easy Children's Cookbook by Annabel Karmel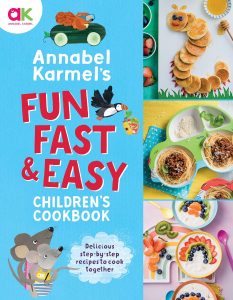 With so many foodie books published each year, it can be difficult to know which ones will actually add more flavour to your life. If you're looking for a book that will give you inspiration for family time in the kitchen, Annabel Karmel's Fun, Fast and Easy Children's Cookbook is packed with recipes that are both colourful and practical – and best of all, designed to inspire young minds. Featuring helpful tips, twists and allergy advice, the book has recipes for breakfast, lunch and dinner, with snacks and treats thrown in too. Every family with young kids should have a copy of this book on their shelf.
Buy now: Fun, Fast & Easy Children's Cookbook – Welbeck
The Black Leopard by Will Burrard-Lucas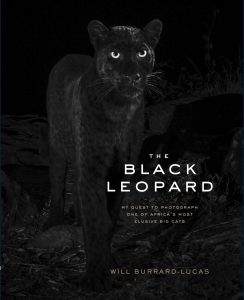 Published earlier in the year, this awe-inspiring book chronicles wildlife photographer Will Burrard-Lucas' journey to find the rare and elusive black leopard. Beginning with his childhood and path to becoming a photographer, the book tells the story of how Burrard-Lucas built his career and eventually succeeded in capturing a series of high-quality shots of the extraordinary, mysterious cat. Anyone with an interest in wildlife and photography will find this book fascinating and visually stunning in equal measure.
Buy now: The Black Leopard – Chronicle Books
Grown: The Black Girl's Guide to Glowing Up by Melissa Cummings-Quarry & Natalie A. Carter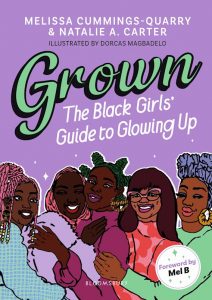 From the creators of the Black Girls' Book Club, a platform that champions literature by Black female writers, comes Grown – a celebration of Black British girlhood. Inspired by their own experiences growing up, Melissa Cummings-Quarry and Natalie A. Carter share stories and offer honest advice about living your own truth, on your own terms and without fear or apologies. The book has a foreword by Spice Girl Mel B, contributions from the likes of Dorothy Koomson and Candice Carty-Williams, and illustrations from Dorcas Magbadelo. It's an essential and empowering book that covers it all – identity, friendship, love, skincare, beliefs, money and everything in-between.
Buy now: Grown – Bloomsbury Children's Books
Supersonic: The Compete Authorised and Uncut Interviews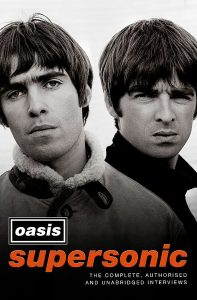 Compiled by the award-winning producer behind the Supersonic documentary feature film and told entirely through the bands own words, this book of authorised and uncut interviews offers a look back at Oasis' story – from dive-bar hopefuls to the global superstars they are today. Along with exclusive photographs and ephemera, the book features the transcripts that didn't make it into the two-hour documentary. Producer Simon Halfon calls it "a real testament to a band that genuinely mattered, and still does to this day." A sentiment that any Oasis fan will agree with.
Buy now: Supersonic – Headline
The Insider's Guide to Inside No. 9 by Mark Salisbury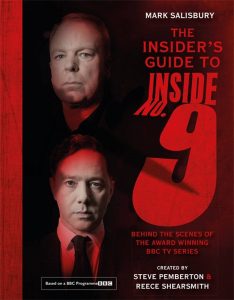 Take a behind the scenes tour of the award-winning series Inside No. 9 with this show-by-show guide. Delving into each episode, covering everything from the idea, scripting and casting to design, direction and production, The Insider's Guide gives readers access into the darkly funny minds of the show's creators Steve Pemberton and Reece Shearsmith. It's also chock full of photos, mood boards, concept drawings, artwork and interviews, making this the ultimate, in-depth companion book.
Buy now: The Insider's Guide to Inside No. 9 – Hodder Studio
Tomorrow Is Beautiful by Sarah Crossan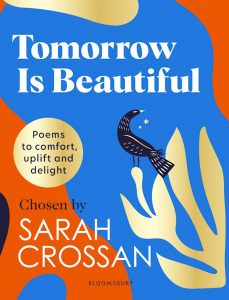 Tomorrow Is Beautiful is an uplifting collection of poems selected by Sarah Crossan, who also contributes her own beautiful words to the book. Whether you're an avid poetry reader or you're looking for some accessible poems to get you started, this selection features the likes of Anne Bronte, E. E. Cummings, Christina Rossetti, Maya Angelou and Shakespeare. Crossan describes the poems in this book as 'word cures' for dark days, and that's exactly what they are. A perfect book to lift the spirits and bring a little peace to your life.
Buy now: Tomorrow Is Beautiful – Bloomsbury YA
Chanel Paperscapes by Emma Baxter-Wright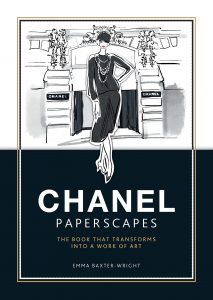 The Chanel Paperscapes book looks and feels like a work of art. Bringing to life the designs and story of influential couturier Gabrielle Chanel, it features die-cut pop-out illustrations that can be pressed out of the page, as well as six removable prints in the Chanel style. Fans of fashion will adore this keepsake, which delights from beginning to end.