Book Review: Toffee by Sarah Crossan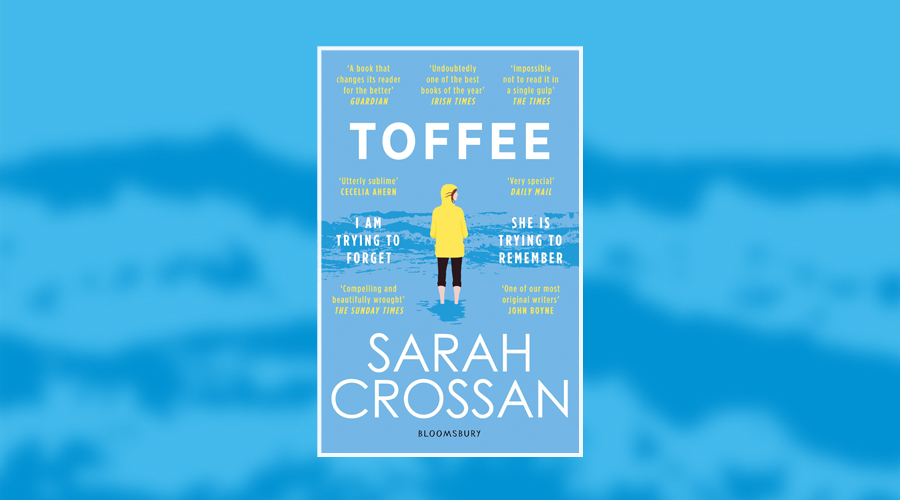 "I am not who I say I am. Marla isn't who she thinks she is. I am a girl trying to forget. Marla is a woman trying to remember." These four lines, taken from the second and third pages of Sarah Crossan's latest verse novel, perfectly encapsulate what Toffee is all about. It is a story of forgetting and remembering, of both running away from things and hurrying towards them. It is a tale of hurt, love, identity and friendship found in the most unlikely places.
The story opens with teenage runaway Allison fleeing her fractured home life and the clutches of a volatile father. She has nobody to turn to and nowhere to go until she stumbles upon a temporary safe haven in the home of Marla, a lonely elderly woman with dementia. Allison is used to hiding who she is, so when Marla mistakes her for an old friend called Toffee, Allison discreetly assumes the role she needs to keep herself off the streets. It's cruel and fraudulent but Allison isn't a bad person, she's just young and desperate.
At first, Allison sees Marla's home as a convenient stopgap. She has a roof over her head, she uses Marla's money to buy them both food, and she has company, albeit the company of a frail, ailing woman prone to confused outbursts. Marla's dementia makes her unpredictable; one moment she'll wholeheartedly believe that Allison is Toffee, the next she'll see through the façade and realise that a stranger has infiltrated her house. But the more time Allison spends with Marla, the more their unusual cross-generational bond grows, and the more she comes to care for her.
"A sound like optimism wakes me, a bird with so much music in his tiny body he is bullying us to begin the day – Wake up, come and see this world, he sings. Wake up, there are so many wonderful things. And here's me, a hundred times bigger with only half his voice and so little music inside me."
The idea of a YA novel told entirely through verse can at first feel a little daunting, yet Crossan has such a natural aptitude for words that any reservations are instantly forgotten within the first few pages. There's a simplicity to the verses that juxtaposes the weightiness of the subjects being explored – mental health, abuse, grief, loneliness, a devastating disease such as dementia – and the effect is altogether profoundly thought-provoking.
Allison has only a few relationships in her life but they've all shaped her as a person. She yearns for the mother she never knew and she feels a conflicted sense of devotion to a father who could never provide the love and care a child needs. She's also desperate to find her father's ex-fiancée, Kelly-Anne, the only parental figure to ever show Allison genuine affection. However, it's the relationship between Allison and Marla which is the most important because it shows Allison what it means to care for another person, to become a real friend, prompting her to question the meaning of family and home.
Toffee is the kind of book that unassumingly, without effort, curls around your heart and quietly steals it. Sarah Crossan makes you feel for Allison and, by extension, Marla and Kelly-Anne and all the real life people – young and old – who share their stories of loneliness, loss, despair and mistreatment. If you've never read a verse novel, this book is a wonderful place to start.
★★★★★
Toffee is published in paperback by Bloomsbury YA on 6 February 2020