The best non-fiction, poetry and coffee table books for Christmas 2019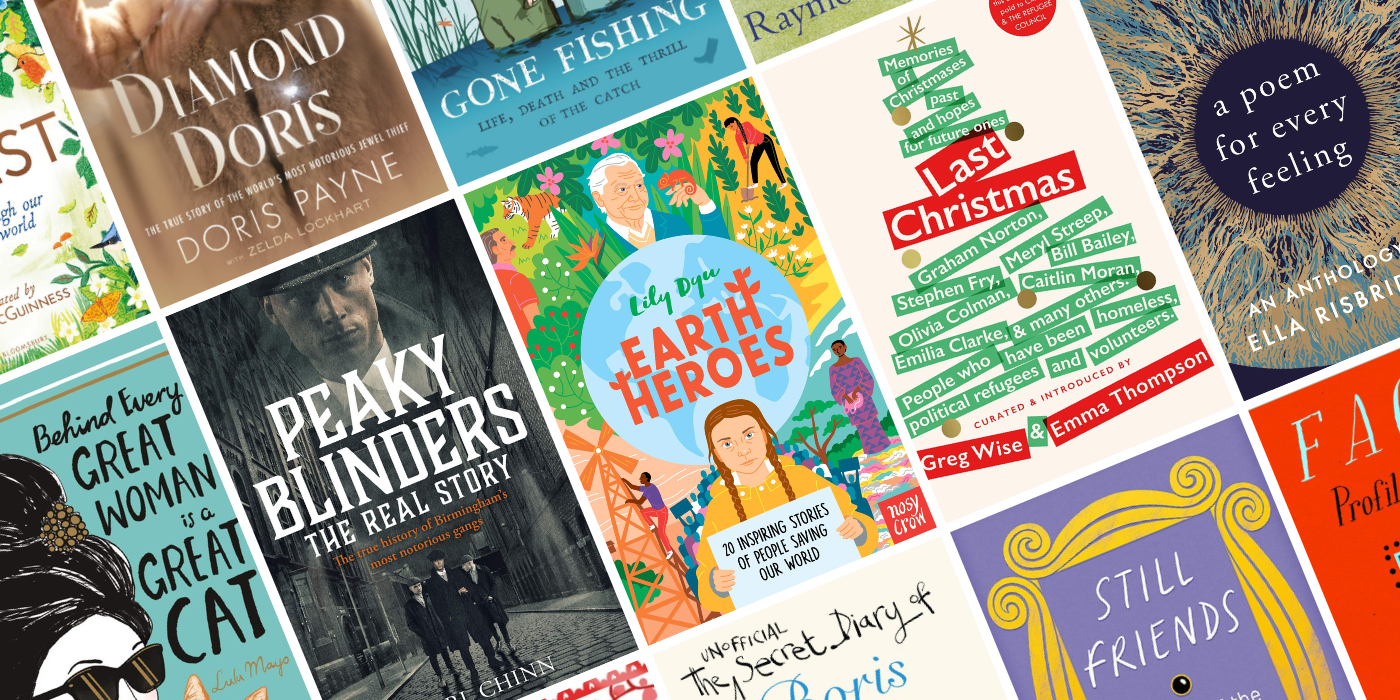 FROM POETRY AND POLITICAL SATIRE TO BIOGRAPHIES AND BRAIN TEASING BOOKS, HERE'S OUR PICK OF THIS YEAR'S BEST NON-FICTION GIFTS FOR CHRISTMAS.
1. Downton Abbey: The Official Film Companion by Emma Marriott
With a foreword by creator Julian Fellowes and lavish art deco stylings, the official Downton Abbey film companion transports readers behind the scenes of the 1920s-set movie.
It features gorgeous production photography, interviews with the cast and crew, and fascinating insight into the characters, costumes and royal history, as well as the sets and filming locations, including Shepperton Studios and Highclere Castle.
A sumptuous book for an equally sumptuous film.
Buy Now: Downton Abbey: The Official Film Companion – Headline, £12.94
2. My Brother, Muhammad Ali: The Definitive Biography by Rahaman Ali
Told from the perspective of his brother and best friend, this biography of Muhammad Ali offers an intimate insight into the iconic boxer.
Rahaman and Muhammad trained and travelled together, sharing pivotal experiences in both their lives.
Now, with warmth and candidness, Rahaman's poignant memoir reveals their very personal story: a portrait of brothers, family and a man who became a global legend. Perfect for the boxing buff in your life.
Buy Now: My Brother, Muhammad Ali – John Blake, £12.15
3. The Greater Freedom by Alya Mooro
Born in Cairo and raised in London, Alya Mooro grew up feeling like an outsider, pulled between two different cultures and struggling to form her own identity against what was expected of her.
The Greater Freedom is part memoir, part social commentary, as Mooro explores what it means to be a Middle Eastern, Muslim woman in modern society.
Both witty and wonderfully written, it's an essential read that examines cultural stereotypes and the notion of belonging.
Buy Now: The Greater Freedom – Little A, £7.99
4. Ballerina Project by Dane Shitagi
Coffee table books don't get any more beautiful than this photographic archive of ballet dancers across the globe, which is bound in pink satin cloth with gold foil stamping.
Captured over a period of almost two decades by New York City-based photographer Dane Shitagi, whose Instagram has over one million followers, this is the ultimate celebration of artistry, agility, expression and perseverance.
With timeless locations ranging from studios and cityscapes to beaches and public parks, Ballerina Project is a book you'll never tire of looking at.
Buy Now: Ballerina Project – Chronicle, £20.30
5. Behind Every Great Woman Is A Great Cat by Lulu Mayo & Justine Solomons-Moat
Rosa Luxemburg. Audrey Hepburn. Florence Nightingale. The Brontë Sisters. These influential, inspirational women were decades and worlds apart but they all had one thing in common: they loved their cats.
This uplifting celebration of women who had an affection for fabulous felines is full of stories, wisdom and quotes to empower and engage moggy lovers around the globe.
Lulu Mayo's illustrations are charming and quirky, reminding us that behind every great woman, there is indeed a great cat.
Buy Now: Behind Every Great Woman Is A Great Cat – LOM Art, £9.35
6. Red, Cherry Red by Jackie Kay
This gift edition of Jackie Kay's 2007 poetry collection has been given a lovely red hardback makeover with illustrations by papercutting artist Rob Ryan.
Kay's poems carry a touch of the surreal, exploring identity, age, memory, nature and the elements with a wonderful lyrical quality.
It's an ideal introduction to poetry for children and adults alike.
Buy Now: Red, Cherry Red – Bloomsbury Children's Books, £6.47
7. Peaky Blinders: The Real Story by Carl Chinn
Everyone has heard of Peaky Blinders the TV series but what of the real life Birmingham gangsters that inspired the hit show?
After decades of meticulous research, social historian Carl Chinn presents the true story of the notorious Brummies and the battles they endured pre and post WWI.
Rarely seen images and interviews with relatives shine a new light on the history of this working class, 1920's underworld.
Buy Now: Peaky Blinders: The Real Story – John Blake, £4.00
8. Last Christmas curated by Greg Wise & Emma Thompson
It wouldn't be Christmas without a festive-themed book and this comforting collection of personal essays – released to coincide with the film of the same name – really gets to the crux of what Christmas is truly all about: kindness, acceptance and selflessness.
Curated by Emma Thompson and Greg Wise, this is a reminder of the things that matter over the festive season – and through the rest of the year too.
Buy Now: Last Christmas – Quercus, £7.94
9. The Scotland Yard Puzzle Book by Sinclair McKay
Mystery and history collide in this puzzle book for budding detectives.
Bestselling author Sinclair McKay delivers over one hundred brainteasers that challenge people to channel their inner Sherlock Holmes by unravelling enigmatic crime scenes and solving confusing conundrums.
It's a unique and engaging look at the famous Scotland Yard detectives and the perplexing cases that flummoxed them through the years.
Buy Now: The Scotland Yard Puzzle Book – Headline, £8.99
10. Faces: Profiles of Dogs by Vita Sackville-West
Fans of India Knight's The Goodness of Dogs and John Bradshaw's In Defence of Dogs will love this bright orange hardback gift book, which pairs the words of Vita Sackville-West with Laelia Goehr's 1960's black and white photography.
This rediscovered work traces the origins and history of forty-four dog breeds with observant humour and openness.
Buy Now: Faces: Profiles of Dogs – Daunt Books, £7.91
11. Mortimer & Whitehouse: Gone Fishing by Bob Mortimer & Paul Whitehouse
Who'd have thought a series about two men fishing would be so entertaining?
Inspired by the hit BBC show that saw the two life-long friends travelling and angling their way across the UK, Gone Fishing is a brilliantly funny joint memoir about fishing, friendship and life.
It's an easy-going, light-hearted and escapist jaunt with two of Britain's best comedians.
Buy Now: Mortimer & Whitehouse: Gone Fishing – Blink Publishing, £11.74
12. Brain-Fizzing Facts by Dr Emily Grossman & Alice Bowsher
Packed with weird, amusing and mind-boggling facts, this brilliant interactive book from science expert and STEM Ambassador Dr Emily Grossman is as fun as it is educational.
Featuring scientific explanations and experiments, it takes young readers on an enlightening and descriptive journey with humour and entertaining illustrations.
It might be aimed at kids but don't be surprised if adults can't put it down either.
Buy Now: Brain-Fizzing Facts – Bloomsbury Children's Books, £5.24
13. Set Me On Fire: A Poem For Every Feeling by Ella Risbridger
True to its title, Ella Risbridger's poetry anthology collects the words of poets around the world, both living and dead, and organises them by feeling.
Fuelled with emotion and heart, there are poems about break-ups and getting back together, poems about love and grief, poems about kissing and eating and life after death.
Lovingly curated and annotated, Set Me On Fire is an absolute pleasure of a book.
Buy Now: Set Me On Fire – Doubleday, £10.23
14. Diamond Doris by Doris Payne & Zelda Lockhart
If you're looking for a memoir that's shocking, amusing and moving, look no further than Diamond Doris – the story of notorious jewel thief Doris Payne.
Armed with quick wit, light fingers and plenty of southern charm, Doris went from small-time shoplifting in local stores to pulling off daring diamond robberies.
This is the riveting story of a bold and audacious woman who was underestimated and overlooked because of her race and gender but who refused to let her circumstances hold her back.
Buy Now: Diamond Doris – Headline, £10.49
15. Time For Lights Out by Raymond Briggs
From the author of The Snowman and Ethel & Ernest comes this thoughtful and poignant biographical book about life, death and age.
Briggs illustrates and writes about pivotal moments in his life – from his time as an evacuee during the war and the loss of his wife to his home in Sussex and the joy grandchildren bring.
Darkly funny, sad and achingly relatable, you won't find another graphic novel quite like this.
Buy Now: Time For Lights Out – Jonathan Cape, £13.28
16. Into The Forest by Christiane Dorion & Jane McGuinness
Not only is Into the Forest one of the most beautiful children's books you'll see this year but it's also one of the most important too.
A celebration of trees and wildlife around the world, it encourages kids to get outside and explore forests and woodlands.
It also promotes the importance of protecting our trees and being sustainable – an invaluable environmental message for younger generations.
Buy Now: Into The Forest – Bloomsbury Children's Books, £9.35
17. Raw Speed by Tai Woffinden
Having followed in his father's footsteps, three times world speedway champion Tai Woffinden is Britain's most successful speedway rider ever.
In his frank and down-to-earth autobiography the tattooed champion delves into the highs and lows of his life and career, from his early roots in Scunthorpe to his family's emigration to Australia when he was just a child to his eventual return to racing in the UK.
It's a must-read for all speedway fans.
Buy Now: Raw Speed – John Blake, £8.99
18. The Unofficial Secret Diary of Boris Johnson Aged 13 ¼ by Lucien Young
With Brexit an ever-present weight on everyone's minds, it's no surprise that many of us are turning to comedy in a bid to escape the dire state of UK politics.
Enter Lucien Young's no holds barred spoof of Boris Johnson's Eton school days, chronicling the daily life and innermost thoughts of Bojo, aged 13 ¼.
Accompanied by Quinton Winter's equally hilarious illustrations, this unofficial secret diary is a clever and witty slice of political satire guaranteed to make you laugh out loud.
Buy Now: The Unofficial Secret Diary of Boris Johnson Aged 13 1/4 – Quercus, £9.09
19. Earth Heroes by Lily Dyu
In the words of Greta Thunberg: "We can't save the world by playing by the rules… the rules have to be changed."
Lily Dyu's Earth Heroes is a timely book that celebrates inspirational and forward-thinking environmentalists and activists around the globe – from David Attenborough to Marina Silva – who are fighting for our planet's survival.
With illustrations by Jackie Lay, this collection of twenty stories proves that individual people, from all sorts of backgrounds and with different life experiences, can make a huge difference to the world.
Buy Now: Earth Heroes – Nosy Crow, £7.10
20. The Wisdom of Old Dogs by Elli H. Radinger
Following her previous book The Wisdom of Wolves, animal writer Elli H. Radinger brings us a heartening new book about the things we can learn from dogs in their later years.
With affectionate imagery to accompany each chapter, these lessons show us the world through our aging canine companions' eyes, teaching us about loyalty, love, patience and friendship with an honesty and simplicity that humans often overlook.
Buy Now: The Wisdom of Old Dogs – Mirror Books, £7.00
21. Poo or False?
Ever wondered whether King George III really had an illness that caused his faeces to turn purple? What about whether Stalin actually had a secret lab to analyse the poo of other foreign leaders?
Discover the answers to these questions and more with this crappy little quiz book that tests your knowledge of turd trivia.
Family quiz nights will never be the same again.
Buy Now: Poo or False? – Headline, £9.99
22. Dumpty: The Age of Trump in Verse by John Lithgow
Inspired by the likes of Lewis Carroll and A. A. Milne, award-winning actor John Lithgow takes readers verse by verse through the history of Donald Trump's presidency.
Melding astute, socially aware political humour with lyrical poetry and satirical line drawings, Lithgow's wildly (read appropriately) biased book is for anyone who opposes the current president.
Buy Now: Dumpty: The Age of Trump in Verse – Chronicle, £9.74
23. Still Friends by Saul Austerlitz
Pop culture historian Saul Austerlitz takes readers on a behind-the-scenes exploration of the TV show that defined an era and continues to delight fans – new and old – a quarter of a century later.
Featuring insider titbits and exclusive interviews with the show's creators and cast, Still Friends recalls iconic episodes and season highlights, reminding us why we all fell in love with the sitcom in the first place.
Noughties kids, you need this book.
Buy Now: Still Friends – Trapeze, £9.35
24. Everest: The Remarkable Story of Edmund Hillary & Tenzing Norgay by Alexandra Stewart
On 29 May, 1953, two mountaineers – Edmund Hillary and Tenzing Norgay – became the first climbers to reach the summit of the highest mountain above sea level on Earth.
In Everest, Alexandra Stewart tells the remarkable story of these two very different but equally strong-minded men and how they battled the elements to make history.
It's a tale of triumph, tragedy and human fortitude, complemented by Joe Todd-Stanton's captivating illustrations.
Buy Now: Everest: The Remarkable Story of Edmund Hillary & Tenzing Norgay – Bloomsbury Children's Books, £9.35
25. Strange Planet by Nathan Pyle
Based on writer and illustrator Nathan Pyle's popular Instagram web-comic, Strange Planet is an eye-wateringly funny, clever and perceptive look at an alien world of "pleasant nonsense".
Covering the life cycle of the alien planet's inhabitants, from 'Being Gains a Sibling' to 'The Hobbies of a Being', it plays on both the strangeness and mundanity of human behaviour.
Expect old favourites and brand new illustrations in what's easily one of this year's best comics.
Buy Now: Strange Planet – Wildfire, £9.23
26. What Kind of Quiz Book Are You? by Rachel McMahon
Get lost down the Buzzfeed rabbit hole with this addictive collection of pop-culture savvy and food-inspired quizzes that reveal things like which Dr Suess quote matches your personality or whether you're more of a muffin or a cupcake.
Created by Rachel McMahon, one of the site's highest traffic-driving community members worldwide, it's light-hearted entertainment for all the family.
Buy Now: What Kind of Quiz Book Are You? – Simon & Schuster, £8.93
27. Glastonbury 50: The Official Story of Glastonbury Festival by Emily Eavis and Michael Eavis
Summer might be over but you can still immerse yourself in sunny festival vibes with this coffee table book celebrating five decades of Glastonbury.
Written and compiled by the festival's founder Michael Eavis and his co-organiser daughter Emily, it invites music and arts lovers on a tour of the world-famous festival, exploring 50 years of history at Worthy Farm.
The likes of Lauren Laverne, Caitlin Moran and Billy Bragg contribute their writing, alongside unmissable, iconic photography.
Buy Now: Glastonbury 50 – Trapeze, £30.00
28. Saboteur: The Untold Story of SOE's Youngest Agent at the Heart of the French Resistance by Mark Seaman
There are many wartime heroes whose names we'll never know but Saboteur brings one particular hero into the spotlight: Tony Brooks – the SEO's youngest secret agent.
Recruited in 1941, Brooks parachuted into France in July 1942 to support the French Resistance and ended the war in command of 10,000 disparate fighters at just twenty-three years old.
Mark Seaman's biography is an intimate account of Brooks' wartime career and accomplishments, made all the more personal by their friendship and collaboration.
Buy Now: Saboteur – John Blake, £13.29
29. Pinch of Nom: Everyday Light by Kay Featherstone & Kate Allinson
The follow-up to bestselling recipe book Pinch of Nom is another mouth-watering selection of slimming meals.
Co-authors Kay and Kate bring us 100 tasty takes on hassle-free dishes under 400 calories. Nearly half of the recipes are vegetarian and they range from breakfast bites to light lunches to fakeaway dinners.
It's the ideal bookish gift for health-conscious eaters.
Buy Now: Pinch of Nom Everyday Light – Bluebird, £10.00
30. Manhunters: How We Took Down Pablo Escobar by Steve Murphy & Javier F. Peña
Netflix crime drama Narcos portrays the DEA's hunt to end the reign of Colombian drug kingpin Pablo Escobar.
Now the agents who risked everything to bring the world's first narco-terrorist to justice share their gripping story in a memoir that reveals both the challenges and dangers they faced during the intensive eighteen month operation to track down Escobar.
Anyone who enjoyed the hit show will be gripped by this first-hand account.
Buy Now: Manhunters: How We Took Down Pablo Escobar – Headline, £14.00