Spring Reading: 8 books you should read in April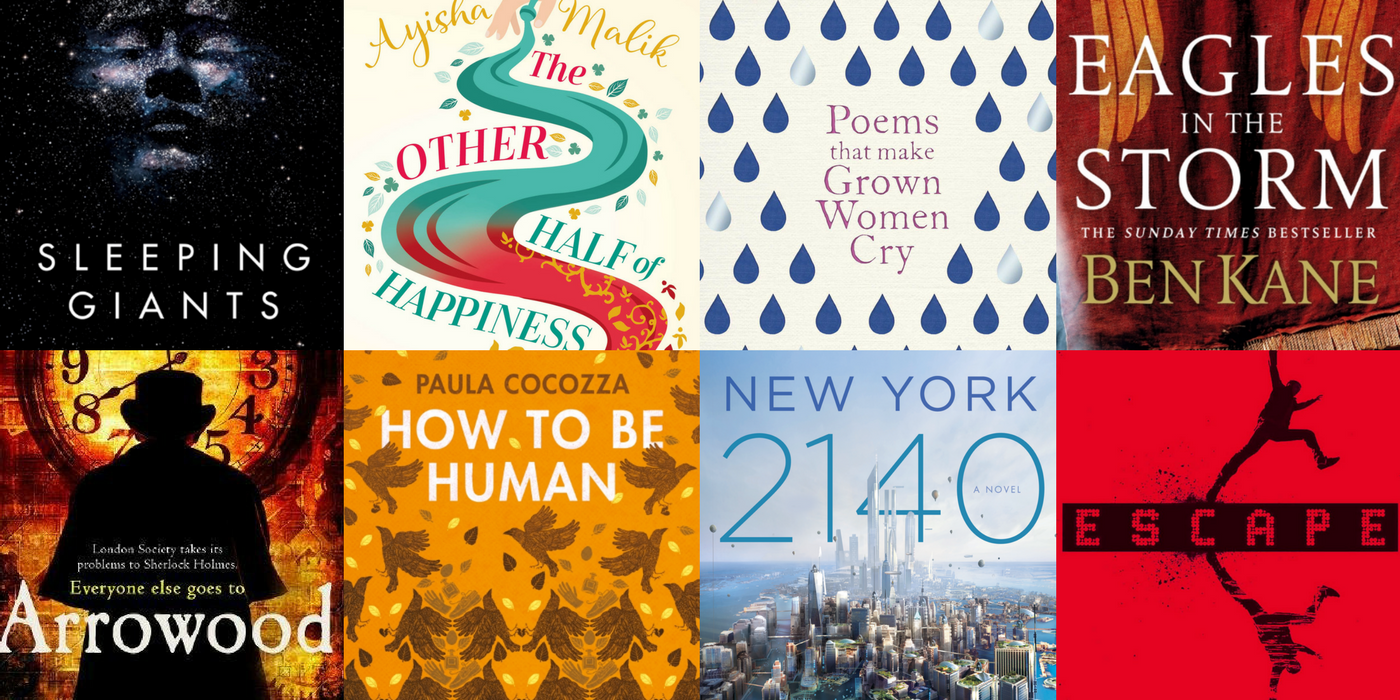 The daffodils are out in full swing and Easter is on the horizon, which means we have not one, but two Bank Holiday weekends to look forward to. We could all use an extra couple of days to get through our towering TBR piles, am I right?
Last month was a busy one, with the release of some fantastic books including Amy Engel's The Roanoke Girls, Daniel Cole's The Ragdoll and Sara Flannery Murphy's The Possessions (if you havn't read them yet, grab a copy now).
Our picks for April are an equally diverse selection from both established and debut authors. There's best-selling historical fiction, thrilling sci-fi, heart-warming rom-coms and a gripping YA adventure, plus a bonus recommendation for fans of all things colouring.
Here's our guide to what books you should be reading this month.
Sleeping Giants: Themis Files Book 1 by Sylvain Neuvel (30 March, Penguin) What is it about:
In Deadwood, USA, eleven-year-old Rose sneaks out of her house to ride her new bicycle. Hearing a noise, she abandons her bike and wanders down the hill to investigate, when suddenly the ground disappears beneath her and she falls into a deep pit with walls covered in intricate carvings.
Rose grows up to become a brilliant senior scientist at a Chicago institute where she's the leading expert on what she discovered as a child – a giant hand constructed of rare metal that pre-dates all human civilization. Rose's exploration into where the object came from, and how many other robotic pieces there might be, could rewrite history. But what happens when the enigmatic puzzle is complete and what does that mean for humanity?
Why you should read it:
This daring debut novel – the first in Neuvel's Themis Files series – is a literary sci-fi thriller that questions what we know of our past and ourselves. It's high-concept fiction told through a unique fusion of transcripts, interviews and journal entries, which further adds to the political conspiracy, apocalyptic feel of the story.
Neuvel's background in linguistics and software engineering allows him to weave a fascinating tale that's brim full of big questions, puzzling theories and mysterious science. If the thought of ancient gigantic robots intrigues you, Sleeping Giants is a must-read.
Plus the second book in the series, Waking Gods, is out in hardback on the 6 April, so you can read them in succession.
Arrowood by Mick Finlay (23 March, HQ)What is it about:
In late nineteenth century London, the wealthy go to renowned detective Sherlock Holmes when they need help with a seemingly unsolvable crime. Yet for the underclass – those involved in prostitution, drugs and worse – there's only one person to turn to: Amateur psychologist and private investigator, William Arrowood.
With political, financial and sexual scandals rife, and a serial killer stalking the streets, Arrowood will tackle the crimes that his pretentious rival will not. It's whilst investigating the disappearance of a man that the PI and his sidekick, Barnett, embark on a mission to solve the crime and detain the leader of a notorious gang.
Why you should read it:
Exciting, entertaining and incredibly atmospheric, Mick Finlay's new detective novel is a fine rival for the upper-class Sherlock Holmes. Told through the eyes of Arrowood's dutiful assistant Barnett (a Doctor Watson type sidekick), this is a Dickensian style tale that conjures a perfect picture of grimy, poverty-stricken London in 1895.
Arrowood and Barnett make a great crime-solving duo, constantly getting embroiled in dangerous and inexplicable cases.
Nineteenth century amateur detectives don't get much better than the opinionated, overweight and often inebriated Arrowood!
The Other Half of Happiness by Ayisha Malik (6 April, Zaffre) What is it about:
'Note: if you're going to have a wedding, make sure there's a groom.'
Ayisha Malik's novel about a mixed race marriage and their equally mixed up family follows Sofia Khan who, having eloped with her husband, Conall, is finding that her new life isn't quite how she imagined it would be. Irish Muslim-convert Conall is acting distantly and Sofia can't help feeling that something is wrong.
So when her mother forces them into a belated wedding ceremony, Sofia sees it as an opportunity to get her marriage back on track. Yet Conall has a secret that threatens to derail their life entirely and when Sofia discovers what it is, she's faced with a future-altering choice.
Why you should read it:
Continuing the same laugh-out-loud humour and candidness that featured in Malik's previous romantic comedy, Sofia Khan is Not Obliged, The Other Half of Happiness is the type of book that makes you smile from the very beginning.
It's told through diary form and gives a lovely insight into mixed-race marriages and the family dramas that arise from a clash of cultures and beliefs. Sofia is a hilarious protagonist in the same vein as Bridget Jones but the story also tackles plenty of real life issues – relationships, love, pride, grief and the choices that people make in life.
Poems That Make Grown Women Cry edited by Anthony and Ben Holden (9 March, Simon & Schuster)What is it about:
Working with Amnesty International, father-son team Anthony and Ben Holden have compiled a collection of poems chosen by remarkable women for their sole ability to move them to tears. The anthology ranges from modern day poetry all the way back to the eighth century, with the likes of Shakespeare, Sylvia Plath, Pablo Neruda and Carol Ann Duffy featuring.
The book has contributions from influential and inspiring women from the world of film, literature, music, television and academia including Annie Lennox, Judi Dench, Chimamanda Ngozi Adichie, Elena Ferrante, Meera Syal, Joanna Lumley and Olivia Colman. Each poem is personally introduced and amongst the themes covered are war, peace, beauty, nature, love and loss – some that produce tears of sadness, others of joy.
Why you should read it:
This is another poignant, personal and beautiful collection of poems put together by the Holden duo who also brought us Poems That Make Grown Men Cry. It's a valuable anthology for anyone who loves poetry, giving a unique insight into the poems that are important to women.
The poems selected are full of diversity, picked by woman from different backgrounds, of different ages and from different professions. The one singular thing that resonates as you read it though, is just how affecting all of the poems are.
Just you try to get through this book without feeling emotional.
New York 2140 by Kim Stanley Robinson (16 March, Orbit)What is it about:
It's the year 2140 and sea levels have risen, causing catastrophic environmental disaster and mass floods. New York City is submerged; the streets have been turned into canals and the skyscrapers are now islands, with people using boats and skybridges to move around. The flooded city has also been sectioned into zones, with the residents of one particular apartment building in Madison Square using the opportunity to create a new way of life.
From the beloved Internet star and the resourceful market trader, to the busy detective and the building's respected manager, these people all have their part to play in supporting the skyscraper and its occupants. So when some of the residents disappear, a sequence of events unfolds which threatens the carefully reconstructed existence of the building, as well as the world.
Why you should read it:
At over 600 pages, it takes a dedicated reader (not to mention one with strong arms) to commit to Kim Stanley Robinson's New York 2140, but this isn't a book you'll regret reading once you get stuck in. This is science-fiction fantasy at its best – an exciting, intriguing and vibrant novel told from the various perspectives of the apartment building residents.
We've had so many dystopian and post-apocalyptic novels over the last few years but with its climate change inspired theme, New York 2140 offers something fresh and fast moving. It's a hugely cinematic novel that feels like it was made for the big screen. 
Eagles In The Storm by Ben Kane (23 March, Preface)What is it about:
The final book in Ben Kane's Eagles of Rome series continues to centre on centurion Lucius Tullus, who despite slaying thousands of German tribesmen and defeating his enemy, chieftain Arminius, still can't rest. Only with Arminius dead and the enemy tribes entirely conquered will his mission be complete.
Yet Tullus isn't the only one with revenge on his mind. Fearless Arminius is still at large and hell bent on getting his own vengeance with another tribal army at his back. This final mission sees Tullus move forward on his own, in a bid to liberate his old legion's eagle and defeat his adversary for good.
Why you should read it:
Bloody, brutal and incredibly tense, Eagles In The Storm is everything you could want from a historical tale. The action jumps off the page with a Roman warrior's battle cry, and you can feel every moment of violence as if it were happening in front of your eyes.
There's danger, treachery, bloodshed, combat and vivid historical detail, making this an essential read for anyone who enjoyed the first two books in the Eagles trilogy.   
How To Be Human by Paula Cocozza (13 April, Hutchinson)What is it about:
Paula Cocozza's debut is an intriguing and disturbing book that explores the line between obsession and sanity.
When Mary arrives home from work one day, she finds a fox on her lawn. Yet this first encounter is only the beginning. The fox slowly makes itself at home and delivers gifts to Mary's door, starting with a dusty blue pair of men's boxers. As the fox listens to Mary, Mary listens back and she begins to feel a wildness unfurling inside her that refuses to be tamed.
Why you should read it:
Trying to place a book like How To Be Human into any one particular box is an impossible task – you just have to start reading and go along for the ride.
Set in a London suburb where urban foxes roam, it's an original and fascinating slice of literary fiction, exploring what makes us human and what the word 'normal' really means. It eerily handles the themes of relationship breakdowns and loneliness, and how they can evolve into obsession and delusion.
One thing's for sure, you won't have read anything like How To Be Human before. 
Escape (Shift Trilogy 3) by Jeff Povey (23 March, Simon & Schuster) What is it about:
Having been thrown into an alternative version of earth after a power surge hit their classroom during detention, Rev and her motley crew of misfits are still trapped. They're exhausted and beaten, and they need to convince their doppelgangers to help rather than kill them.
Rev's group may be down on numbers but if they can solve a puzzle, they'll be able to get home. Though if you've read the first two novels, you'll know that nothing is quite that simple.
Why you should read it:
As the third and final installment in Povey's trilogy, Escape provides a nice conclusion to the action-packed and adventurous teen miscreants story. There's plenty of dark humour and parallel universe mayhem, bolstered by quick-witted dialogue and dynamic characters.
If you read and enjoyed Shift and Delete, you have to finish off the series to find out Rev and the remaining teens' fate.
This YA series is perfect for fans of Michael Grant, Charlie Higson's Baxter Zevcenko books and the TV series Misfits.
Bonus Recommendation: Twilight Garden Colouring Book by Maria Trolle (21 April, Gibbs Smith)
If none of the above books are up your street and you're looking for something a little more creative, Swedish designer Maria Trolle's Twilight Garden Colouring Book is published this month.
With 96 pages of sophisticated illustrations of flowers, plants, gardens and Scandinavian creatures, it'll be your new favourite colouring book.