Genre: Action, Horror, Romance
Directed by: Burr Steers
Starring: Lily James, Sam Riley, Jack Huston, Matt Smith, Bella Heathcote
"It is a truth universally acknowledged that a zombie in possession of brains must be in want of more brains." 
I've always hated that line, and I may have avoided the book for that very reason. Why have you got to mess with Austen? The very idea of Pride and Prejudice and Zombies was an outrage, not to mention a complete waste of time. It was cultural appropriation gone mad, it was ridiculous… and isn't that actually the point?
Pride and Prejudice and Zombies takes place in an alternate universe where zombies exist and everyone is trained in the art of war. The Bennet sisters are fully trained in martial arts and weaponry as their father fights to make sure they have the skills they need to be able to survive, even while their mother continues to hold out hope that her daughters will make a wealthy match. Throw in a zombie-hunting Fitzwilliam Darcy and a Wickham that seems alarmingly at home in this world and you have rather an absurd take on a classic, but one that weirdly works.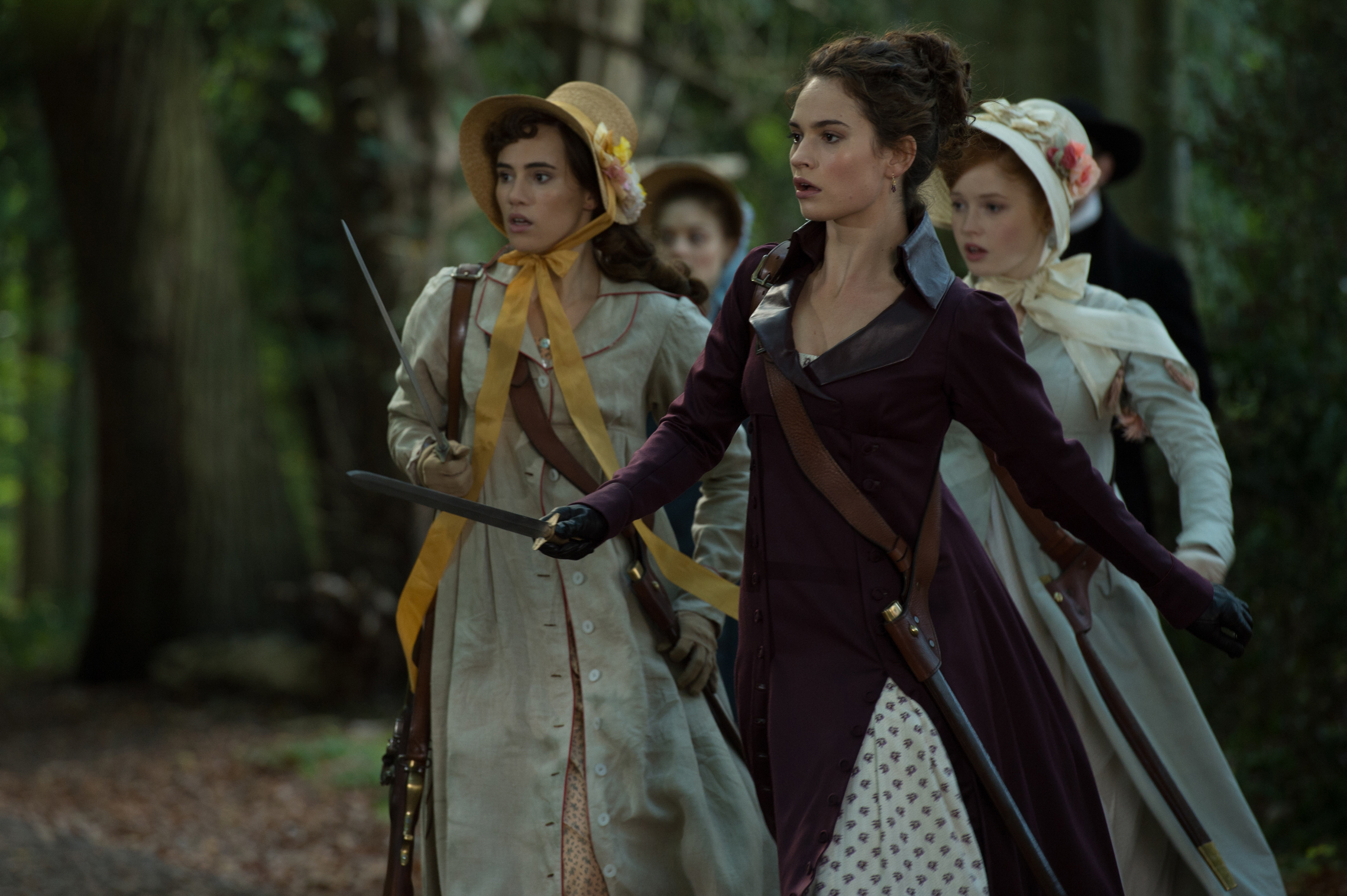 As an adaptation, Pride and Prejudice and Zombies is a creative idea that was quite well realised, and as a film it was suitably dark and moody, if a little rushed. Flicking through a quick 108 minutes, the film largely assumes its audience is familiar with the Pride and Prejudice story – anything remotely Austen-like is soon brushed over in favour of the blood, guts and zombie horror that is its draw.
Big moments in the story are interrupted with fight scenes and undead invasions while key plot developments are furthered through complications that come from living in a zombie apocalypse. It takes the genteel-setting of Regency era England and turns it into a war zone, but also manages to hold on to a lot of Austen's general themes, albeit loosely. But, while I haven't read the book, I'm pretty sure that all of these little quirks I like most about this world came from this source material so I'm not sure how much the film itself actually adds.
Lily James is very well cast in the role of a zombie slaying Elizabeth Bennet, while Sam Riley's Mr Darcy was suitably stoic and brooding and Douglas Booth as Charles Bingley was as pretty and foppish as you expect from the role. Game of Thrones veterans Charles Dance and Lena Headey both brought a certain weight to their roles of Mr Bennet and Lady Catherine de Bourgh respectively, but were ultimately too underused to leave any real lasting impact, and all of the Bennet sisters that aren't Elizabeth – yes, even Jane – mainly exist purely as a means of making that Meryton Ball fight sequence that little bit more visually spectacular.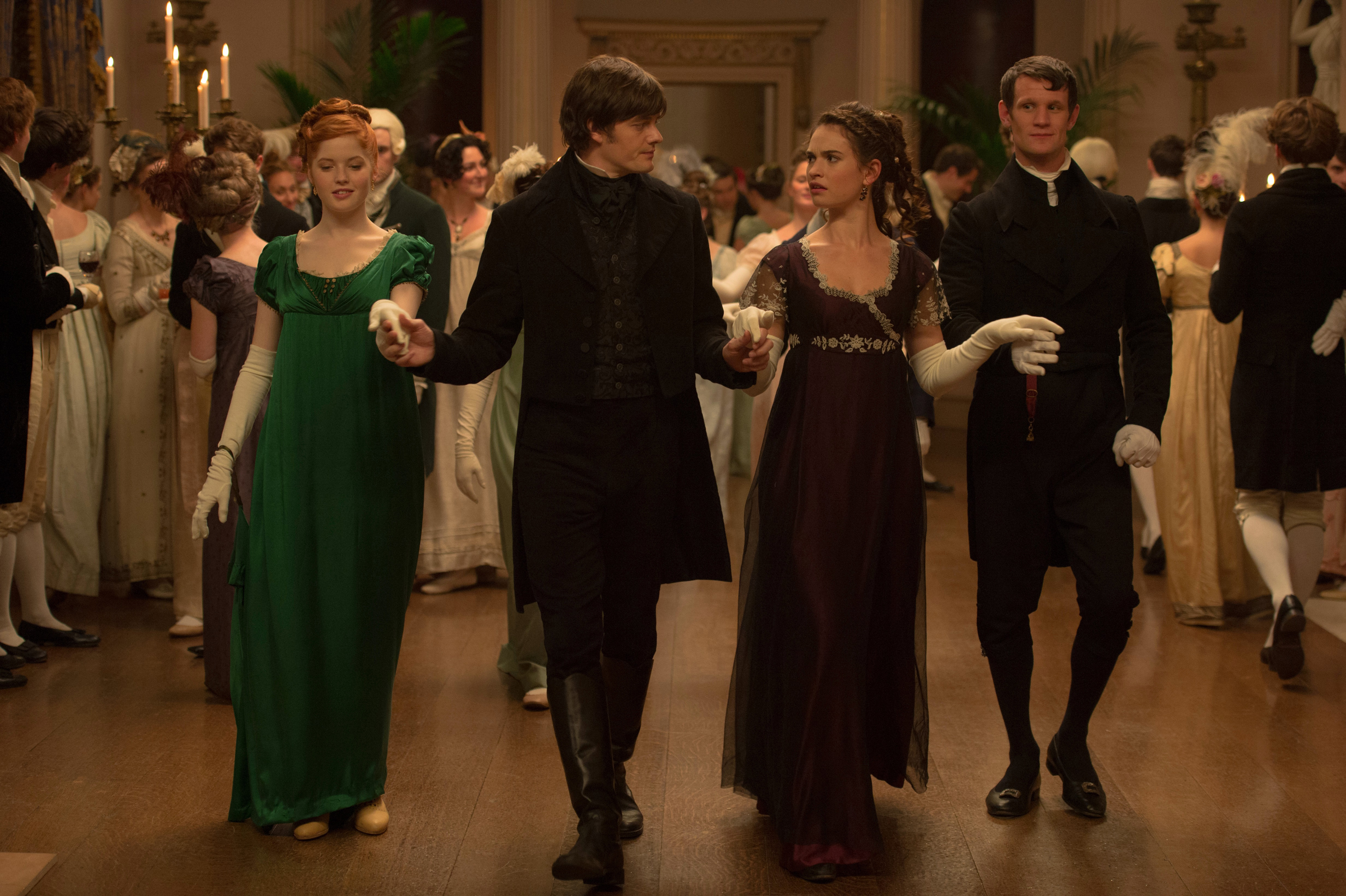 It did try a bit too hard at times to be overtly stylish, making use of blood splatters on the camera, out of focus shots and zombie death scene POVs to really emphasise that this is not solely a period drama, but also a horror – in case you didn't get the message already – and not everything hit its mark. What was interesting early on lost its quirk factor by the second or third iteration, but scenes that were done well, like the fantastically visualised storybook history credits sequence, definitely overshadow the done-to-death shtick that dominates by the end of the film.
Ultimately, Pride and Prejudice and Zombies is completely ridiculous, and all of the other things I mentioned early on, but it knows it and it's mostly in on the joke. No performance showed this more thoroughly than Matt Smith's Mr Collins, who played his role mostly for laughs and was the sole cast member in a parody rather than a serious genre-bender, and the film would be all the better if everyone had the same approach.
It's a very pretty, very absurd retelling of a classic story, but entertaining nonetheless. Pride and Prejudice and Zombies could have benefitted from making a bigger deal of the fact its very existence is a bit of a joke, but some solid lead performances and striking fight sequences make it worth a watch – if only because the gimmick is ludicrous enough that it needs to be seen to be believed.
★★★