Genre: Drama, Thriller
Directed by: John Madden
Starring: Jessica Chastain, Mark Strong, Gugu Mbatha-Raw, John Lithgow, Alison Pill
"Guess I'm just a nasty piece of work," says Jessica Chastain's titular Miss Sloane – something made abundantly clear to the audience from the word go. Taking a swerve from The Best Exotic Marigold Hotel and The Second Best Exotic Marigold Hotel, John Madden's latest feature tells the story of Elizabeth Sloane (played by Jessica Chastain) – an ambitious, cutthroat and highly successful DC lobbyist, whose infamy appears to have reached breaking point as we first meet her on trial for perjury. So bad is her case that in the opening scene, after Chastain delivers a chilling monologue staring down the barrel of the camera, her lawyer reminds her that her only salvation is to stay silent, pleading the fifth.
Three months and one week prior, Sloane gets hired by Rodolfo Schmidt (Mark Strong) to lobby in favour of the Heaton-Harris bill – one that would reinforce and widen criteria for background checks for purchasing fire arms. This is after being condescended to by Bob Sanford (Chuck Shamata) who wants to bring her on his team to "appeal to the women" to lobby in opposition of the bill – a moment which leads her to pick up and leave, taking with her most of her staff. The scene is one of the ways the film acknowledges Elizabeth's position in this high-stakes, political environment and how the men around her are keenly aware of her own position despite needing her skills. It's one the film could afford to play into more – the inescapable misogyny both in the praise for Sloane's ruthlessness, and the merciless in her persecution.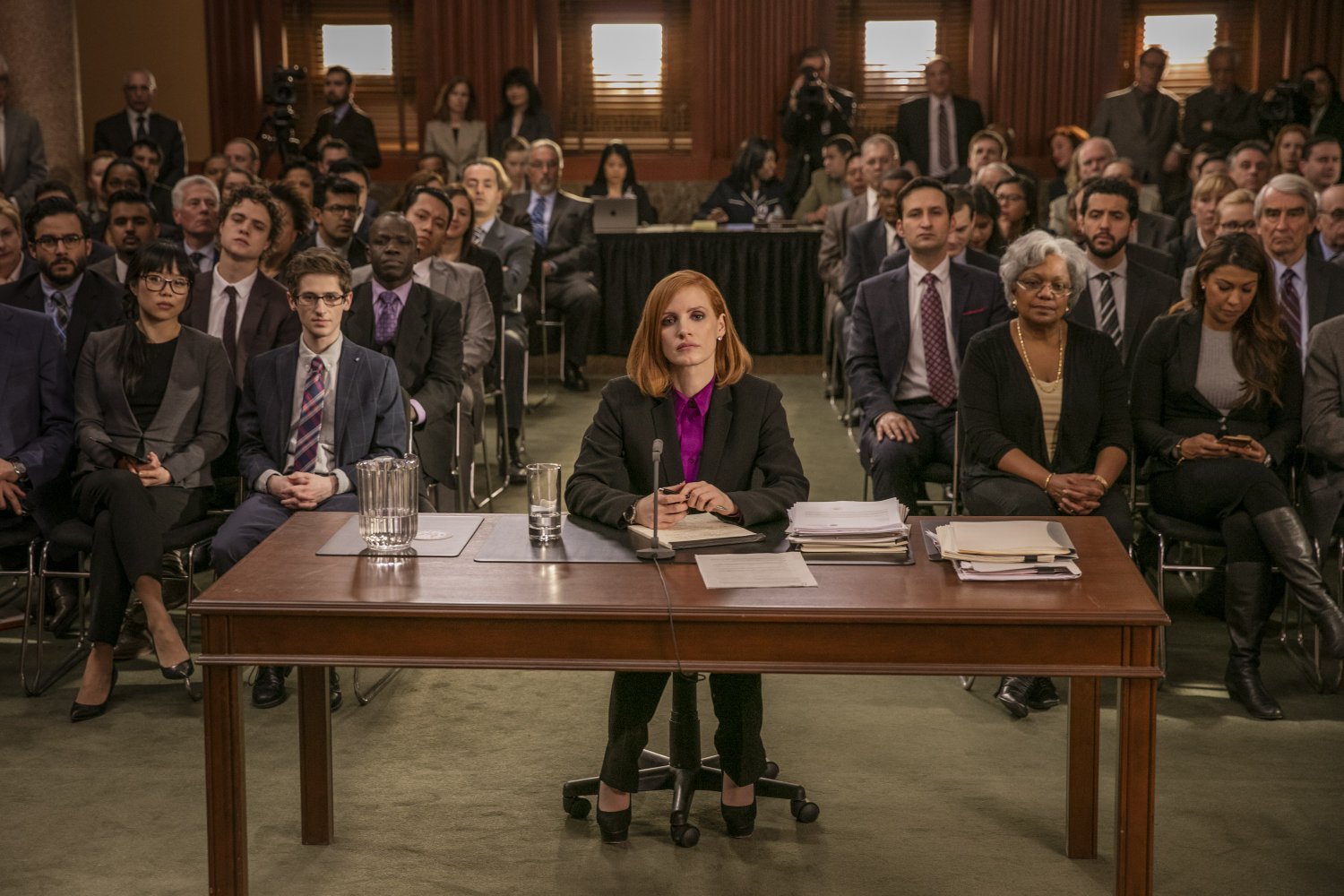 Especially as a British outsider, sometimes the legal and political jargon will completely go over your head aside from what you've picked up from a few episodes of The West Wing, and admittedly sometimes being that lost is somewhat distracting and you may find yourself drifting in and out of the story. However, what keeps you watching is the framing device. The film works backwards, beginning with the perjury hearing while the rest of the film catalogues what we see in the opening scenes, catching us up to the events leading up to it – an ingenious move by sole screenwriter Jonathan Perera, with Miss Sloane as his impressive debut into writing.
Undoubtedly Chastain is clearly the vehicle from which this film is built around, and she is driving the hell out of it. It does take a moment, if you're a fan of hers, to separate the sweet, wholesome picture one has of Jessica Chastain as a person to fully accept her as the ruthless, cold lobbyist who eats at the same Chinese restaurant every night because "they haven't invented the food pill yet" might be a strange experience. After all, this is quite the different picture she's painted in previous performances in The Help, Interstellar and even Zero Dark Thirty. Even as Elizabeth fights for the passing of an unquestionably progressive, liberal-minded bill, it's made clear she took it on not to change the world, but to win – and to win a challenge at that (possibly to even get back at her former bosses). At the same time, it maybe plays to her advantage in the moments of vulnerability. You believe every emotion, every word, and every miniscule glance is as loaded as must have been written.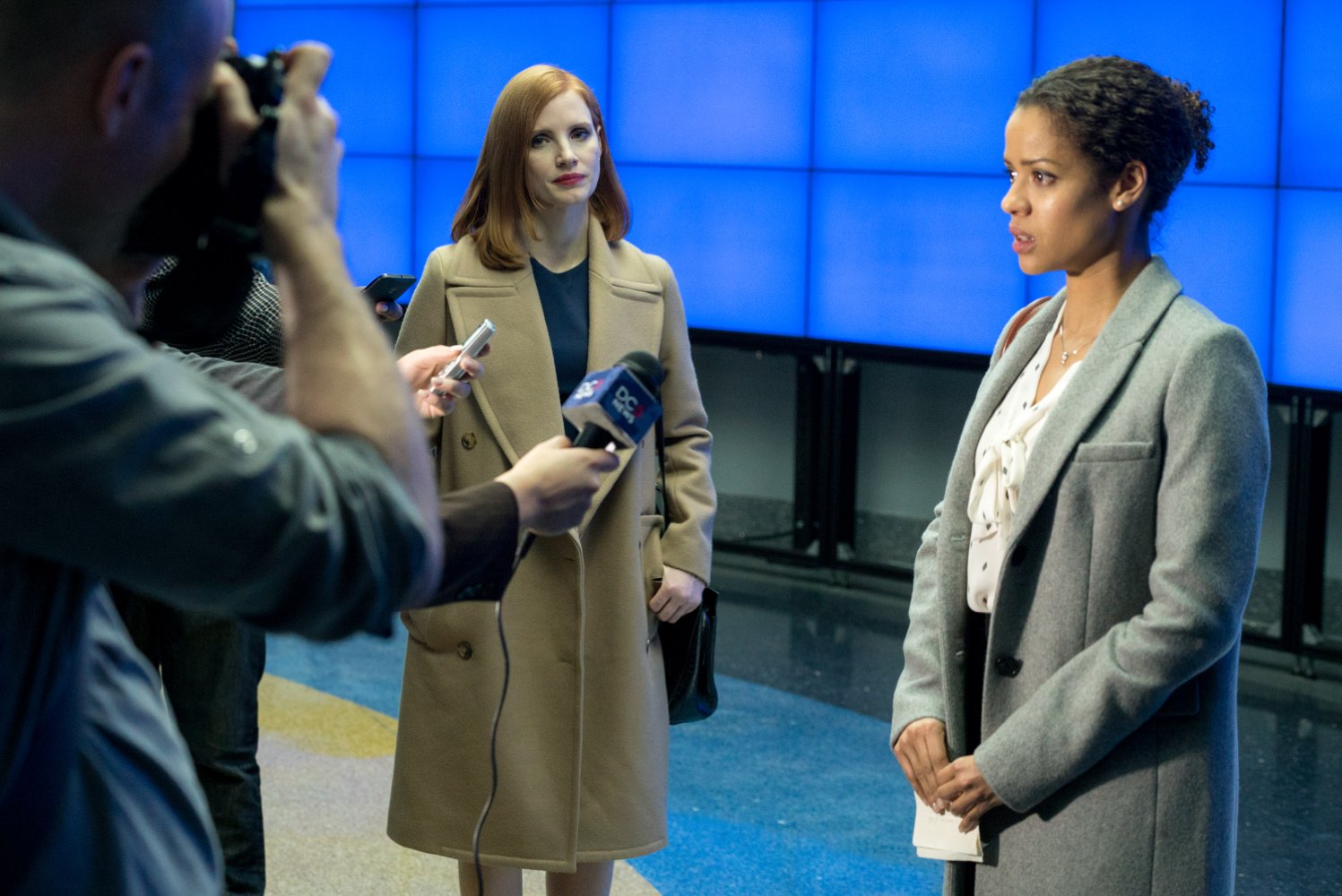 In the same way, Gugu Mbatha-Raw's Esme and Elizabeth's relationship to her is the emotional core of the film, at moral opposites with the same goal. Though the film seeks to draw attention to the not-quite-artificial relationship between Elizabeth and her paid escort Forde, it's not needed: through her relationship with Esme we see all of the humanity Elizabeth steadfastly keeps buried.
Much in the spirit of lobbying, while your mind is working to piece together all the clues, Elizabeth surprises you, with a final resolution that throws you so far you're still reeling from it by the time the film closes. In a sea of summer blockbusters, it's a breath of brisk, fresh air to inhale something smart, sharp and that wants you to root for, be in awe – and sometimes even a little afraid – of a female protagonist who defies plenty of expectations.
Living in a world where we've just about made it a month since the last mass shooting in the U.S., one can't help but wonder if things might be moving into the other direction if we had a Miss Sloane of our own fighting for us.
★★★★