Dogman – BFI London Film Festival Review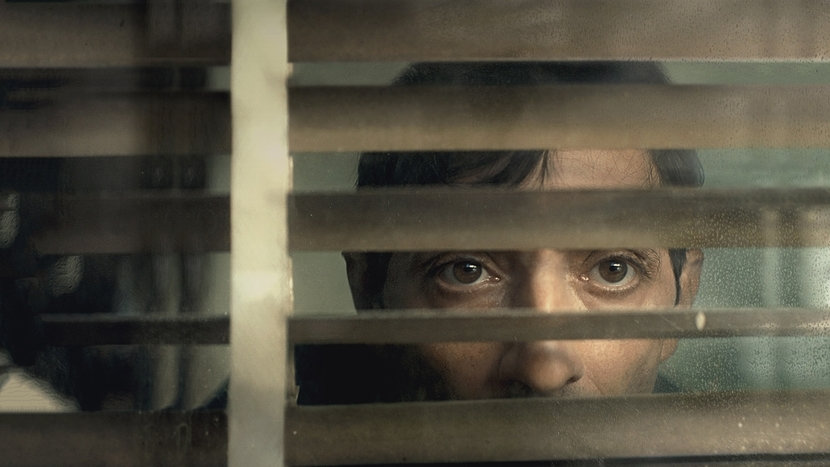 Dogman reunites director Matteo Garrone with the dark, criminal underbelly of Italy we were introduced to in Gomorrah. Shot on the wasteland of a decrepit fairground, where crime is rife and drugs fuel dangerous attitudes, Marcello (Marcello Fonte) is a weak joint in this community despite his enormous love for his daughter and the dogs he takes care of. Dark and bleakly comic, Dogman is a tragic tale of powerlessness in a world of powerful men. 
On the outskirts of Napoli, the Dogman shop exists. It serves the communities canines and provides cocaine to the more nefarious members. Marcello needs to keep his head above water and his friendship with thug and bully Simone (Edoardo Pesce) is clearly one-sided. Simone needs drugs and Marcello supplies. As a father, he does everything he can to support his daughter and the sales support this. Dad and daughter share in the dog grooming process and they both dive in the ocean when they can. Marcello's shop, next door to a gangster's headquarters under the guise of a jeweller's shop, becomes an opportunity for Simone and he forces Marcello to leave his keys in order to break in and steal what's inside. Despite his desperate pleading, Simone forces Marcello to take part, reminding him that they will both be rich as a consequence. Without a choice, Marcello is fated to be involved.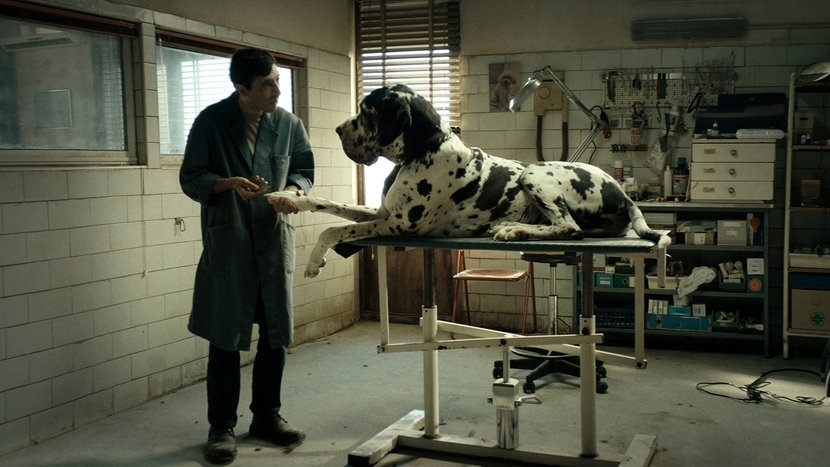 In many respects, Dogman is a two-hander between Fonte and Pesce. It is their fractious, abusive relationship that we cling on to, praying that one can help the other. Initially, stubbornly refusing to ever listen to Marcello, Simone's brooding presence has the potential to disrupt and destroy everything Marcello has worked for. Marcello, in contrast, while taking joy in his adorable dogs and thoroughly stepping up to his role as a father, is clearly stuck with a criminal enterprise that puts everything at risk. Could one last job be the key to his escape? Marcello Fonte has the stature and physicality that exudes weakness; he has innocence in his eyes but a sly smile that gives away his more dastardly thoughts. Edoardo Pesce plays Simone as a rarely-spoken brute, whose toughness is exemplified in a scene as he destroys a group of drug dealers within a warehouse. He stomps and breaks through every stone figure and clanking object in his path. It is a long film to rest on two characters, and it loses steam in the middle, but thankfully family and friends in the dogs is enough to keep you engaged.
Cinematographer Nicolaj Bruel shoots in deep, dark tones, accentuating the rusted metal and decaying figures that litter the landscape. The violence that regularly appears is ugly and grotesque, shadows alone deform the bloody faces like a Caravaggio. But, where dogs are concerned, you can rest easy as, apart from a frozen pooch (who is coaxed back to life), no other dogs are harmed. Garrone often presents the pups in glorious static shots, where we can just gorge on the beauty of these creatures. British bulldogs are massaged and poodles are trimmed, while the humanity required looking after a dog is celebrated. Indeed, these are the most touching and sweet moments Marcello is a part of. Dogman is a sinister film, with fleeting moments of beauty, squeezed into a harsh story that's unrelenting in its refusal to even consider an optimistic outcome. 
★★★