Book Review: What Fresh Hell by Lucy Vine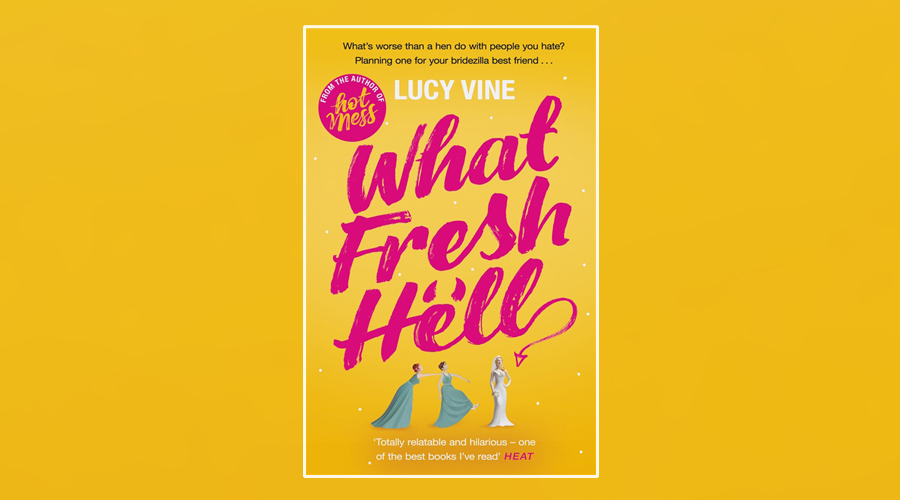 Following on from her hilarious summer '17 debut Hot Mess, Lucy Vine is back with another witty and relatable book that will speak directly to every twenty-something woman who's ever felt the need to be everything to everyone when it comes to wedding season.
Lilah Fox is on the hen party from hell in Tenerife when she gets a string of over-excited messages from her best-friend Lauren, who's just got engaged. With just six months to plan the wedding, Lilah takes on her Maid of Honour duties like a trooper, accompanying Lauren to fairs, fittings and weekly wedding chat meetings, which become ever more demanding. Cue excel spreadsheets, endless email chains, off-the-scale stress levels and an ever-decreasing wallet.
As the wedding looms closer and Lauren morphs into the bridezilla she swore she wouldn't become, Lilah's own life starts to suffer. She's caught in the middle of her warring parents, she's underappreciated at work, and she's facing a battle with the council over the end of her beloved 'Fuddyduddies United' club, which is her only respite from all the wedding madness. Worse still, her boyfriend Will is becoming increasingly frustrated with being treated like he's second best. It's really only a matter of time before Lilah cracks.
Like Hot Mess before it, What Fresh Hell is a funny, awkward and relevant portrayal of women in their late twenties. We all know a Lilah Fox. You might even be the Lilah of your friendship circle; the one who can't say no to social occasions, who gets sucked into becoming a wedding minion and chasing up money for hen parties, often leaving themselves out of pocket as a result. If any of this book's plot seems ridiculous, extreme or implausible, you're clearly lucky enough to have avoided wedding mania.
With friendship dramas, relationship struggles and family conflicts, What Fresh Hell is much more than a standard chick-lit novel. It doesn't hold back on the realities of being a MOH and it's such an easy, uplifting and amusing read. You're guaranteed to finish it with a big smile on your face, not to mention the resolve to never attend another hen party ever again…
★★★★
What Fresh Hell was published by Orion on 8 March 2018