Book Review: Violet by SJI Holliday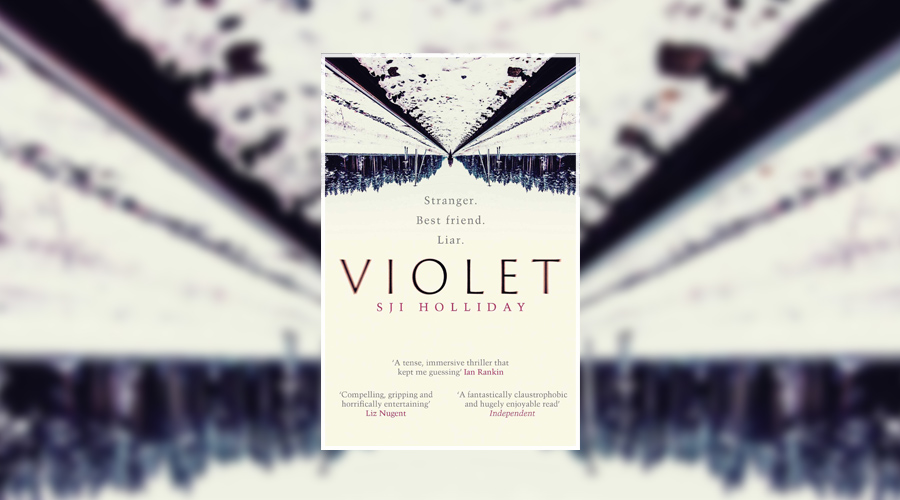 At this time of the year, when the nights are getting longer and the air is getting colder, sometimes you want nothing more than to curl up with a tense thriller that leaves you on the edge of your seat – and, thankfully, SJI Holliday's new novel Violet more than delivers on that front. As dark as it is gripping, Violet is a well-crafted and unpredictable psychological thriller that explores obsession, manipulation and toxic friendships in gloriously twisted and disturbing detail, making for a chilling read you won't want to put down again. 
When they first meet in a Beijing hotel lobby, Carrie and Violet are two strangers travelling the world on solo adventures. Violet is trying to move on after breaking up with her boyfriend Sam in Thailand and is desperate for a ticket for the Trans-Siberian Express, while Carrie, who decided to go on her round-the-world adventure alone after her best friend had an accident and couldn't make it, has a ticket going spare. In an impulsive moment, Carrie offers Violet the extra ticket, and the duo are soon thrown together in a cramped cabin as their journey takes them to Mongolia, Russia and beyond.
But as Carrie and Violet spend more time together and their relationship intensifies, it's not long before everything starts to unravel. As tensions mount and Carrie and Violet's new bond is tested and shattered, soon dangerous secrets emerge. Because one of these women is not who she claims to be, and there's only one way this journey can end.
"I realise my mistake now; realise that sometimes, you just need a little encouragement – and then you can get exactly what you want."
From the very first page, Violet is a gripping read, recalling the kind of psychological tension you'd expect from Patricia Highsmith's Strangers on a Train but with a touch of Tara Isabella Burton's Social Creature to bring it into the modern day. Holliday quickly ensures that no one's motives are entirely clear, and although the novel is largely told from Violet's perspective, there's every opportunity to question Carrie too, with her intermittent emails breaking up Violet's narrative to offer a different perspective on recent events and a further insight into her own complex psyche.
The atmosphere, too, is also chilling and intriguing throughout, with the places that Carrie and Violet travel to being brought to vivid life in Holliday's book. From the overwhelming and oppressive nature of the hustle and bustle of Beijing, to the sights, sounds and smells of Mongolia's capital Ulaanbaatar and the stark descriptions of former exile-post Irkutsk in Siberia, Violet draws as much from the largely unfamiliar places to mislead and mystify the reader as it does its characters' motivations. The fact that both people and places are often clouded by sex, drugs and alcohol means readers are constantly forced to question what they're being told and what is really going on beneath the surface too.
As with most books of this nature, the ending feels a little rushed. After a slow start and a steady build-up of tension in the early half of the novel, so much time is then spent eking out every inch of that apprehension and uncertainty that it almost feels like the final page jumps out at you and there's very little time to process the twists and turns that led to this point before the book is over. Similarly, there are parts of the book that feel almost repetitive in a bid to double down on the intrigue – Violet's refusal to speak about her ex-boyfriend Sam, for example – when the novel really didn't need such an obvious approach. 
But these are just minor quibbles for an otherwise largely very enjoyable thriller. Violet is a novel that's imbibed with a sense of menace and unease from the get go, and it rarely, if ever, takes the story in a direction you expect. Carrie and Violet are both highly suspect characters, each with an elusive agenda and a past so murky that you're never sure who is in more danger. Neither of these characters are likeable, but there's no doubting that their story makes for a compulsive read and that, combined with the vivid imagery, the unsettling story and the almost-claustrophobic intimacy in which it's told make Violet a book you won't be forgetting in a hurry.
★★★★
Violet is published by Orenda Books on 14 November 2019