Book Review: Us Three by Ruth Jones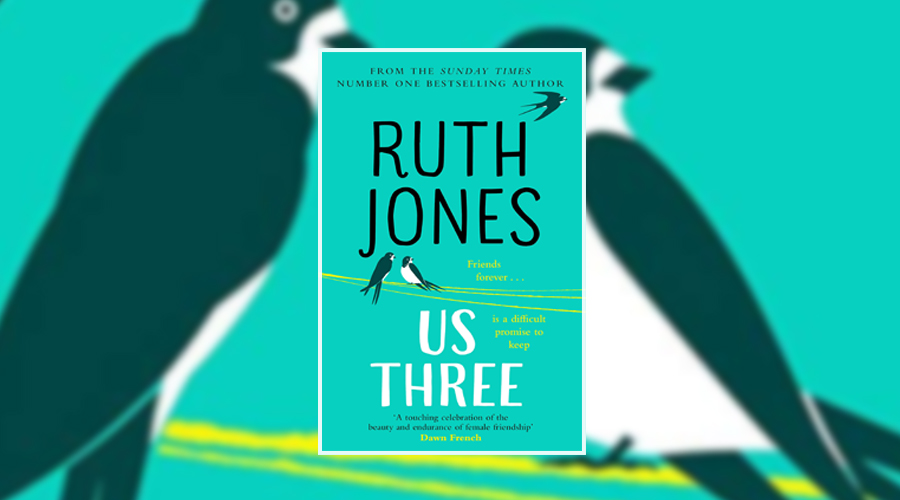 If there's one thing we know we can expect from any project by actress, writer and producer Ruth Jones, it's that it will always have a lot of heart. Unsurprisingly, that's something that quickly proves to be the case with Jones' second novel too. Us Three is a book that puts its characters front and centre, expertly building up the lives, worlds and experiences of its three protagonists in careful, considerate detail and gifting readers with an unflinchingly realistic narrative of female friendship as its shaped by life, love and loss across the decades.
Lana Lloyd, Catrin Kelly and Judith Harris have been best friends since primary school, swearing an oath that they'll always be there for each other on a Curly Wurly wrapper at the age of eight. With the three friends on the verge of striking out on their own and setting off on their own paths in life after school, they decide to go on the trip of a lifetime, island hopping around Greece and building memories of sun, sea and sight-seeing trips. But an unexpected turn of events soon leaves the girls' friendship shaken to its core and the feelings of betrayal, blame and tragedy that follow is enough to break their childhood bond beyond all recognition.
As the years go on, the fractured friendship group is burdened further by the weight of those events and the aftermath of their actions, leaving the women with too much to forgive and too much to forget. But Lana, Catrin and Judith's lives remain connected, and when a life-changing event brings them all back together, it also brings with it a chance for the women to rekindle their old friendship once again. Will they want to – or, perhaps more importantly, will they be able to?
"It was an amazing feat of friendship that the invisible triangle connecting Lana, Judith and Catrin had always been balanced, always equilateral. In all the time they'd known each other, the dynamic had never been two against one. But that lovely equilibrium had been lost."
Us Three is a book that's been split into three main parts, and the very nature of that structure means that there really is something in this novel for everyone to enjoy. The first part picks up with the girls as bright, young eighteen-year-olds, still confident in their unwavering friendship and giddy with the excitement of both their upcoming holiday adventure and the future upon their return too. It's also the part where everything unravels, spiralling through bad decisions, crossed communications and consequences that span through the decades. Jumping through these time periods takes us through the next two parts of this novel, catching up with Lana, Catrin and Judith at new stages of their lives over a span of four decades and picking up the threads of their lives, still so entangled and frayed from the events earlier on, with each new time jump.
For as compelling, insightful and moving as this novel is, though – and Us Three certainly is all of those things – the very fact that it focuses in so heavily on three women as they negotiate life, divorce, friendship and love in all of its beautiful, messy detail means that reading it isn't always a easy experience. Throughout the novel, it quickly becomes clear that the dizzying highs of the women's early trip to Greece are not to be a regular occurrence, and Us Three gently explores the human nature of tragedy and grief, perhaps even more so than the lighter moments that life has to offer. Thankfully, the novel loses none of its warmth as the protagonists move into adulthood and are forced to reckon with life and all of its complications as they grow their families and continue to interrogate their oldest friendships throughout each new stage of their life.
What's most remarkable about this novel, though, is that it's so quiet. This is not a book packed with huge plot twists and shocks, but rather it documents the everyday in exquisite, heart-wrenching and warmly familiar detail. This extends to the characters themselves too, with Catrin, Lana and Judith each getting a unique voice to tell their own versions of the story, and the layers of their storytelling fold in on each other's wonderfully to create a truly compelling narrative that is always working to scratch under the surface or provide a new perspective.
Once again, Ruth Jones has established a knack for creating empathetic characters that quickly begin to feel like real people you've known for a lifetime, especially after getting to know them across the four decades or so outlined in this book. Us Three may not always be a feel-good read, but there's no denying that it's an engrossing one and Jones' words are as warm and captivating as ever. With a tense and twisting narrative that demands your continued attention with every messy new development, Us Three more than earns its place on the shelf as a moving, perceptive and, ultimately, uplifting read.
★★★★
Us Three is published by Bantam Press on 3 September 2020