Book Review: These Hollow Vows by Lexi Ryan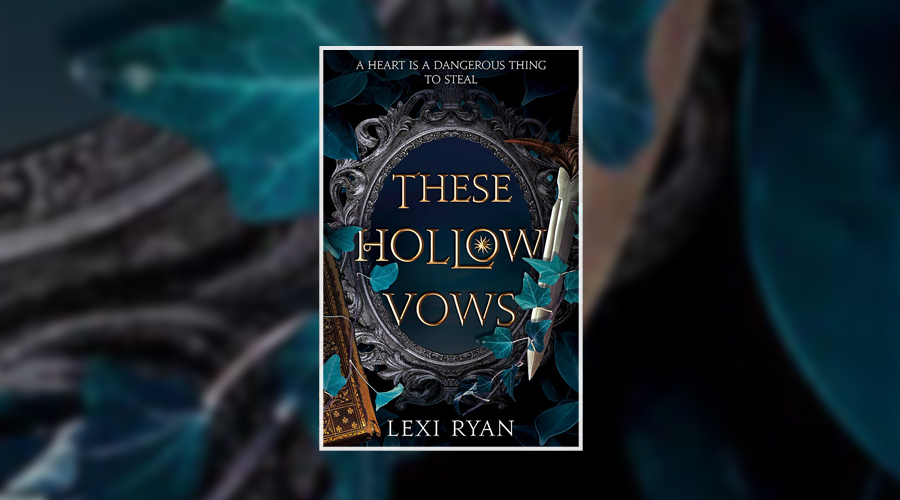 Sometimes when you finish reading a novel that you've categorically devoured, there's a temptation to immediately sit down and extol everything about the book in question. But when your mind is still deeply immersed in a fictional world and you're in danger of filling a whole page with an endless repeat of the words 'I LOVE THIS BOOK', it's worth waiting a week to let those initial thoughts formulate into something a little more articulate. Now, having given myself over a week to ponder my thoughts on Lexi Ryan's These Hollow Vows, I can safely say that those words still very much sum up how I feel about her deliciously heart-fluttering romantic fantasy debut: I really do love this book.
Ryan's story centres on Abriella 'Brie' Kincaid, an impoverished human with a gift for thievery and an innate hatred of faeries, who'd rather do just about anything than make a deal with a Fae. For Brie, even death is preferable to being forced into an alliance or scheme with them. The only thing that could compel her to consort with the untrustworthy magical folk is a threat against someone she loves, which is exactly what happens when her sister, Jas, is sold to the sadistic King of the Unseelie court, who offers Brie a deal. If she wants to get her sister back, she must steal three magical relics from the rival Seelie court. If you think that sounds simple, you don't read enough fantasy.
Brie's only chance to gain unrestricted access to the Seelie court is to pose as one of many potential brides for the Seelie Prince, Ronan. Integrating herself into court life, whilst at the same time beginning her hunt for the hidden relics, Brie discovers that Ronan isn't quite the wicked Prince she thought he was. But she can't let her heart distract her from her true task – finding the artefacts and saving her sister – which leads her to a band of Unseelie misfits with their own agenda for helping Brie infiltrate the castle. But as Brie finds herself drawn in by their alluring and mysterious leader, Finn, she teeters ever closer to having to make a choice between love and family, and between two rival courts with as much to lose as the other.
"The king was right about one thing. I am a great thief. I can steal just about anything. But a faerie prince's heart? I wouldn't know where to start."
These Hollow Vows has been described as The Cruel Prince meets A Court of Thorns and Roses, which feels like a fairly accurate comparison – though I'd throw in a Cinderella-esque retelling too. It has despicable yet lovable characters (who could easily rival those found in Holly Black's The Folk of the Air series) and a fierce yet conflicted central heroine who finds herself caught in a triangle of sorts between two very attractive Fae on opposing sides, throwing her into the ultimate moral and romantic dilemma. Brie is constantly torn between her heart and her head, which isn't an easy place to be when everyone seems to want something from you. But, ultimately, Brie always feels like a character who will make the right decision in the end, even if it's not a decision that everyone – including herself and the reader – will be happy with.
Lexi Ryan is best known for her contemporary romance novels and the sexy, passionate vibes of those books transfers perfectly to the faerie setting of These Hollow Vows. The combination of Fae fantasy and steamy/angry romance can work magically when written well, and Ryan gives readers exactly what they want, and then some… In fact, this is such a bewitching novel that it's difficult to believe that this is Ryan's first foray into YA fantasy fiction. Her world building is so beautiful – at once foreboding and enchanting – that you can't help but fall under the book's spell. How much you enjoy the story does ultimately rest on how much you enjoy a complicated love triangle, but if that's your fantasy romance poison, then be prepared for a fatal dose.
Like Folk of the Air, the story moves between the human and Fae worlds (though it mostly takes place within the confines of the faerie courts), revealing the differences and dangers of each. There's also a really strong sense of family – whether it's bonded by blood and sisterly devotion like Brie and Jas, or the kind of family that's found and chosen, like Finn and his merry band of Unseelie rebels. The whole story rests on the things the characters do for the people they love; things that threaten to make monsters of them, and yet they forge ahead regardless. It's these sorts of complex, morally grey and emotionally changeable characters that keep readers so high on their toes that they're practically floating in the air.
It's been nine months since my top fantasy book of 2020, Kingdom of the Wicked, was published, and I've been waiting patiently for another book to come along that features my favourite fantasy tropes. With morally ambiguous Fae princes, dark curses, sizzling romance, a courageous heroine whose love is matched only by her fury, and a wicked cliffhanger of an end, These Hollow Vows has it all.
★★★★★
These Hollow Vows is published by Hodder & Stoughton on 20 July 2021