Book Review: You and Me on Vacation by Emily Henry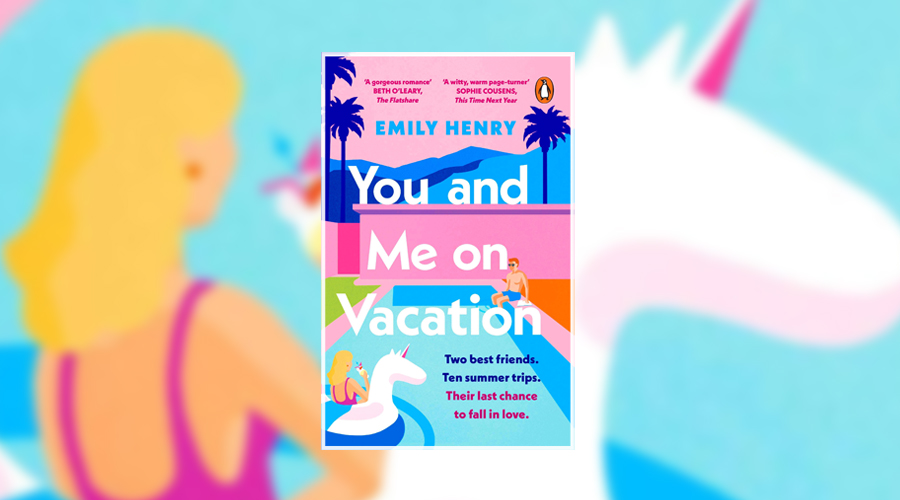 If you're searching for the epitome of a summer novel, there really is no book more perfect for these long, (mostly) sunny days than Emily Henry's You and Me on Vacation, which is an unexpected homage to When Harry Met Sally. Like Henry's debut adult novel, Beach Read, this is a witty and uplifting rom-com that draws readers in with its blend of holiday vibes, sizzling sexual tension and a whole host of complicated feelings between its loveable central characters – who may or may not end up together.
Set over the course of ten summer trips, You and Me on Vacation centres around best friends Poppy and Alex as they navigate their shifting friendship and feelings towards each other against the backdrop of different holiday destinations around the world. The unlikely friends met as young freshers at the University of Chicago and instantly disliked each other. With nothing in common, they had no intention of keeping in touch after that first awkward encounter. Of course, being a rom-com of the most serendipitous variety, fate had other ideas, and twelve years later they're still in each other's lives. But only just.
Very early on in the story, through Poppy's amusing and self-deprecating narration, we know that something happened to change her close friendship with Alex. Something that was bad enough to make them cease contact and for Poppy to not know how she could possibly spark up communication with her best friend again, even though she desperately needs him in her life. As a travel writer who's spent the last decade jet setting across the globe, Poppy doesn't really have anything else – apart from her job – to be proud of. She's lost enthusiasm for the work she once loved but she's sure if she can rekindle her friendship with Alex, the one thing in her life that makes her truly happy, everything else will fall into place. So she invites him on one last trip, which will either give them the opportunity to make up, or ruin their friendship forever.
"I wish I could bottle this moment and wear it as a perfume. It would always be with me. Everywhere I went, he'd be there too, and so I'd always feel like myself."
As someone who usually prefers the enemies-to-lovers trope, I wasn't entirely on board with this particular friends-to-lovers story at first. But I really shouldn't have doubted Emily Henry's ability to write a sparkling rom-com, because this book truly ruined me – not only with the palpable chemistry between Poppy and Alex, but with the teased out will-they-won't-they possibility of their endearing relationship being able to cross into romance territory without their friendship imploding in the process. It's obvious to readers before Poppy even admits it to herself that she loves Alex, and it's not in a 'best friends way', even though she's persuaded herself that it is. She's besotted with him and the feeling is intensely mutual – though Alex, too, won't admit it. Their relationship is both exasperating and adorable; they bounce off each other with an easy, amusing and tender warmth that comes from knowing each other inside out and – in Alex's case – arguably better than the other knows themselves. And yet neither character can summon the courage to acknowledge they're not just friends.
Away from Alex and Poppy, there are very few other characters that fill this story. Yet it really doesn't matter. Despite not being on speaking terms at the beginning of the present timeline, their thoughts revolve around each other. So it makes sense that – for readers – the story should only be about the two of them too. It's to Henry's credit that the book doesn't feel lacking of any other perspectives or wider outsider interaction bar a few minor encounters with fleeting on-off boyfriends and girlfriends over the years and periphery family members, like Poppy's unconventional parents and Alex's more conservative family unit. It drills home the fact that Alex is Poppy's whole world, and Poppy is Alex's. Which leads on to the book's true theme. Not love, surprisingly, but home. Sometimes home is a place. But, in the case of this story, home can be a person too. As Henry writes in the book's reader guide: "This is, ultimately, a book about home. About finding it, about staying in it, about wrapping your arms tightly around it and breathing it in until it fills up your lungs."
There's just so much to love about You and Me on Vacation, and whilst the most lovable thing about the story is Poppy and Alex's relationship, it's all the other ingredients – from the vacation destinations (some glamorous, others disastrous!) to the butterfly-inducing chemistry to the banter-filled dialogue – that brings it all together so wonderfully. When I say that Emily Henry ruined me with this book, what I should really have said is that she's ruined future rom-coms for me – because it'll be pretty tough to find a romantic comedy that can surpass how much I adored this one.
★★★★★
You and Me on Vacation is published by Penguin on 22 July 2021