Book Review: The Six by Luca Veste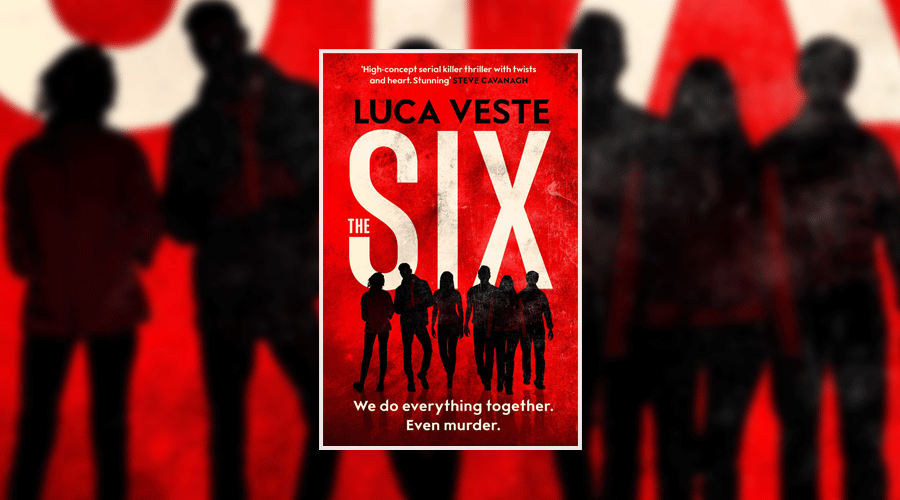 The Six opens in the aftermath of a murder, and then quickly doubles back on itself for a brief insight into the early childhood of an unknown serial killer – and if that hasn't immediately intrigued you, then this is not the book for you. Luca Veste's latest novel is dark, compelling and, after an initial lull in the earlier chapters, completely engrossing too. From thrills and mystery, to explorations of friendships that go back 20-odd years and a healthy dose of 90's music nostalgia, The Six has a little something for everyone – not to mention a wicked sting in its tail too.
Matt is our narrator here, a 30-something everyman with a secure job, a new house and plans to propose to his girlfriend, Alexandra, but first he's looking forward to a weekend away with his oldest friends to relive their youth at a nineties music festival as one last hurrah before real life, adulthood and the urge to settle down beckoned. But, on the last night of the festival, a man died and in the heat of the moment the six friends decide to bury the body and keep the secret of what happened that night only to themselves.
As the first anniversary of that fateful night approaches, however, the friends' pact of silence is broken and the killing starts again. With lives in danger and friendships fracturing, it's not long before the question of what really happened that night becomes deadly clear – and someone is ready to kill all of them to protect their secret.  
"I wanted to talk. I wanted to stop this. It seemed like insanity had taken over the group and we weren't thinking clearly. There was some other way out of this, but we weren't seeing it right then. Instead, we were making a decision we couldn't come back from."
While for the most part Veste's The Six offers a gripping read, its slow-burn nature made it a little difficult to get into at first. After the necessary world building and introductions into the key relationships – and, of course, the body in the woods – the novel just kind of stalls for several chapters until the mystery kicks in again. This is partly to do with Matt himself; following the incident at the festival, his fear (understandably) sees him shut himself off from the world and all other people, making for a lonely, pace-less middle until the group of friends come together once again.
But, really, it's the deep-reaching friendship between these people that is the heart and soul of this novel – and it's what provides a huge amount of tension when you're faced with a group of people sharing the same dark secret and conflicting opinions on how to cope with it. The heightened suspicions, the questionable decisions and the hints that some know more than they're letting on is part of what makes this novel such a gripping read and that chunk of novel without this feels like a missed opportunity.
Nevertheless, there's a really great story in this novel, which offers a fresh and distinctive perspective on a serial killer narrative by taking the action away from police procedurals or families of victims out for revenge and centring it on a group of people who happened to stumble into a scene from a horror film. It's difficult to read this and not question whether you agree with the characters' choices, or feel frustrated by their actions, and it's this that makes you carry on reading even through the slower parts, determined to see how it all plays out. 
Despite the ending being a bit laboured and playing out for perhaps a chapter or two too long, The Six really hits its stride in the latter half of the novel, blending twists, theories and mysteries in the present day narrative with snapshots of the group growing up through school and the various altercations they've faced over the years. There's perhaps an argument to be made that the book is a bit unbalanced, holding back all of the engaging elements for its latter half to the detriment of the early chapters, but overall The Six is a brilliantly twisted psychological thriller with plenty of intrigue and a mystery worth seeing through.
★★★★
The Six is published by Simon & Schuster on 26 December 2019