Book Review: The Faceless Old Woman Who Secretly Lives In Your Home by Joseph Fink and Jeffrey Cranor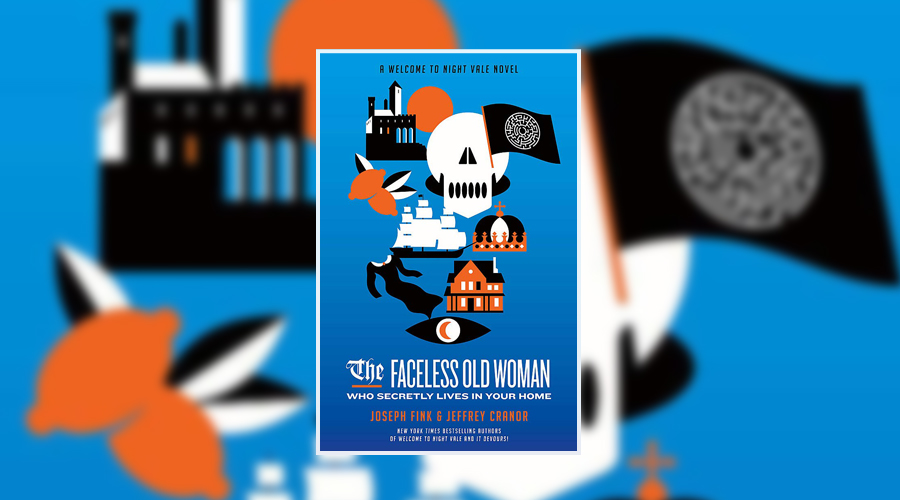 Joseph Fink and Jeffrey Cranor have written a spectacular story in The Faceless Old Woman Who Secretly Lives In Your Home, capturing the dark myth of gothic literature with the pace and adventure of a classic novel, adding in an absurdist essence. You can devour this book or parcel it out like a disturbing treat, never knowing if you're in for a funny and creepy wander with an unseen woman who haunts the corners of one's vision, or a swashbuckling caper through Europe in the 19th century. 
The story begins in the town of Night Vale, where strangeness is commonplace, and where the unnamed Faceless Old Woman currently resides as she watches over a young man and tries to course correct his life. Her tactics range from treats, like paying off his debt (using stolen money) to tricks, such as letting rabid animals into his apartment and causing car crashes. She is a caring but strict figure, determined in what she sees as her duty to guide the man. Yet she isn't afraid of scaring him or making him feel like he's seeing and hearing things. She is lovingly cruel. 
Then we flash back to her childhood and her story unravels; from her early years with her father, playing in orange groves and being indoctrinated into his smuggling business, through to her life of revenge. The story moves in sections between the present and the past, telling the story of her life and how she came to be in Night Vale, as well as how she became The Faceless Old Woman.
Much of the bulk of the story takes place in the past, taking us across many lands as she continues on a crusade for revenge after her comfortable childhood life is destroyed. Along the way she meets a fantastic cast of characters, from walks of life different to her own but alike in their quest for the unordinary. Together they form a pirating crew, undertaking bigger and more grandiose heists, using their unique abilities to make a living and assist The Faceless Old Woman – though she is young and with a face to begin with – in her mission.
The party is primarily comprised of three others: Lora, a giant woman with impressive strength and a strong mind. André, a handsome and charismatic man who has no romantic interests and so feels free to befriend anyone. And Rebekah, someone who can take on a myriad disguises at the donning of a hat; her ability to transform is fantastical and impossible – which is all the more fun as she at times has to chase herself down as guard and thief.
The group become close friends, working with one another to meet their ends, mainly in service of The Faceless Old Woman, though they do so willingly. They are all misfits of a sort, hugely endearing and just plain fun. There feels like hundreds of stories in their adventures over the years, but we only get a handful.
In her plot for revenge, The Faceless Old Woman attempts to infiltrate a secret order whose passing ships seem only to transport glowing boxes and be manned by figures who are neither tall nor short. The only markings being a black flag with a white labyrinth. She comes into conflict with nobles, local scoundrels and armies but never wavers from her course. Revenge consumes her, and over the years, more and more, it defines who she is. Reaching Night Vale and catching up with the start of this novel, we get to – mostly – realise exactly how she came to be there and why.
As much a mystery as it is a rollicking adventure, The Faceless Old Woman Who Secretly Lives In Your Home is a captivating and imaginative read from start to finish. You don't need to be familiar with the podcast series Welcome to Night Vale, from which this novel comes, but if you're already intrigued by the show, this is a spectacular addition to Fink and Cranor's world.
★★★★★
The Faceless Old Woman Who Secretly Lives In Your Home was published by Orbit on 26 March 2020