Book Review: The Couple by Helly Acton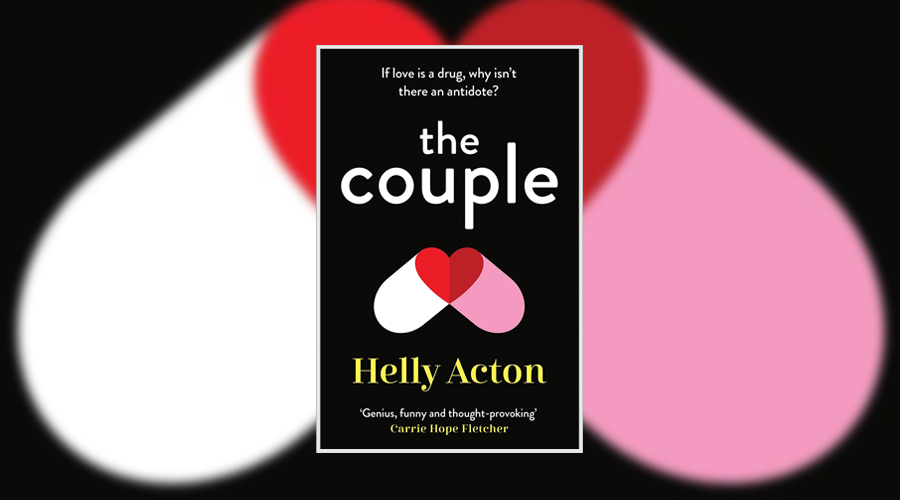 In a world where being single is the norm and being in a couple is seen as odd, would you sacrifice everything you believe in for love? That's the question that Helly Acton's latest novel The Couple seeks to explore.
With a thought-provoking premise and a more familiar story of self-realisation at its core, The Couple is an engaging book that sparks debate and encourages discussion at almost every turn, provoking questions and reflections about modern society, our attitudes towards relationships and what it means to fall in love. But while this novel introduces some intriguing ideas, The Couple is at its strongest when it focuses on its characters and relationships and not necessarily the Black Mirror-like world in which the novel is set.
The novel follows perfectionist Millie, who's completely satisfied and fulfilled in life with her job at one of the biggest apps in the world, Slide, with a great support network of family and friends around her and the promise of achieving her goal of becoming Chief Creative Officer before she turns 30. Like most people, Millie is not interested in a romantic relationship at all, and besides, everyone knows that being in a couple is a bit weird anyway, so the last thing Millie needs is to start feeling something for her new co-worker, Ben.
Ben is Millie's complete opposite – chaotic where she's organised, and goofy where she maintains strict schedules – but the moment they meet, Millie can't deny that she likes him a lot. When Millie and Ben are paired together on a new project, tasked with launching a pill that can stop those who take it from falling in love, it's not long before they start getting closer as charming, funny Ben helps Millie to embrace a life with a bit less structure in it, and Millie is left questioning whether she's prepared to go against everything she believes in for love.
'When their conversation goes quiet, Millie's thoughts grow loud. She wonders what Ben really thinks about her obsession with routine, her aversion to risk and her fear of change. They're so different, they shouldn't work. So why does it feel like they do?'
On the surface of it, The Couple's premise feels like an interesting one, painting the picture of an alternate reality world that is structured around the idea of staying single – with tax breaks for single people, a day to celebrate being single and couples being the ones to face questions about their relationship status from 'well-meaning' friends and family. But while the idea did successfully hold a mirror up to modern society and our exalting of romantic relationships in general, creating a disorienting, jarring world in which the social norms are flipped for the reader, ultimately it felt like the premise fell flat by only paying lip service to the idea, and not exploring the wider impact of such a shift in attitudes.
There are, of course, fun little nods to the new normal, like the idea of everyone being gripped by a Love Island-esque show called Single Me Out! in which the goal is to encourage couples to split up and embrace their new life as a singleton, while readers are told about songs titled 'I Will Always Love Me' and sit down to watch Life, Actually, but although it's clear the author was making a point about the prevalence of love and relationships across every aspect of our modern culture, throughout the novel references like these became repetitive and had very little impact on the overall narrative of the story too. Even the introduction of a pill that prevents people from falling in love contributes very little in the way of plot momentum, and it's instead used more as a jumping off point for some very interesting discussions on the different kinds of romantic love and the ways in which people view love as a limitation.
Strip back the premise that sparks more questions than it answers, however, and The Couple is a fairly typical opposites attract, workplace romance story, and it's here where the novel truly shines. From the moment they meet, Millie and Ben had a cute connection that grows through instant messages, a shared love of puzzles and a research trip-turned-impromptu getaway that sees Ben encourage Millie to be more spontaneous and less regimented at times. With their differing viewpoints and experiences, Millie and Ben's friendship becomes a catalyst for Millie to really start thinking about her life and what she wants out of it – even if that something involves going against the common perceptions of what it is you should be looking for.
And to that end, this book is a very enjoyable, heartwarming read. Despite a couple of occasions where the plot jumps around a bit and secondary characters that feel like they exist purely to advocate for each side of the singles vs relationship debate, this is a quick and intriguing read that offers something a little different for fans of the contemporary fiction genre. The Couple is a quintessential book club novel, filled with lots of entertaining moments and a central relationship you root for, as well as a solid friendship between Millie and her best friend June too. It may take a while to get your head into the mindset of these characters and the world they live in, but even if you're not wholly on board with the concept, this novel leaves you with plenty of questions about love, relationships and what you think your priorities are.
★★★
The Couple is published by Zaffre on 27 May 2021