Book Review: Star-Crossed by Minnie Darke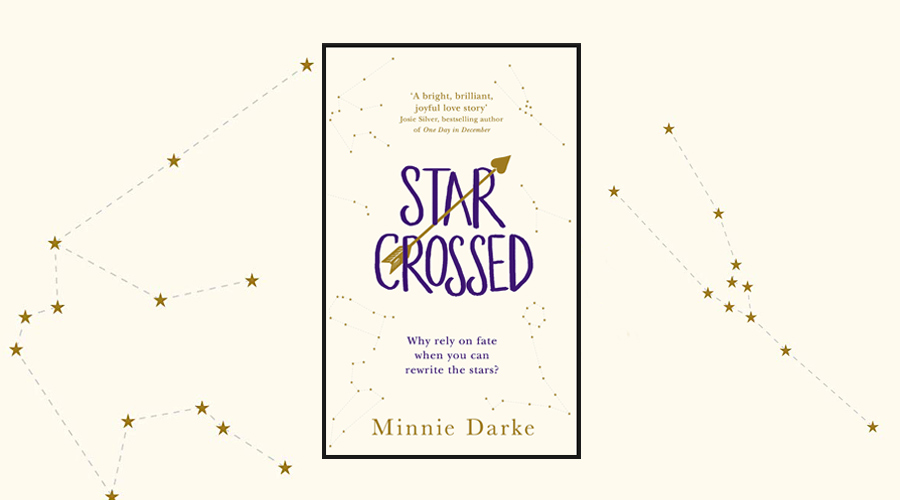 Romantic comedies are always a bit hit-or-miss. Mushy, cringe-worthy and overly sentimental, they've been giving us unrealistic expectations of love and relationships since the Golden Age of the rom-com. Yet there's nothing hit-or-miss about Minnie Darke's Star-Crossed, a wonderfully funny and feel-good story about love, friendship and rewriting the stars – literally.
When Justine randomly bumps into her childhood friend and teenage crush Nick, it's as if fate has weaved its magic. They haven't spoken or seen each other for years but the attraction is still there – for Justine anyway – as they catch-up and reminisce over fish and chips in the park. Justine works for a local magazine and is just waiting for that big writing promotion, whilst Nick is a struggling actor, working various menial jobs and searching for the big role that will finally launch his career. They're both professionally unsatisfied and, certainly in Justine's case, personally unfulfilled, yet when Justine gives Nick her number, he doesn't text or call.
Looking for a way to get Nick's attention, Justine has a light bulb moment. She might be a hard-bitten sceptic, but Nick devoutly relies on her magazine's astrology column to guide him in life. By surreptitiously making a few small edits to the Aquarius horoscope, Justine hopes to push Nick in the right romantic direction. But in artfully rewriting Nick's horoscope for her own gain, it's not just her newly acquainted crush she's meddling with, but all the other Aquariuses who use the horoscope to help them make big, potentially life altering decisions. Justine's words cause a ripple effect across the readers of the astrology column, and the results, as you'd expect, are hilarious.
Justine is a warm and witty character, completely charming in her obliviousness to the fact that Nick isn't the only one who'll take her horoscope amendments seriously. She's got a one-track mind and that track keeps leading her to Nick, who's already having a crisis of the heart with his on-again-off-again model girlfriend. Darke sprinkles her story with humorous chance encounters and droll banter, as 'fate' keeps throwing Justine and Nick into each other's paths. Nick is equally endearing and you want these two characters to stop running in circles and instead run into each other's arms. But this is still a romantic comedy in the classic sense and there's plenty of awkwardness and drama to get in the way of Justine's happy-ever-after.
You don't have to believe in astrology to enjoy Star-Crossed. It's a down-to-earth, relatable and uplifting book that will have you laughing out loud. With its refreshing Australian vibe and charmingly flawed characters, this is the book equivalent of a lovely, sunny, indie rom-com. An absolute delight from start to end.
★★★★★
Star-Crossed is published by Bantam Press on 4 April 2019