Book Review: Mexican Gothic by Silvia Moreno-Garcia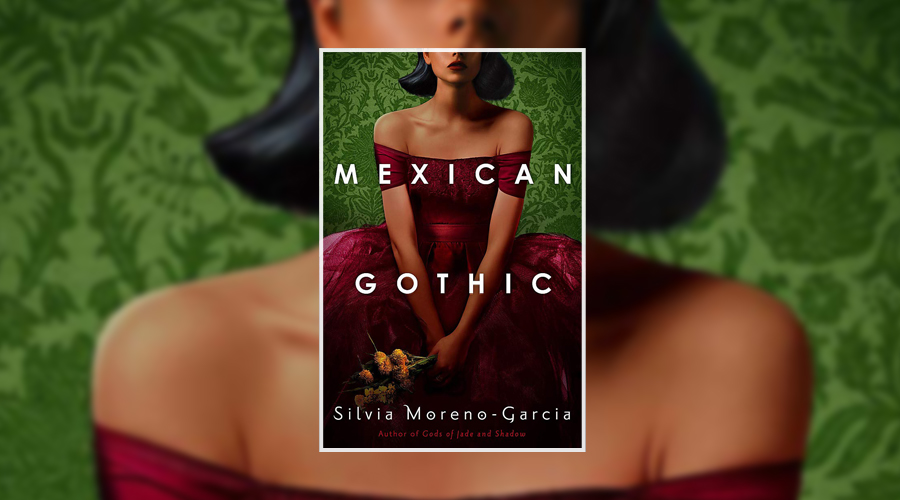 Set against the eerie milieu of an old mansion in 1950's Mexico, Silvia Moreno-Garcia's historical fantasy novel sees a young, glamorous socialite unwittingly drawn into an ancient haunted house as she attempts to rescue her cousin. But this isn't a haunting of the sort we've seen before, and the house in Mexican Gothic is hiding secrets and threats much more menacing than apparitions and ghouls.
"He is trying to poison me… You must come for me, Noemi. You have to save me." These are the words, hastily written in a letter, that compel Noemi to pay a trip to her newly-wed cousin Catalina in the remote Mexican countryside. Noemi, who's more suited to cocktail parties than amateur sleuthing, knows that her dramatic cousin has always loved reading fairytales, but Catalina's claims of poisoning and ghostly visions seem beyond even her wild imagination. Encouraged by her wealthy father, Noemi determines to find out the truth and return home to her chic, carefree life as quickly as possible.
Arriving at High Place, an isolated mansion sitting high above a cold, fog-shrouded town, Noemi is instantly ill at ease. Yet she's tough, smart and determined not to be intimidated by Catalina's arrogant husband, Virgil Doyle, or his strange, stern family – including the old and ailing patriarch, who displays an unnerving fascination with Noemi. Upon seeing her cousin, Noemi realises that something is genuinely amiss; if not with Catalina's physical or mental health, then with the Doyle family itself. They shun modern amenities, eat their meals in deathly silence and keep an unnaturally close eye on Noemi at all times. It's almost as if they're trying to hide something…
With Catalina bordering on catatonic, Noemi's only ally in the Doyle household is the family's youngest son, gentle and introverted Francis, who's weighed down by his family's history, bound to keep their immoral secrets from the outside world. The more time Noemi spends in the house, the more difficult she discovers it is to leave. Her dreams are invaded by disturbing visions – nightmares of blood and doom and desire. It's at once terrifying and seductive and hard to resist – and soon it's not only Catalina who is a prisoner at High Place.
"Loyalty to the family is rewarded, and impertinence is punished. Remember that and you shall be very happy."
Mexican Gothic is the kind of book that reminds me why I love reading so much. It's a beautifully written and lushly detailed story full of dark atmosphere and underlying menace that can be felt right from the moment Noemi sets foot in High Place. The human nature of the threat isn't instantly clear – is it Virgil, the domineering husband; his father Howard, the dying man still wielding control from his deathbed; or maybe even the family doctor, who won't listen to Noemi's concerns – but that ominous sense of peril swirls around Noemi like the fog that surrounds the house, a suffocating force draining her vitality.
Silvia Moreno-Garcia fills Noemi with conflicting emotions that infect the reader too. She's frightened but intrigued, revolted but yearning. A weaker, more meek woman might have left the moment she met the strange Doyle clan, but Noemi has such a fierce resolve, partly due to the fact that she's used to getting what she wants and charming people, particularly weak-willed men. The Doyle family aren't so easy to win over though, and surviving High Place is as much a battle of wills as it is a battle of physical strength.
The novel might be set in Mexico in the 50's but with its heavy English influence – Moreno-Garcia was inspired by a real town with an English cemetery in the mountains of Hidalgo – there's a distinctly Victorian gothic horror feel to the story, contributing to the musty, ghoulish atmosphere so at odds with Noemi's modern, feminist attitude. Yet beyond the classic horror and unnatural chills that permeate the tale, it's Noemi's love  – for life, for her cousin, and latterly her blossoming love for Francis – that light a path through the darkness.
Silvia Moreno-Garcia has written a haunted house story that's disturbing and enchanting in equal measure. By the end I was glad the nightmare was over but simultaneously wished I could conjure up more pages to continue Noemi's next chapter. Immersive and suspenseful, Mexican Gothic is up there with this year's best novels.
★★★★★
Mexican Gothic was published on 30 June by Jo Fletcher Books