Book Review: House of Hollow by Krystal Sutherland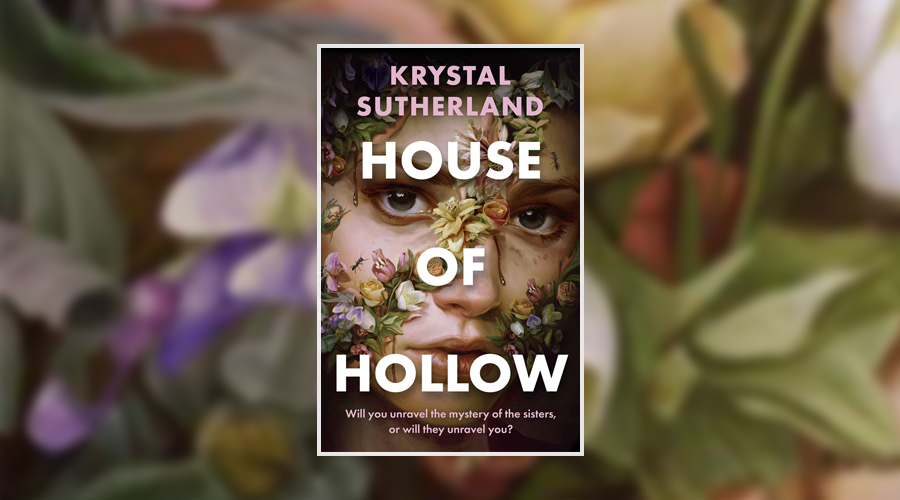 House of Hollow is a marked departure from Krystal Sutherland's previous two YA contemporary novels, Our Chemical Hearts and A Semi Definitive List of Worst Nightmares. Whilst this latest book still deals with the more ordinary struggles – love, grief and complicated family dynamics – of being a teenager, it's set against a creepy, paranormal urban-fantasy backdrop that will send shivers up readers' spines.
The story centres on the three Hollow sisters: Grey, Vivi and Iris. With ink black eyes and hair as white as milk, the sisters are an alluring and seductive mystery to everyone around them. They have been ever since they disappeared as children, reappearing one month later with no memory of where they'd been, and with scars at the hollow of their throats. The sisters have admirers but they don't have friends. They don't need them. They have each other. That is until eldest sister Grey, a much-admired model and designer who's infamous for her bewitching couture, disappears once again, leaving a trail of disturbing, inexplicable wreckage for the remaining two sisters to unravel.
As the youngest Hollow, Iris still lives in the over-protective bubble created by her wary mother. She's used to being left behind whilst her sisters live the wild, unconventional lives that match their equally wild and unconventional personalities. Yet this time is different. Iris knows deep in her bones that something terrible has happened to her sister, and it all leads back to what happened when the three Hollows disappeared all those years ago. With a creepy man wearing a minotaur skull stalking them, Iris and Vivi desperately go in search of their sister, tracking her last movements through London before she disappeared – or was taken.
"Dark, dangerous things happened around the Hollow sisters."
House of Hollow is a dark and compelling genre-twisting enigma of a book. It's a story that's grounded in the real world, with our celebrity obsessed culture and morbid curiosity with the mysterious, but it's also full of lush and disquieting imagery that creates a distinctly nightmarish, fairytale feel. The Hollow sisters are otherworldly and the effect they have on those around them – call it a super power or a curse – is eerily unnatural. It's quite clear from the beginning that the sisters aren't just strange or damaged (though they could be described as both); there's something distinctly wrong with them. Even Iris, who has a sweetness and naivety that makes her a likeable and sympathetic narrator, understands that there's something bad running through her blood. She just can't identify what it is.
Aside from the Hollow sisters themselves, there are only a handful of other characters who actually have a significant part in the story. There's the creepy minotaur, who has unfinished business with the sisters; their Mum, Cate, who outwardly despises her eldest daughter and is barely holding what remains of her family together; and Grey's boyfriend, Tyler. Out of these side characters, it's really only Tyler – a prominent model with a sarcastic attitude and a gender non-conforming dress sense – who's given room to breathe. In a book that centres on the strange and unexplained, Tyler provides the story with a much-needed touch of levity. His arrogance and superficiality might grate in another kind of YA novel, but here it feels like a breathe of fresh air against the darkness that consumes the Hollow sisters.
There's so much gruesome terror swirling through this story, giving it a much more grown-up feel than Krystal Sutherland's previous books. Indeed, if it weren't for the young characters at the heart of the story, you might not even categorise it as YA. House of Hollow is a swirling, simmering cauldron of genres – part mystery, part horror, part fantasy and part contemporary family drama, dealing with themes of grief, death, guilt and the complex bonds between sisters. Swathed in a haunting, harrowing atmosphere, it shows a more fantastical side to Sutherland's writing that will appeal to readers with a penchant for twisted folklore and YA horror. Let's hope it's not the author's final foray into such dark and creepy storytelling.
★★★★
House of Hollow is published by Hot Key Books on 6 April 2021