Book Review: Front Desk by Kelly Yang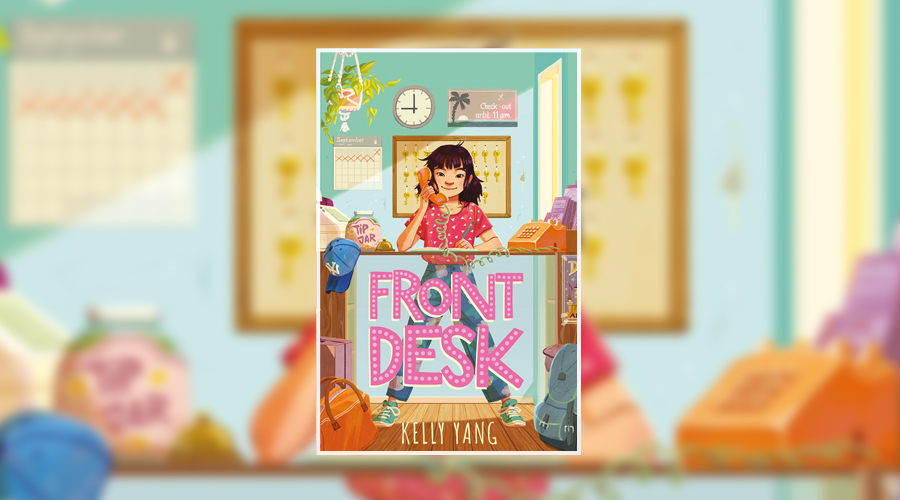 Front Desk is a wonderful, warm and adventurous middle grade novel. It follows Mia Tang and her parents, who have recently immigrated to the US from China seeking a new life in the land of opportunity. When it becomes clear that good jobs are hard to come by, Mia and her family end up running a motel, under the watchful eye of the mean owner Mr Yao. They work hard and hold each other close, and manage to create a safe haven for other Chinese immigrants making their own way in the US, as they negotiate the rollercoaster of life.
Mia is instantly loveable. She is determined and thoughtful, with the kind of open optimism that only a young child has. On the cusp of realising exactly how complicated and unfair the world can be, she is smart enough to notice there are judgements being made about her family as poor immigrants, and to be steadfast in not accepting unfairness or inequality simply because she's told it's so.
For young readers, and older ones too, Mia has the kind of bright spirit that inspires you. And this is exactly what she is able to do with the many adults she comes across, from the regular motel guests, called weeklies, to teachers, police officers and even her parents.
One of the primary ways Mia inspires is through her words, developing her English writing skills by penning various letters. Despite being told that she won't ever be as good as the US born kids in her class, Mia is sure that she can be a great writer. And she proves this with her letters – which we get to see evolve as the novel goes on, and through the styling which shows us where she has crossed out and rewritten words or parts of sentences.
Layered into the story is also Mia's experience as a Chinese immigrant in the US, seeing how other immigrants and minorities are treated, often horribly by the general public and sometimes by each other; Mia faces everyday racism at her school, sees the prejudice against Black people in the US and the dangerous situations that desperate people can fall into when just trying to make a living.
There's no covering up the harsh realities of being poor and struggling to make ends meet in Front Desk, nor should there be. However, there's a cosy sanctuary in Mia's home, a single room behind the motel front desk, with her family. They enjoy meals together, talk about their lives, share their wins and losses. It's not always perfect or idyllic but it is real and comforting. Mia also makes a good friend at school, giving her a peer to joke with and confide in. As Mia gets to know the other residents of the motel, she builds a chosen family. She and her parents earn the trust of what would otherwise be a disparate group of people, not just by being there for them but through standing up for them and supporting them too.
Ultimately, Front Desk is an uplifting story of hope – one that middle grade readers, think 8-12 years old, can delight in and be buoyed by. Plus, if there are any aspiring writers out there, it's definitely a reminder to trust in your skills and your enjoyment of writing, and to always keep going.
★★★★★
Front Desk was published by Knights Of on 7 January 2021