Book Review: My Epic Spring Break (Up) by Kristin Rockaway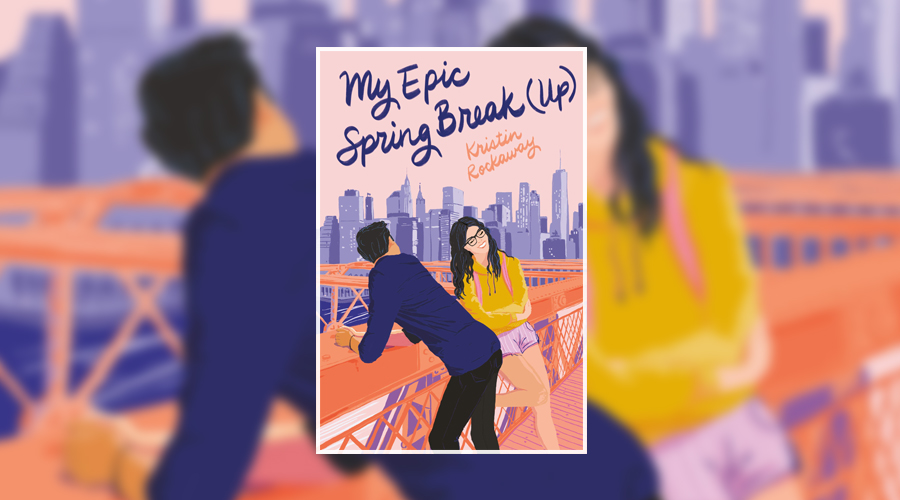 Sometimes all you're looking for in your next read is that it's quick, cute and entertaining, and if that's the case then Kristin Rockaway's My Epic Spring Break (Up) is a real contender. This novel, Rockaway's fourth overall and first foray into the world of YA, is a coming-of-age storyline that hits all the right notes and a light romance with a lot of heart, making this a sweet and enjoyable read that covers a lot of familiar ground.
The novel follows Ashley Bergen, a smart, driven and ambitious 16-year-old who sees high school as prep work for college and nothing more. Between her AP classes, Mathlete membership and her beloved Coding Club, Ashley has never really had the time to go on a date or two, let alone embark on a new relationship. But when her life plans veer off course at the beginning of the spring break of her sophomore year, Ashley starts to think that she might be missing out on the complete high school experience after all, and sets out to have a bit of fun.
After reconnecting with her childhood friend-turned-class prankster Jason Eisner, Ashley decides to follow her heart for the first time in her life and sets out to make this a spring break to remember, starting by actually talking to her longtime crush, Walker Beech. But as she starts dating, engages in a bit of teenage rebellion, and counts down to the impending Hackathon competition that has the potential to help her back onto the life track she wants to be on, Ashley begins to realise that some things in life are just out of your control, and that the moments when life goes wrong can often help you realise what you're really looking for after all.
"I may not have control over my future, but I do have control over this moment. I can choose to sit here and be miserable. Or I can choose to stand up and follow my heart."
At 232 pages, My Epic Spring Break (Up) is the very definition of a quick and easy read. While the shorter page count and the upbeat narrative does help make this a fast-paced novel that can easily be completed in one sitting, it does also mean that the story tends to skim the surface more often than not. There are no real complexities or any true surprises here, and what you see is very much what you get, including a love triangle with a very clear favourite, sidelined best friend characters that are not really given a distinct personality of their own, and a lot of Big Decisions squeezed into an unrealistically short two-week time-frame. In fact, there's a lot about the narrative that feels rushed, from Ashley's 'dates' with Walker and the shifting nature of her relationship with Jason, to the Hackathon competition itself and how everything wraps up, all of which would have benefited from being explored in more thorough detail.
Having said that, however, Rockaway does do a fairly stellar job of building up a realistic picture of her protagonist and, as a whole, Ashley is a likeable if frustrating lead character. Her actions may err on the more extreme side of teenage rebellion at times and the characters around her reduced to caricatures – including, but not limited to, an overprotective mother and an absent father – but Ashley herself feels like a character that a lot of readers will be able to see themselves in, struggling with questions of whether she's making the right choices, or whether she's on the right path in her life. Ashley's commitment to her coding and the STEM representation was refreshing to see too, and Rockaway did a great job of breaking down the terminology and making it accessible and fun for readers.
And there really are a lot of great things to like about this novel. Its Brooklyn setting is brought to life in vivid detail, with My Epic Spring Break (Up) feeling as much like a love letter to New York as it is a coming-of-age romance; readers will fall in love with the city right alongside Ashley, who rediscovers her love for her hometown as the book goes along. While the love story itself was a little rushed, Jason himself was a wonderful and realistic character, and Rockaway captured the easy, familiar beats of Ashley and Jason's relationship as childhood friends to high schoolers who've drifted apart in recent months with ease; all of their interactions were filled with warmth, humour and nostalgia. It would be remiss not to note Ashley's great love for Taylor Swift in this novel too, which allowed Rockaway to draw on some of the singer's biggest hits to help her tell this story, while also adding another layer of authenticity to Ashley's character.
My Epic Spring Break (Up) has the makings of a truly wonderful YA novel, then. This is a fun story with an important and reassuring message about learning to adapt when things don't go the way you expect them to, not to mention a charming love story built on a solid friendship and an accurate portrayal of all the confusing emotions that can come when feelings start to change. But while it is a story that captures the warm feeling of all the great spring/summer teen romance novels on the market, ultimately, it doesn't actually offer up anything new to the genre, and therefore ends up falling a little flat. If you pick up this book expecting depth, nuance or something groundbreaking, then you're going to be disappointed. But for a quick and easy read, and a joyful escape when you have a few hours to spare, My Epic Spring Break (Up) is an enjoyable and heartening novel that will leave you with a smile on your face.
★★★
My Epic Spring Break (Up) is published by Random House Inc on 6 April 2021