Book Review: Arrowood by Laura McHugh

Laura McHugh's second novel, Arrowood, takes readers to an historic house in southern Iowa, where family lies and devastating secrets linger in the air like mayflies on a humid summer day. It's a tale of tragedy and misshapen memories, set against the backdrop of grand houses, unsolved crimes and the Mississippi river.
The story centres on Arden Arrowood, who returns to her ancestral home in the hope of piecing together her broken life and solving the years-old mystery surrounding her twin sisters' disappearance. Arden is running away from an embarrassing incident with a university professor, and the ornate Second Empire style house that she inherits after her father's death gives her the perfect place to escape to. However, the house also holds memories for Arden; recollections of her parent's fractured marriage, of the first time she fell in love, and the kidnapping of her siblings.
Arrowood brings Arden closer to a past she's desperate to drag back to the present, but secrets are buried for a reason, and these particular roots are difficult to dig up after so many years. With the help of old friends, unexpected allies and an amateur investigator who runs a website called Midwest Mysteries, Arden explores the history of her home and the people who were in close proximity to the house on that fateful day when the twins vanished. As she gets closer to the truth, Arden is forced to question just how reliable people's memories are, including her own. Is a memory only as trustworthy as the person who recalls it?
Much like Hester Young's The Gates of Evangeline, Arrowood features a traumatised female protagonist trying to find answers in an ancient house with a disturbing past. I love America-set books that paint a vivid and atmospheric picture of the sultry, airless environment and McHugh has captured it perfectly here. Also eloquently portrayed is Arden's devotion to the memory of her baby sisters. She refuses to let the image of them slip away, even when everyone else seems to have given up on them. Particularly frustrating is Arden's stony mother, whose lack of maternal softness stings the reader as much as it hurts Arden.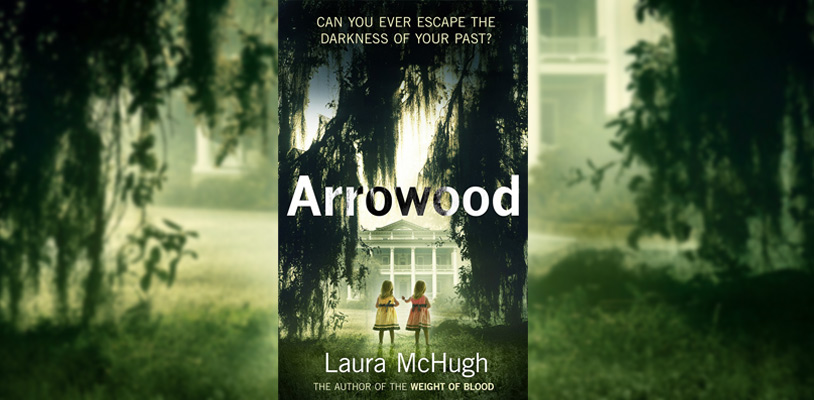 The romantic element of the story is refreshingly low key and without cliché. Returning to the town of Keokuk means Arden is forced to reunite with people from her past, including her childhood friend and first love, Ben. There's a history between them and Arden is instantly drawn to the nostalgia that Ben makes her feel. He reminds her of a time when she was happy, before the twins went missing and her parents divorced, and she clings to that because it's safe and familiar. Does she still love Ben though, or is she in love with the youthful memory of him?
As with any good mystery story, almost everyone seems to be acting suspiciously and Arden considers every possibility as to who abducted the twins, reducing the list of people she can trust to a number that can be counted on one hand. The final reveal of what really happened to Violet and Tabitha Arrowood hits hard like a punch in the gut, creating a powerful and poignant denouement.
With an eerie, almost-ghostly setting, and a style of writing that's easy to devour, Arrowood is a haunting and heart-breaking novel that puts Laura McHugh on the literary map as a writer to watch.
★★★★
Arrowood was published by Century on 11 August 2016.