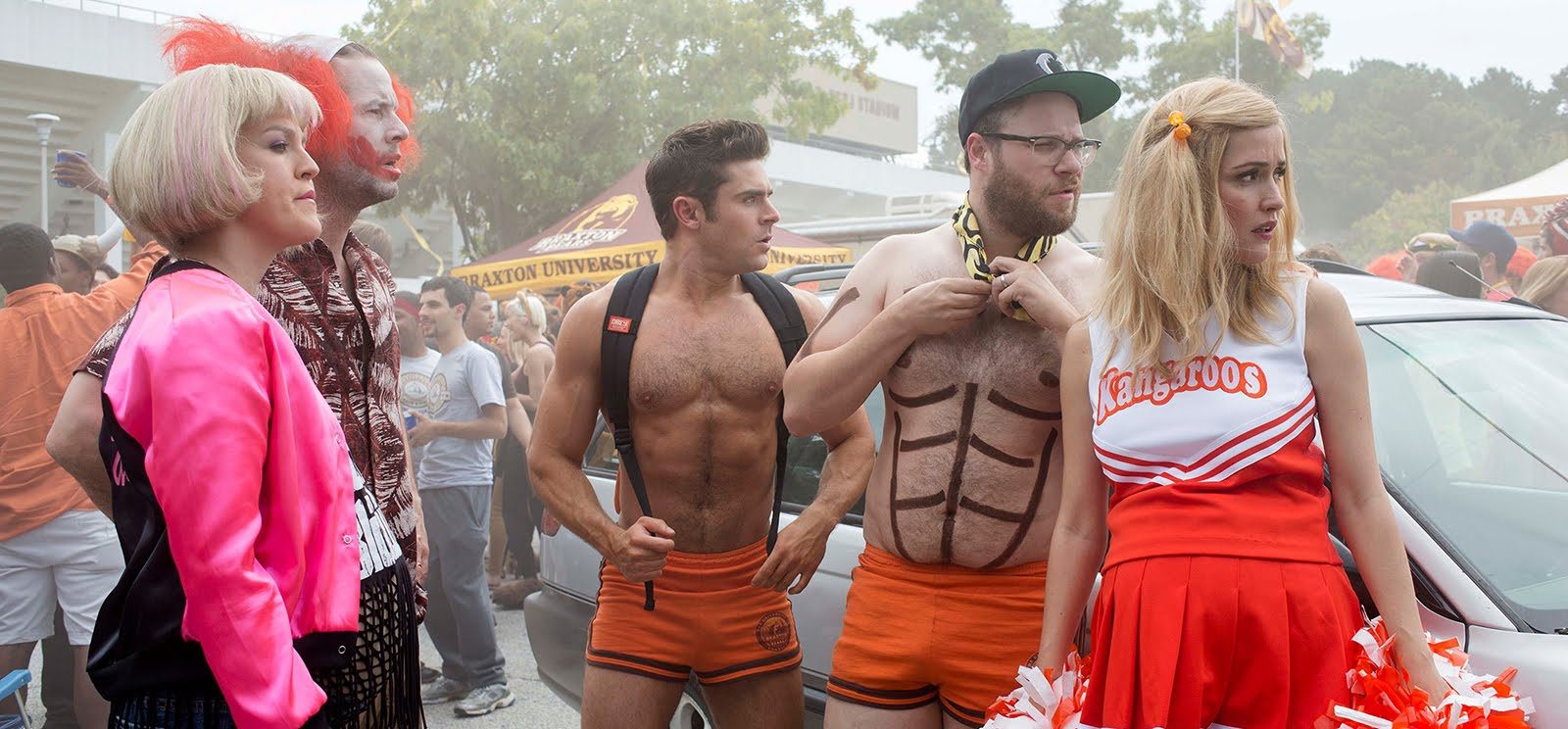 Genre: Comedy
Directed by: Nicholas Stoller
Starring: Chloë Grace Moretz, Zac Efron, Rose Byrne, Seth Rogen
The first Bad Neighbours film was hardly a groundbreaking kind of blockbuster – throw in a couple of dirty jokes, increasingly ridiculous plot threads and a shirtless Zac Efron, and you have yourself a movie that grossed over $270 million – but it was a blockbuster nonetheless, so you'd be forgiven for thinking the sequel would adopt an 'if it's not broke, don't fix it' approach. And while it's certainly true that the very basic plot line was closely adapted from the first film with an eye-rolling sense of familiarity, Bad Neighbours 2 actually became something great in and of itself.
Picking up a few years after the first film, Bad Neighbours 2 opens with Mac (Seth Rogen) and Kelly (Rose Byrne) pregnant with child number two and preparing to move to their new house in the suburbs, but their plans are quickly threatened when a new sorority sets up shop next door and threatens the sale of their own property. Head of said sorority is Shelby (Chloë Grace Moretz), an 18-year-old freshman who wants to challenge the sexist stereotypes of the American Greek system, while Teddy (Zac Efron), who is deep within that all-too-real post-college/pre-career limbo, returns to teach Shelby how to run her sorority, drawing from his years of experience as president of Delta Psi, and reignite the war with the neighbours.
Mac and Kelly may not have developed too much from the first film – they're still the same vaguely irresponsible parents with enough time on their hands to get involved in a wildly inappropriate battle with a group of college students – and it seems they learned nothing the first time around, but the younger characters are refreshingly progressive, and it adds a much-welcomed touch of reality to an otherwise highly implausible film.
We have an admirable protagonist in Shelby as a young woman who hits back at the expectation that sorority girls need to dress in skimpy clothing and forever be the objectified 'hoes' to the fraternity's 'bros' if they want to party. She founds the newly-formed Kappa Kappa Nu in a bid to create a place where girls can avoid spending their time in "rapey" fraternity parties, dress however they want, have sex, smoke weed and drink without judgement. They're just as likely to hold feminist icon fancy dress parties as sit down to watch emotional teen dramas like The Fault in Our Stars in Kappa Nu, and Shelby's fight to keep hold of her new sorority and Pitch Perfect-style group of misfit sorority sisters is more than commendable.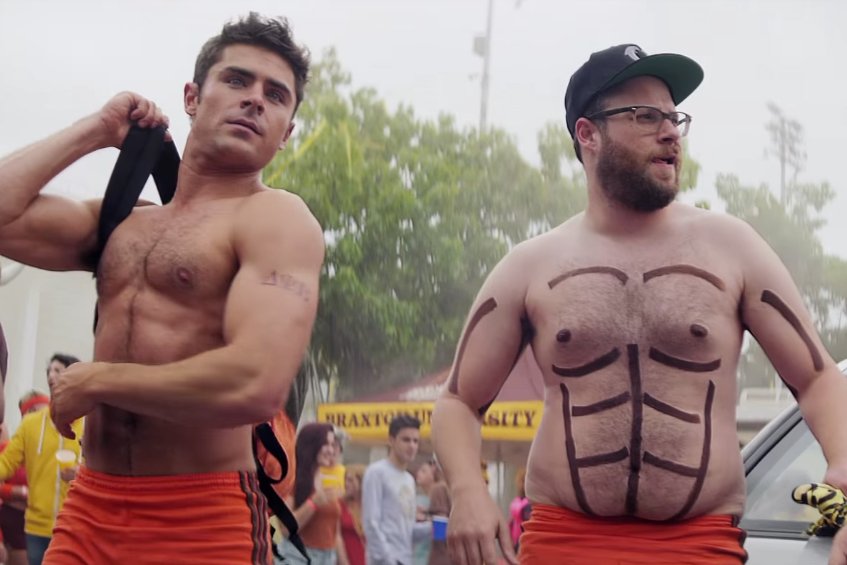 Efron too plays the unexpectedly relatable role of a 20-something trying to find his place in the world. With the first film's stars Dave Franco (Pete), Christopher Mintz-Plasse (Scoonie) and Jerrod Carmichael (Garf) returning as Teddy's former frat brothers who are each moving on with their lives by progressing in their careers and getting engaged, Teddy is left feeling undervalued and displaced as he falls back into doing what he knows best: throwing parties and planning pranks. This vulnerability is played off well in his relationship with Mac, giving a more nuanced edge to Teddy's pretty, dumb, frat boy stereotype, and putting that lost time between college and 'adulthood' firmly in the spotlight.
All through the film, the jokes are quick and plentiful, ranging from the genuine chuckles prompted by the dirty quips through to the bursts of shocked laughter that accompanied the unexpected comments on Bill Cosby and police brutality. It's the kind of humour that Seth Rogen excels in writing, and between that, Moretz's great performance and Efron's self-deprecating turn, Bad Neighbours 2 is a solid effort with a surprisingly relevant emotional core. The pro-feminist slant is rare enough in Hollywood to be noted and praised for its inclusion here, all the while retaining all the crude, lewd and sometimes inappropriate comedy that made the first film a box office success.
If subverting expectations was the aim, Bad Neighbours 2 definitely succeeded. It's a quick and easy film to watch if you're looking to switch off and enjoy, and while not all of the jokes hit the right mark, it was more than enough to keep the comedy on the right side of entertaining for the majority of the 90 minute runtime.
★★★★