8 of the best new books to read this March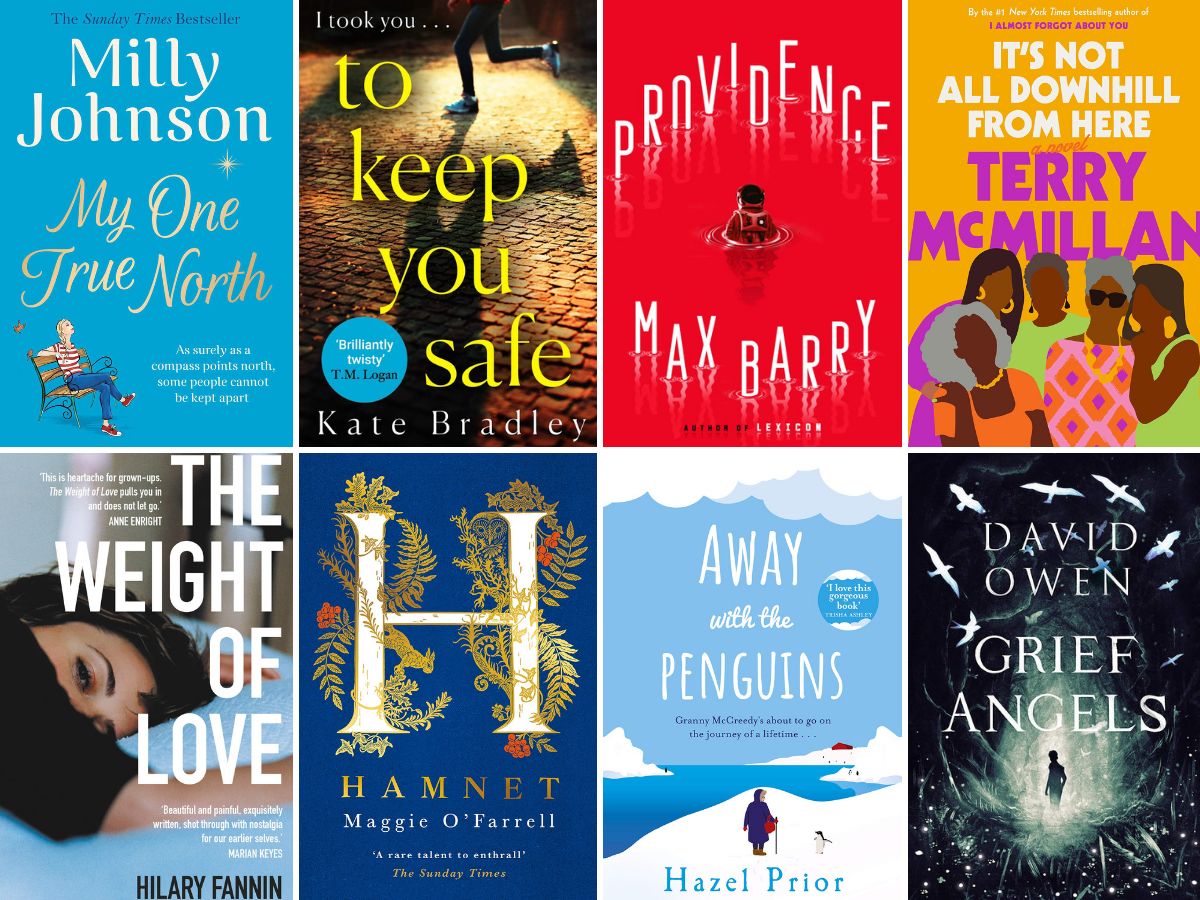 After what feels like the rainiest February ever, we've finally reached March, which means the days are that bit longer and spring really is just around the corner. This month's bookish calendar is also something to feel optimistic about as we delve into all the new books hitting shelves.
If you're having trouble selecting your next read, let us help you out. From hotly anticipated literary delights and cosy romance to psychological suspense and space opera thrills, here are 8 new books to add to your TBR pile this month.
My One True North by Milly Johnson
After losing their partners on the same night six months ago, Laurie and Pete are brought together at a counselling group where they bond over their mutual grief. Yet the closer they get and the more they learn about their respective pasts, the more complicated their relationship, and this new, uncharted chapter in their lives, becomes. Milly Johnson brings her trademark warmth, humour and compassion to this tale of love, fate, second chances and the importance of giving your heart time to heal. The perfect read for a rainy day spent under a blanket. (5 March, Simon & Schuster)
To Keep You Safe by Kate Bradley
When teacher Jenni Wales sees her 15-year-old student Destiny's black eye, alarm bells start ringing. Destiny is the smartest kid in school, and she's also notable because she's in care. The situation escalates when Destiny is almost abducted and nobody takes Jenni's concerns seriously. Increasingly fearful for not just Destiny's wellbeing but also her life, Jenni does the only thing she can think of to keep the young girl safe: she takes her. Kate Bradley's debut is a superbly suspenseful and twisty thriller that will have you turning the pages at breakneck speed. (5 March, Zaffre)
Grief Angels by David Owen
David Owen's fourth YA novel is a thought-provoking tale told from the dual perspectives of two isolated and struggling teens. The book delves into the different forms of sorrow as its young characters, Owen and Duncan, try to cope with the personal inner turmoils that threaten to overwhelm them. Weaving dark, fantastical elements into the narrative, Owen has written an affecting and raw coming-of-age story centred around young men dealing with death, heartache and identity. (5 March, Atom)
Away With The Penguins by Hazel Prior
Meet Veronica McCreedy, an endearing eighty-six-year-old woman who lives by the sea and clears litter from the beach. She also enjoys a nice cup of tea and watching a wildlife documentary. But Veronica is much more than her ageing exterior and with no family or friends to keep her company, she decides to embark on an intrepid journey to save the penguins of Antarctica. Following her debut, Ellie and the Harp-Maker, Hazel Prior brings us a warm-hearted and life-affirming tale about ageing, human kindness, old-fashioned values and protecting our planet. (19 March, Bantam Press)
The Weight of Love by Hilary Fannin
Set between London in the 1990's and Ireland in 2018, Hilary Fannin's debut novel is an exploration of life, love and the complexities of marriage. It begins in the past with Robin watching Ruth, the woman he loves, falling for his childhood friend Joseph, a tortured artist who instantly captures Ruth's attention. Over twenty years later, Robin and Ruth are married, but the ghost of Joseph still haunts them. This is an intimate and poignant tale that looks at the many different facets of love, and the bonds that hold us together and pull us apart. (19 March, Doubleday Ireland)
Hamnet by Maggie O'Farrell
Just announced as one of sixteen authors longlisted for the Women's Prize 2020, Maggie O'Farrell is set to sit pride of place in bookshops this spring with her stunning new novel Hamnet. It's inspired by the tragic story of Shakespeare's son, who influenced one of the playwright's most famous works but who died several years before it was written. This is also a tale of twins, parenthood, loss and grief, told with O'Farrell's expertly immersive style. A beautiful reimagining that breathes new life and understanding into the history behind Hamlet. (31 March, Tinder Press)
It's Not All Downhill From Here by Terry McMillan
Loretha Curry is heading into her sixty-eighth year on Earth with everything still to live for. But when an unexpected loss turns her world upside down, Loretha must summon all her fortitude and resourcefulness to get her life back on track. It will take a lot of determination, courage and, of course, the support of her loyal friends to survive, thrive and come out the other side with a smile on her face. Full of wit, wisdom and wonderful everyday characters, this is a must-read for fans of McMillan's previous books. (31 March, Random House)
Providence by Max Barry
From the author of Lexicon comes a new sci-fi thriller centered on four mismatched crewmates on a superlative class of spaceship. They must publicise a war between mankind and aliens, whilst at the same time battling the boredom and impatience that comes from working aboard a claustrophobic AI-controlled destroyer. As you can expect, things don't go to plan and our space quartet have a fight for survival in the heart of an enemy empire. Providence is a smart space opera that combines aliens and artificial intelligence with an exploration of the fragile human psyche. (31 March, Hodder & Stoughton)