8 cosy and heart-warming books to read over Christmas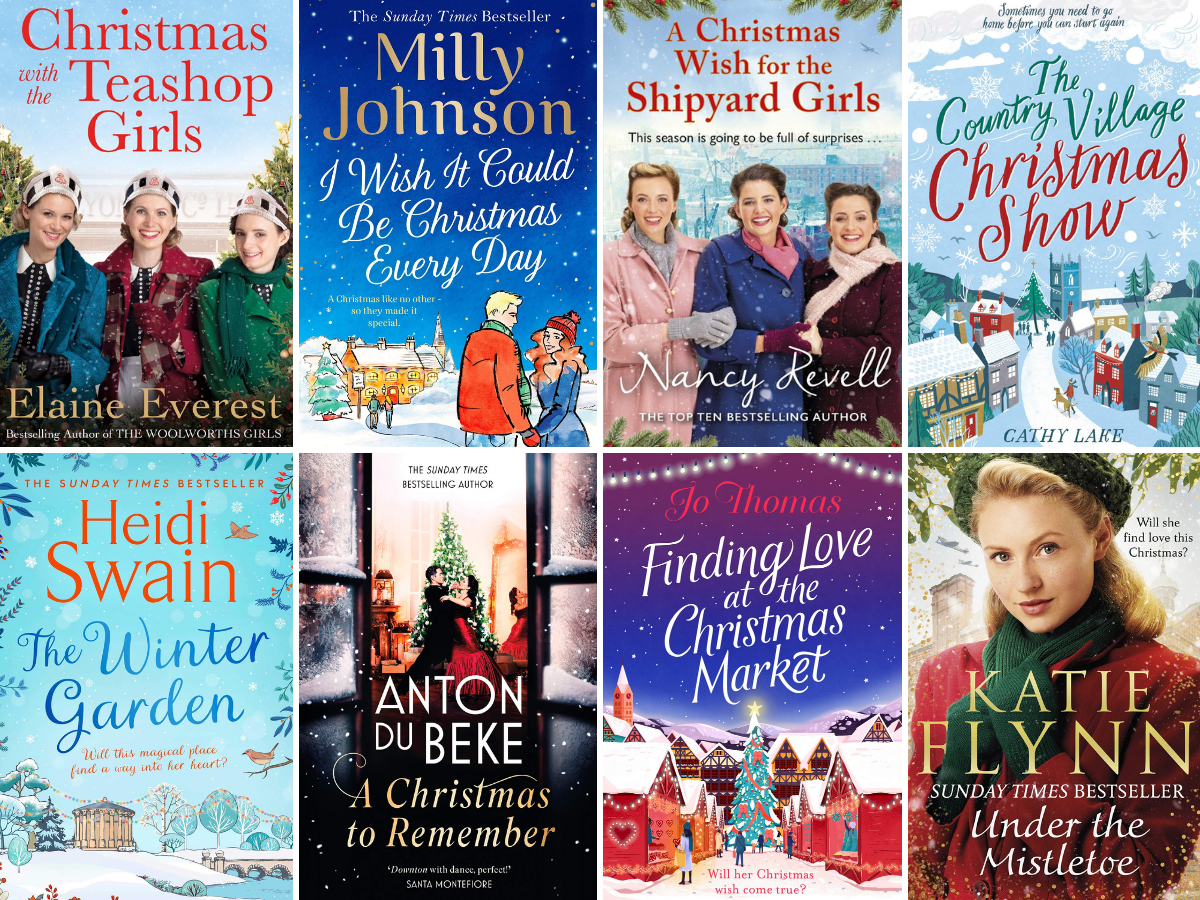 'Tis the season for candy canes, cosy knitwear and twinkling light displays. For book lovers, it's also the season for feel-good festive fiction that leaves your heart feeling all warm and merry.
From the latest novel in Anton Du Beke's charming Buckingham Hotel series, to a snowy treat from bestseller Milly Johnson, here's our pick of the best Christmassy novels to curl up with this festive season.
A Christmas Wish for the Shipyard Girls by Nancy Revell
Join the Sunderland shipyard girls in the ninth instalment of Nancy Revell's wartime saga inspired by the real life women who worked on the shipyards during WWII. As the 25th December approaches, the shipyard girls are all hoping that their festive wishes will come true. Matters of the heart and family duty combine with the struggles of wartime to make this another poignant and moving tale set against an engaging historical backdrop. (1 October, Arrow)
The Winter Garden by Heidi Swain
Heidi Swain is a go-to author for cosy wintery novels that get readers in the festive mood. Her latest follows green-fingered Freya Fuller as she takes up a dream opportunity to design a winter garden at a Victorian property. But not all the residents of Nightingale Square are welcoming, and things get even more complicated when Freya's family make a surprise appearance. Romantic tension, toasty fires and a snowy backdrop… what more could you ask for from a seasonal story? (1 October, Simon & Schuster)
A Christmas To Remember by Anton Du Beke
Delivering some delightful Art Deco vibes, Anton Du Beke's A Christmas To Remember returns to London's Buckingham Hotel in 1938. Life for Nancy Nettleton has changed considerably since she took up a position as a chambermaid at the exclusive hotel and fell in love with debonair dancer Raymond de Guise. In this third book, the countdown to Nancy and Raymond's wedding has begun, and it promises to be unforgettable. This is a sparkling story that's best enjoyed with a glass of bubbly. (29 October, Zaffre)
Christmas with the Teashop Girls by Elaine Everest
Fans of Elaine Everest's previous Lyon's Teashop girls novel are in for a treat with this winter warmer of a tale, which follows the Nippies in late 1940. When a bombing raid targets the Kent coastline, Lyon's is badly hit, throwing the future of the cafe into jeopardy. At the same time, Rose Neville is trying to plan her Christmas Eve wedding to her Captain fiancé, as well as contending with her new step-daughters, mother-in-law and her own half-sister. This is a lovely novel of friendship, love and wartime fortitude. (15 October, Pan)
Under The Mistletoe by Katie Flynn
If you love a romantic saga, the second book in Katie Flynn's Liverpool Sisters series is the perfect heart-warming paperback to keep you company this Christmas. When war comes to Britain, Jessica and her friend Ruby seize the opportunity to start afresh in the NAAFI. But their newfound independence also brings new truths to light for Jessica, beginning with the night of her birth. Flynn's festive novels always feature bonus content – so don't miss out on the Christmas wreath 'how-to' page at the back! (15 October, Arrow)
The Country Village Christmas Show by Cathy Lake
All the best festive stories transport readers to picturesque, snow-covered locations and Cathy Lake's The Country Village Christmas Show is no exception. It centres on recent divorcee Clare who, having dedicated her whole life to her family, is in need of a fresh start. Moving back to Little Bramble, the village she grew up in, Clare takes on the challenge of running the Christmas show – a festive feat that gives her the renewed purpose she's been searching for. If you're looking for a light-hearted, genteel yuletide novel to snuggle up with, this is it. (29 October, Zaffre)
I Wish It Could Be Christmas Every Day by Milly Johnson
Take a trip to a tiny hamlet in the wintry Yorkshire moors as six strangers find themselves stranded in an inn by a blizzard. That might sound like the plot for an unnerving mystery novel but Milly Johnson's latest book is anything but. It's a fun and warming story of love, laughter, friendship and learning what's important in life – not just at Christmas, but all the way through the year. You'll feel like you know all the characters by the end and be sad to say goodbye to them too. (29 October, Simon & Schuster)
Finding Love at the Christmas Market by Jo Thomas
With it's gorgeously glittery cover, Jo Thomas' new novel promises an atmospheric tale full of festive merriment and romance. Conjuring scents of spicy gingerbread and hot toddies, it follows residential-home caterer Connie who's set up on a date at a beautiful German Christmas market. With a check-list of potential partner must-haves, a personal mission and a mini-bus full of pensioners, Connie sets off on an adventure that will help her discover what she really wants from love. (29 October, Corgi)