6 brilliant books written by women to devour in March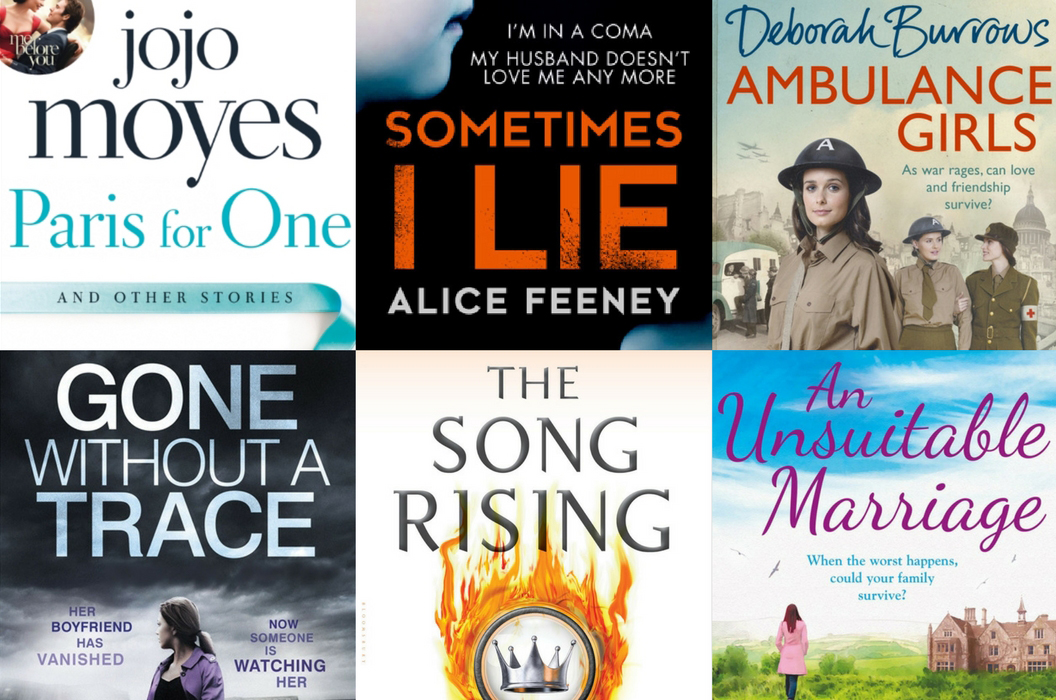 It's finally starting to feel like spring and there's no better way to say goodbye to winter than with a selection of new books.
So to welcome in the new month – one that happens to feature International Women's Day (8th March) – we've put together a selection of newly published and approaching novels written by some of our favourite female authors, both established and up-and-coming.
From puzzling mysteries and urban fantasy, to romantic short stories and poignant dramas, here are six brilliant books that you should read in March.
Gone Without A Trace by Mary Torjussen (23rd March, Headline)What is it about:
It's just another ordinary day for Hannah when she returns home from work to find that her boyfriend, Matt, has gone and the house shows no trace of him ever having been there. All evidence of Hannah's life with him has vanished into thin air and now Matt has too.
As Hannah tries to find Matt and figure out what happened to turn his existence to dust, she becomes certain that someone has been in her house. But was it Matt momentarily returning home, or is someone else watching Hannah?
Why you should read it:
Torjussen's debut is a twisty and unnerving psychological suspense novel that shines a light on the darkness that lurks within people.
You really feel all of Hannah's emotions – the fear at Matt suddenly disappearing, the hurt and loss she feels with him gone, and the confusion she experiences when she starts to notice that someone has been in her house when she's not there.
Gone Without A Trace is an addictive book that you can easily read in one sitting, racing through each chapter to work out the mystery surrounding Hannah's life.
Perfect for fans of:
Psychological mysteries like The Girl on the Train and I Let You Go. If you like Paula Hawkins, Clare Mackintosh and C.L. Taylor, you'll love this. 
Paris for One & Other Stories by Jojo Moyes (9th February, Michael Joseph)What is it about:
Jojo Moyes' collection of eleven short stories begins with Paris for One, which centres on twenty-six year old Nell who's never been to the French capital. She's actually never gone anywhere in her life, least of all to somewhere romantic, until her boyfriend stands her up and she decides to go to Paris anyway in a bid to prove her independence.
The other ten stories vary with their central characters, settings and plots – with one featuring Liv and Sophie, two characters readers will recognise from Moyes' bestselling The Girl You Left Behind – but they all share a charming warmth and relatable women at the fore.
Why you should read it:
With her previous novels Me Before You, After You and The One Plus One, Moyes has proved herself as a true talent in romantic fiction. Her first short story collection is funny and heartwarming, but the beauty in these stories is just how relatable and human they are.
It's the perfect dip-in-dip-out book, exploring everything from love and marriage to finding yourself when you least expect it. It's a surprisingly diverse collection of stories from an author who never fails to deliver poignant and hopeful escapism.
Perfect for fans of:
Novels with plenty of heart – think David Nicholls and Marian Keyes.
Ambulance Girls by Deborah Burrows (23rd February, Ebury Press)What is it about:
Inspired by Burrows' late mother, who loved to tell stories about life during wartime, Ambulance Girls takes place during the London Blitz, as Australian ambulance driver Lily risks her life to save others.
Undertaking her job with bravery, fortitude and a dose of Aussie humour, Lily soon has to consider the possibility that someone within her Station is aiding the enemy by divulging sensitive and secret information. And when her Jewish colleague, David, disappears, Lily joins forces with a handsome RAF pilot to find their mutual friend.
Why you should read it:
The first in a trilogy of London Blitz set novels, Ambulance Girls perfectly captures Britain is the midst of a devastating and tough war. Lily is a strong, intelligent and resourceful character, with a job that puts her right in the middle of the action as bombs fall from the skies.
Burrows writes authentically about the WW2 era, combining the inevitable horrors of wartime with a story about friendship, love and heartbreak. Featuring an Australian central character also adds a nice little twist to the traditional British wartime tale.
Perfect for fans of:
Call the Midwife and period drama writers like Donna Douglas, Daisy Styles and Jenny Holmes.
The Song Rising by Samantha Shannon (7th March, Bloomsbury)What is it about:
Picking up where The Mime Order left off, the third book in Samantha Shannon's Bone Season series sees clairvoyant Paige Mahoney ruling over London's criminal population as the Underqueen, dealing with ruthless enemies whilst struggling with the traumas she experienced in the first two books.
Worse still, the entire clairvoyant community faces impending danger from a deadly tech known as Senshield that threatens to destroy everything Paige has battled to protect and change the world as she knows it.
Why you should read it:
Like the previous two books before it, The Song Rising is an addictive urban fantasy that transports readers to the world of clairvoyants. With fleshed out characters and plenty of treachery, it's easy to lose yourself in Shannon's brilliantly vivid story.
This book introduces new traitors to the tale as well as reintroducing old enemies but it's Paige's on-going personal struggle that resonates the most. If you adore The Bone Season series, you'll want to pick up a copy of The Song Rising pronto.
Perfect for fans of:
Laini Taylor, Veronica Roth, Cassandra Clare and similar YA fantasy authors.
Sometimes I Lie by Alice Feeney (23rd March, HQ)What is it about:
Amber Reynolds is in a coma, which is just one of the three things you should know about her. The second is that her husband doesn't love her anymore and the third that she sometimes lies (hence the title).
Flitting between the past and present, a 'locked-in' Amber tries to recall what landed her in hospital but her unreliable memory means she doesn't know who she should trust.
To tell you anymore would ruin the story, so you'll just have to read it for yourself!
Why you should read it:
Aside from being super twisty and engrossing, Alice Feeney's debut novel is clever, fast-paced and original. It's been billed as the psychological thriller of 2017 and has a bit of a Girl on the Train vibe to it in terms of its untrustworthy narrator.
As a reader you have no idea what's true and what's a lie, and not just where Amber's concerned – there are plenty of shady characters in the novel that you'll be constantly second-guessing. You won't be able to put this book down.
Perfect for fans of:
Dark and unpredictable mystery thrillers like Behind Closed Doors and The Widow.
An Unsuitable Marriage by Colette Dartford (9th March, Zaffre)What is it about:
When her husband's factory goes bust, Olivia's seemingly perfect life in the Somerset countryside disintegrates. She swaps expensive clothes and a beautiful house for bankruptcy and a small flat, whilst her husband, Geoffrey, goes to live with his mother.
In an effort to provide for her family, Olivia becomes a houseparent at her son's posh boarding school. The loss of Geoffrey's business has far wider consequences than just their change in circumstances though, and when he makes a terrible mistake, it threatens to tear his family apart for good.
Why you should read it: 
An Unsuitable Marriage is an astutely written story about a fractured marriage and a family at breaking point. It carries many of the same emotional qualities as Dartford's debut, Learning To Speak American, making it an engaging family drama.
Love and betrayal come hand in hand here, as a husband and wife face terrible strain and a mother struggles to hold things together for her son. It's an undemanding read about the cracks that appear in relationships and how they can be mended.
Perfect for fans of: 
Emotive dramas about struggling families in the style of Hilary Boyd and Joanna Trollope.