5 must-read books hitting shelves in February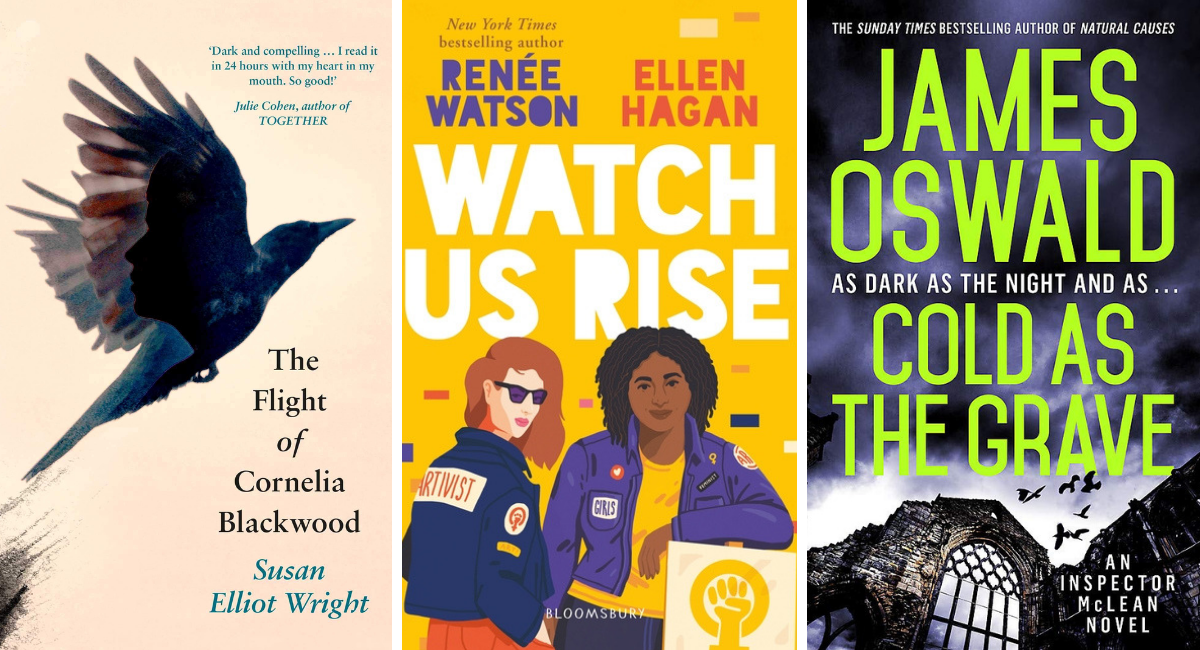 February is a bumper month for new book releases, with everything from stunning literary fiction to unputdownable YA and dark crime.
Some of our most anticipated novels of the year hit shelves this month, including Stacey Halls' The Familiars, Harriet Tyce's Blood Orange and Yangsze Choo's The Night Tiger. Since writing our New Year preview, we've read and enjoyed even more brilliant new and upcoming releases – here's our pick of 5 of the best for Feb.
Watch Us Rise by Renée Watson & Ellen Hagan
There can never be too many books about women's rights and positive change. Co-authored by writers and supporters of the arts Renée Watson and Ellen Hagan, Watch Us Rise is the latest contemporary YA novel to explore what it means to be a young woman today. It's a timely and thought-provoking story that follows best friends Jasmine and Chelsea, who start a Women's Rights Club and Write Like a Girl blog at their 'progressive' NYC high school, creating a viral platform that garners as much praise as it does criticism. The book shines a spotlight on stereotypes, sexism and online trolls, alongside stirring themes of intersectional feminism, friendship and teenage activism. (21 Feb, Bloomsbury YA)
The Flight of Cornelia Blackwood by Susan Elliot Wright
This is a dark and deeply moving tale of motherhood, grief, love and desperation. It centres on Cornelia 'Leah' Blackwood as she deals with countless personal tragedies, including the death of her husband. Moving between Leah's life in the past and the present, Susan Elliot Wright sensitively delves into mental illness, specifically postpartum psychosis, and the repercussions of not reaching out for help. The switching of timelines hints early on at further tragedies that Leah endures and it builds to a powerful, heart-rending climax that lingers long after the book ends. (21 Feb, Simon & Schuster)
Cold as the Grave: Inspector McLean 9 (The Inspector McLean Series by James Oswald
The ninth book in Scottish author James Oswald's crime series sees the newly promoted DCI McLean and his Edinburgh police team investigating a presumed historic cold case. After they happen upon the mummified body of a young girl in a cold and dark basement room, it's assumed that the body is decades old, only for a post mortem to reveal that the girl hasn't been dead long. With the introduction of new allies and the return of old friends, Oswald has crafted another chilling, unpredictable and slightly supernatural story that's perfect for cold winter nights. If you're a fan of gripping and intelligent crime books, you won't want to miss out on this one. (7 Feb, Wildfire)
Ghost by Jason Reynolds
Proving that middle grade isn't exclusively for kids, the first book in Jason Reynolds' RUN series is about the titular Ghost, aka Castle Cranshaw, an urban teenager with a troubling past he's trying to outrun. When he meets an Olympic medallist coach at the track who recognises his natural running ability, Ghost is given the opportunity to harness his talent for good and stop running for the wrong reasons. Superbly written with realistic dialogue and strong characters, Ghost is a great book with genuine heart. Read it yourself or buy it for any kid who loves vivid, earnest stories; either way, make sure you pick up a copy. (1 Feb, Knights Of)
Written From The Heart by Trisha Ashley
Trisha Ashley never fails to deliver a romantic and light-hearted book, and Written From the Heart is both of those things. The reissue of the author's 2008 novel, originally titled Happy Endings, follows Tina Devino, a romance novelist who teaches others how to write and dreams of penning a bestseller. With competition from younger, more ambitious and more talented writers, Tina realises she'll need to take control if she's ever to claim the life she's always wanted. This uplifting and feel-good romantic comedy is a lovely warm book to curl up with when the snow starts falling. (7 Feb, Black Swan)