Theatre Review: Tarot in the Forge at The Vaults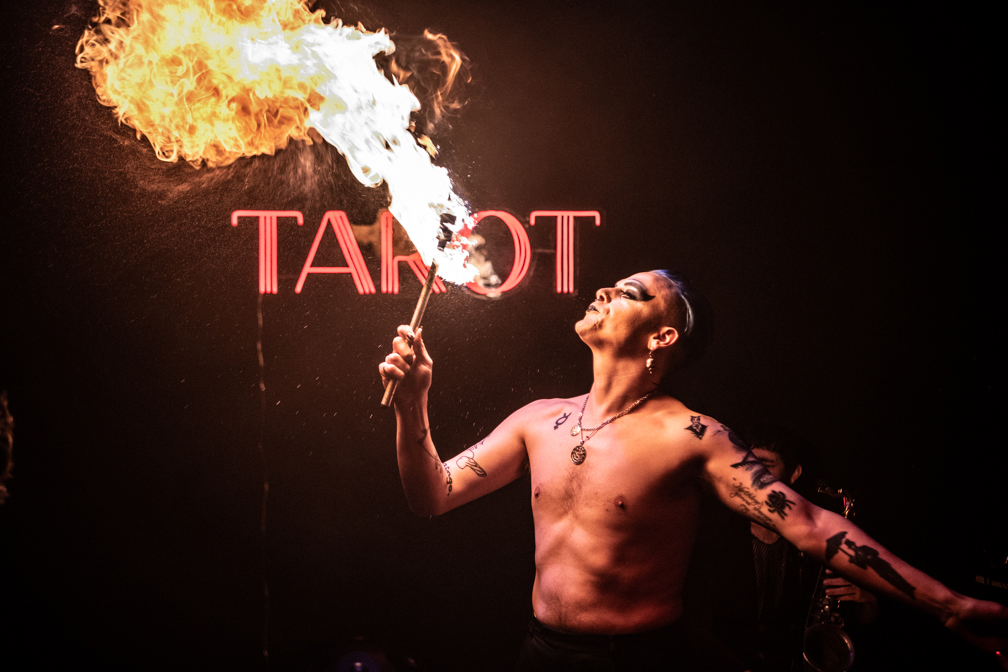 The Feathers of Daedalus present a heady mixture of circus, dance, music and tarot reading underneath the railways arches at the Vault Festival. There is plenty of breathtaking physicality as a sexy young cast hoist themselves up and twist over each other in a tight hour show on a small stage, accompanied by Yoshi kicking out some soul-funk beats.
Ruby Wednesday is a suitably fabulous compere, informative when explaining the cards and with an entertaining line in sardonic asides. Giving compelling readings to a couple of lucky spectators keeps the audience on their toes with an atmosphere of improvisation and mystery. Meanwhile the acrobats Imogen Huzel, Josh Frazer, Lauren Jamieson and Tessa Blackman extend the performance by weaving across the stage with grace and vigour. They bring characters from the Fool to the Devil to life with impressive acts of balance and strength before spinning into the rafters on wheels and chains. In such close surroundings it's easy to see the thrill and tension of their exertions.
The musical backdrop to all this frenzied movement and oracular education alternates between chilled out and feisty. Yoshi are led by pianist and vocalist Ben Smith with Dougal Caston, Boris Thompson-Roylance and George Freeman mixing it up on drums and guitars to create a fittingly experimental sound. Director Joanna Vymeris takes the haunting and private world of tarot, putting its theatricality centre stage in thrilling fashion.
★★★★