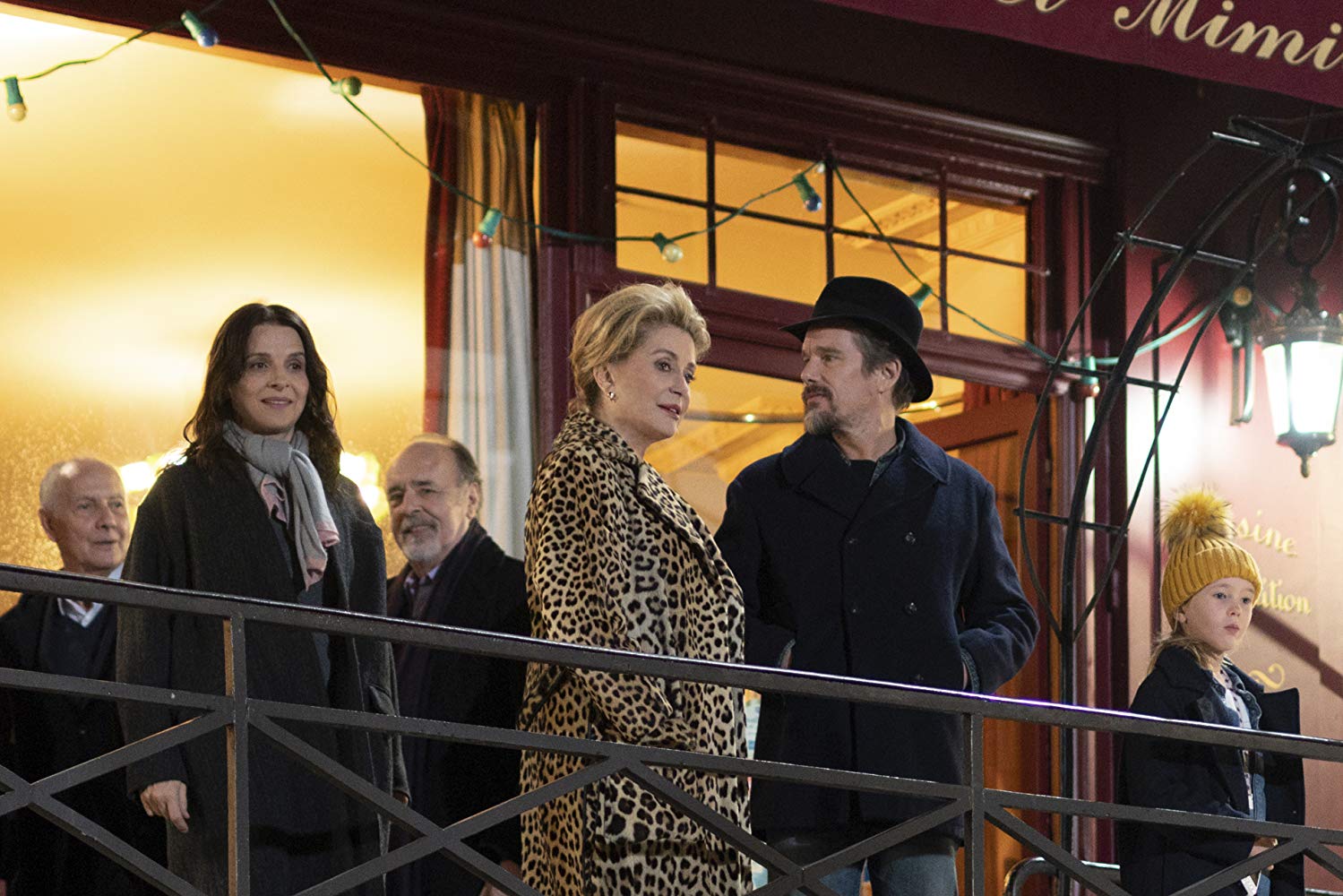 For more than twenty years, Hirokazu Kore-eda has been making critically-acclaimed films about the nuances of family life in Japan. The Truth sees the director work outside his native country for the first time in his long career, but he still has family at the forefront of his mind.
In The Truth, legendary actress Catherine Deneuve plays legendary actress Fabienne Dangeville, who has just published her long-awaited memoirs. Her daughter Lumir (Juliette Binoche), Lumir's American actor husband Hank (Ethan Hawke), and their young daughter Charlotte (Clémentine Grenier) arrive at Fabienne's luxurious Parisian home to celebrate with her. Unsurprisingly however, the publication of her life story dredges up all kinds of events from the family's past, making the already complicated relationship between mother and daughter even more strained. They both have scores to settle.
Besides this being Kore-eda's first film shot outside of Japan, the other headline coming out of The Truth is that Catherine Deneuve has not had such a good role in decades. And sure, she is basically playing herself, but she does it with such magnificent relish. Every second she is on screen Deneuve commands all your attention, still resplendent at 76 in her leopard print coat and hair that miraculously looks the same as it did when she was in her twenties. Haughty, witty, majestic; if you've ever wondered why Deneuve is an icon, you need wonder no longer.
And it's primarily Deneuve's magnificence – with some more than able support from Juliette Binoche and Ethan Hawke – that helps paper over some of the film's less elegant sections. Kore-eda's Japanese oeuvre – Our Little Sister, Shoplifters, Still Walking– is authentic and effortless; in The Truth, you can see the seams. There's a whole subplot where Fabienne is acting in a sci-fi movie about mothers and daughters, and the comparison with her and Lumir's situation is played much too bluntly. Perhaps due to the complicated translation process – after all, Kore-eda doesn't speak French and the cast don't speak Japanese – the dialogue often comes out stilted. All in all, where Kore-eda's Japanese films glide, The Truth clomps.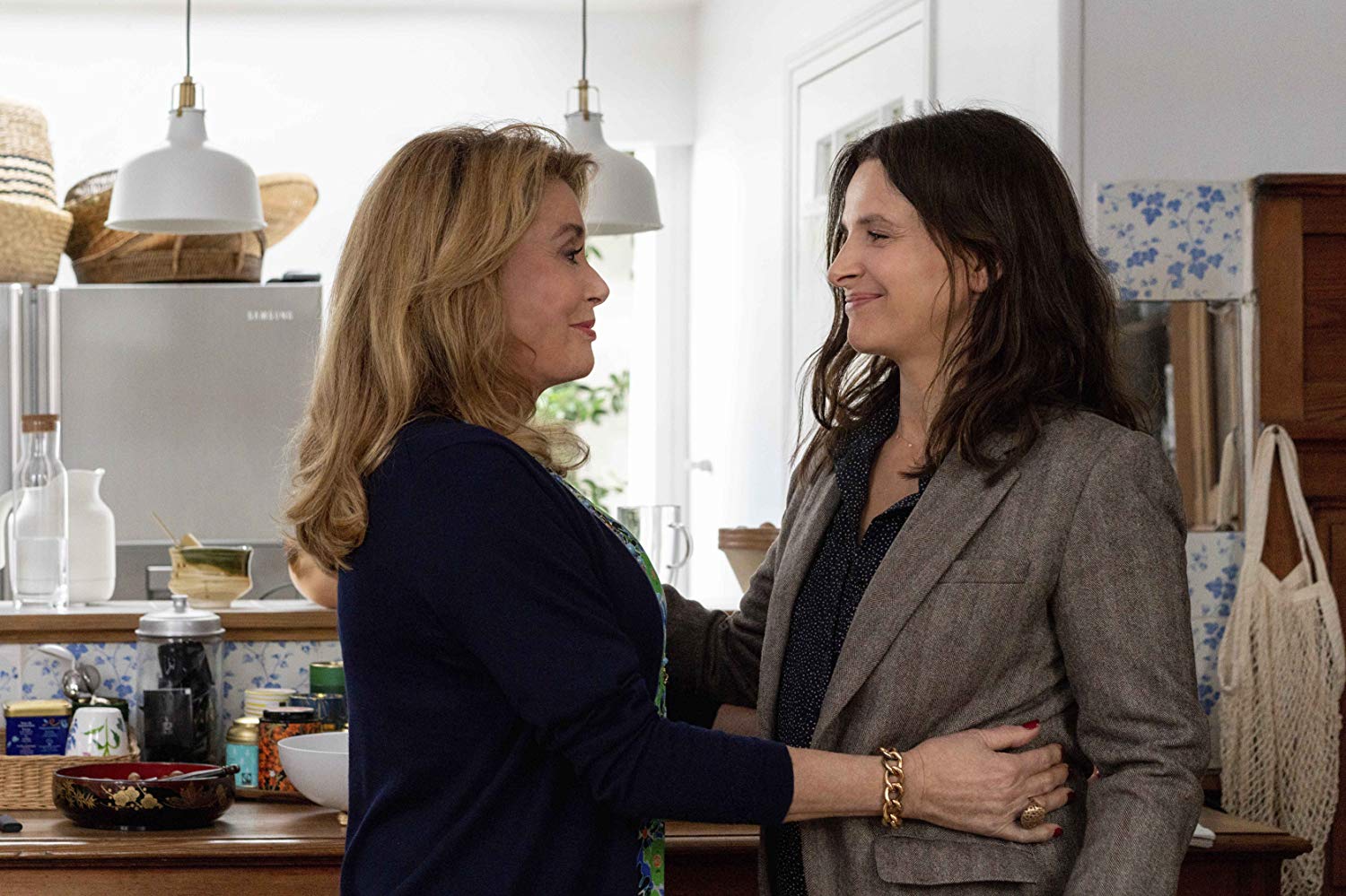 Yet perhaps if Kore-eda didn't have such a formidable selection of films to his name, The Truth might have seemed a more impressive effort. After all, there is an awful lot to love here. Catherine Deneuve and Juliette Binoche are such a convincing mother-daughter duo; watching them battle each other and laugh together is a privilege. There's also a lovely subplot where Fabienne's granddaughter Charlotte is convinced her grandmother has the ability to turn humans into animals, and the pay off is a delight. Ethan Hawke, adorned in some beautiful knitwear, is charming as the kind but clueless Hank – unable to understand French, and so completely lost when it comes to following the arguments between Fabienne and Lumir. While there are inelegant elements in Kore-eda's latest, there are plenty of little, nicely played moments that keep things enjoyable.
Although it doesn't reach the lofty peaks of Kore-eda's best work, The Truth still has a lot going in its favour: Catherine Deneuve in the form of her life, Juliette Binoche matching her step for step, Ethan Hawke in the background wearing a lot of cosy jumpers. Wouldn't it be greedy to ask for more?
★★★★