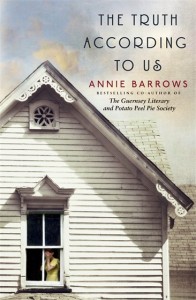 Released: July 2015
The great British heat wave has arrived and it's time to start picking out the next absorbing summer read. I couldn't think of a book more perfect for hot days and humid nights than Annie Barrows' The Truth According To Us. The Guernsey Literary and Potato Peel Pie Society co-author's first adult novel in 7 years is a real page-turner filled with warmth, intriguing characters and a refined touch rarely found in modern-day books.
The story takes us back to 1938, where the daughter of a Washington DC Senator is disinherited and sent to work for the Federal Writers' Project in West Virginia. Miss Layla Beck has lived a life of wealth and finishing-school privilege, so the idea of slumming it with 'hicks' in the dirt-ridden South is her idea of hell. Arriving in the sweltering town of Macedonia in a pristine white suit, high heels and a red bow around her neck, Layla sticks out like a sore thumb. She envisages a dreary and nightmarish summer ahead of her, in a backwards town that's suffering as a result of the Great Depression.
"The Depression here seems more than ever a depression, a sag. The Center of town is tired and ugly and dismal, with crumbling, dusty sidewalks and knots of men in worn overalls."
After the initial shock of being greeted at the train station by a welcome party of one, Layla is pleasantly surprised to find that the family she's staying with, the Romeyns, aren't the uneducated yokels she expected them to be. It's clear that Layla isn't exactly the meagre and pale boarder they were expecting her to be either. First impressions and misconceptions out of the way, Layla gets to work on the town history book she's been tasked to write for Macedonia's sesquicentennial (150 years) celebration.
Amidst conducting research in the library, visiting historical sites and having tea with the town's old families, Layla discovers a much more fascinating subject right under her nose – the Romeyn family itself. From unofficial matriarch Jottie – who's become a surrogate mother to her elusive brother Felix's daughters – to inseparable twins Mae and Minerva, to their reserved younger brother Emmett, the Romeyns are a big talking point for the town.
Layla's mission to seek out the hidden aspects of Macedonia's history drags up an old mystery surrounding the Romeyns, who were at the centre of a devastating fire at the family's mill that claimed the life of one of the town's most beloved citizens. As Layla digs deeper, secrets surface and truths are revealed, but just which truth is genuine?
Annie Barrows' venture into adult storytelling is a hugely successful one, so much so that you wonder why she didn't make the switch from children's stories sooner. This is an absolute treasure of a book, exploring the lies people tell each other and the truths they weave in their own minds in order to live with the reality. The story explores the complexity of relationships, those between friends and family, lovers and enemies, even passing acquaintances that might believe a tale they're told without question.
The book switches between three characters' perspectives: Jottie's, her niece Willa's and Layla's, each of them seeing the world through very different eyes. Willa is an inquisitive young girl desperately trying to understand the grown-ups around her, whilst Jottie is trying to shield Willa from the very secrets and truths she seeks. Layla, meanwhile, is the outsider looking in, observing the Romeyn family through rose-tinted spectacles and forming opinions based on town gossip and hearsay. This constant switching of POV is initially jarring but it soon feels natural, as if you're walking from room to room witnessing the characters interacting with each other.
The Truth According To Us is a deliciously nostalgic story that harks back to a slower and simpler time. Away from the bootlegging and union strikes, there's an old-fashioned charm to the setting and the characters that's impossible to resist. It's also an exquisitely researched novel, with Barrows taking her "quest for authenticity" very seriously. I'm quite disappointed that The History of Macedonia publication doesn't exist – now that's a follow-up book I'd happily read if it gave me more time with the eccentric and loveable townsfolk.
★★★★★