After the success of James Wan's Amityville inspired The Conjuring in 2013, it was inevitable that a sequel would follow shortly after. Whether we needed a sequel is something I've been deliberating over since the credits rolled on The Conjuring 2: The Enfield Case. Because while the genre master's stylish and creepily cinematic approach is something all modern-day horror filmmakers should take tips from, the entire film feels unnecessary, a meandering mash of ideas that's neither as surprising or as satisfyingly scary as its predecessor.
Paranormal investigators Ed and Lorraine Warren – the terrific Patrick Wilson and Vera Farmiga – are back for another round of seventies styled demon hunting, as they travel to England to help a family experiencing disturbing poltergeist activity. Similar to the first film, the Warrens take an initial back seat as we're introduced to the Hodgson family in Enfield; single mother Peggy (Frances O'Connor) and her children, specifically daughter Janet (Madison Wolfe), who seems to be conversing with possible supernatural entities.
Where a simple 'London, 1977' title would have sufficed, Wan subjects the audience to an eye-roll inducing early montage of British scenes set to The Clash's 'London Calling'. It's an awkward beginning, one of many misjudged moments across the 134-minute running time. Once that ordinary British family scene is set, the horror in the Hodgson house ramps up, as objects move of their own volition, threats are aimed at the children, and Janet shows further signs of demonic possession.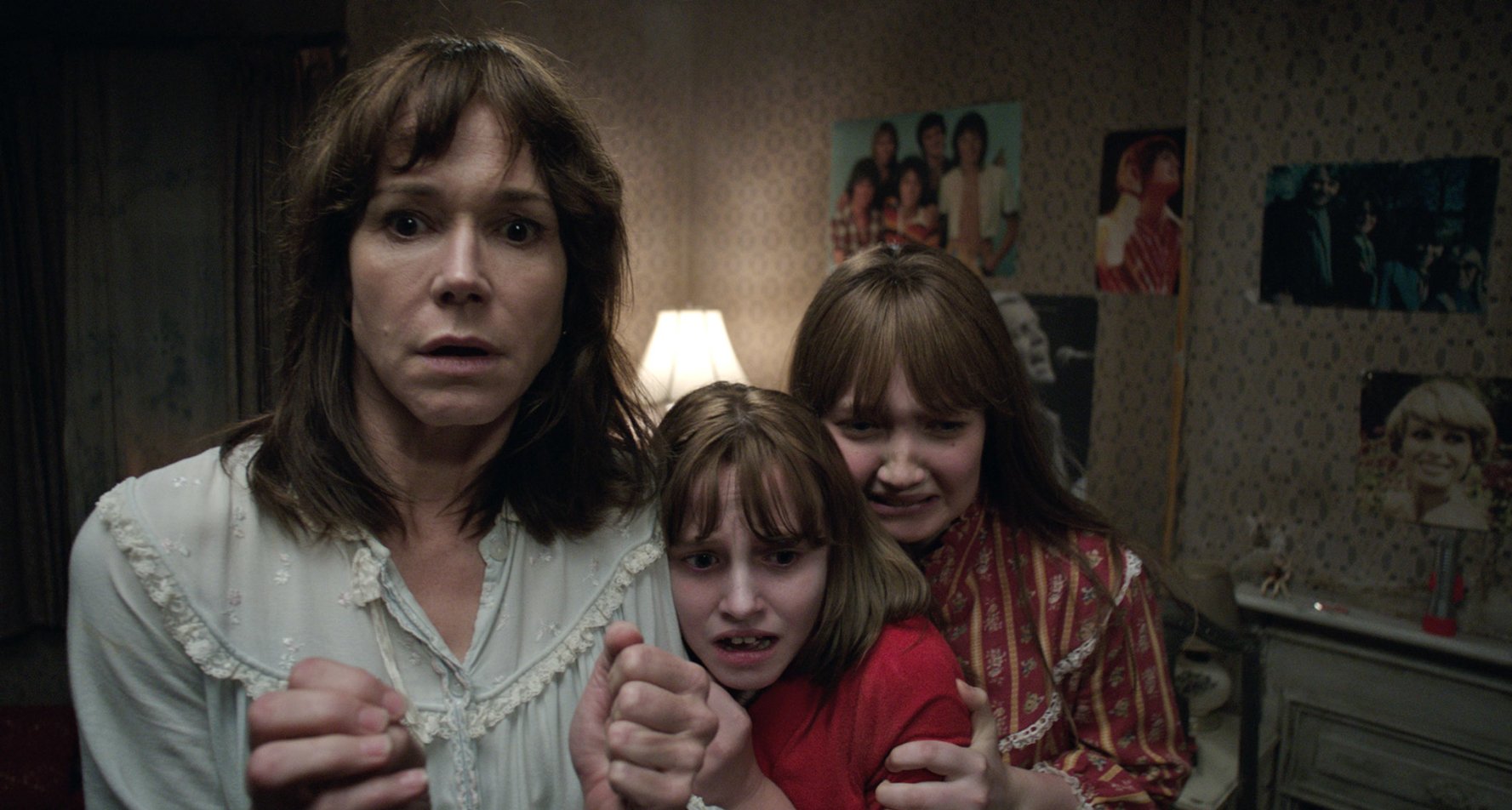 Along with British paranormal investigators Maurice Grosse (Simon McBurney) and Anita Gregory (Franka Potente), Ed and Lorraine are eventually called in to help the terrified family, who become swept up in a media frenzy. However, when Janet's credibility is called into question after video footage reveals she's deliberately orchestrating some of the strange occurrences, the story becomes less clear-cut; is there really a malevolent spirit haunting the family? Or could it all be an elaborate hoax by a young girl trying to get her absent father's attention?
The Enfield poltergeist is a well known story that's received considerable press coverage in the UK and has been dramatized numerous times. Most recently is was explored in Sky Living's The Enfield Haunting with Timothy Spall, a tense three-part drama that really immersed the audience in the Hodgson family's internal and external battle. With The Conjuring 2, it's difficult to feel emotionally involved in the Hodgson's struggle – something that was never a problem with the Perron family in the first film. Here it's Ed and Lorraine who are the beating heart of the story, but it's all ruined by an overly dramatic, albeit engaging, 'Hollywood' ending that doesn't befit the rest of the film.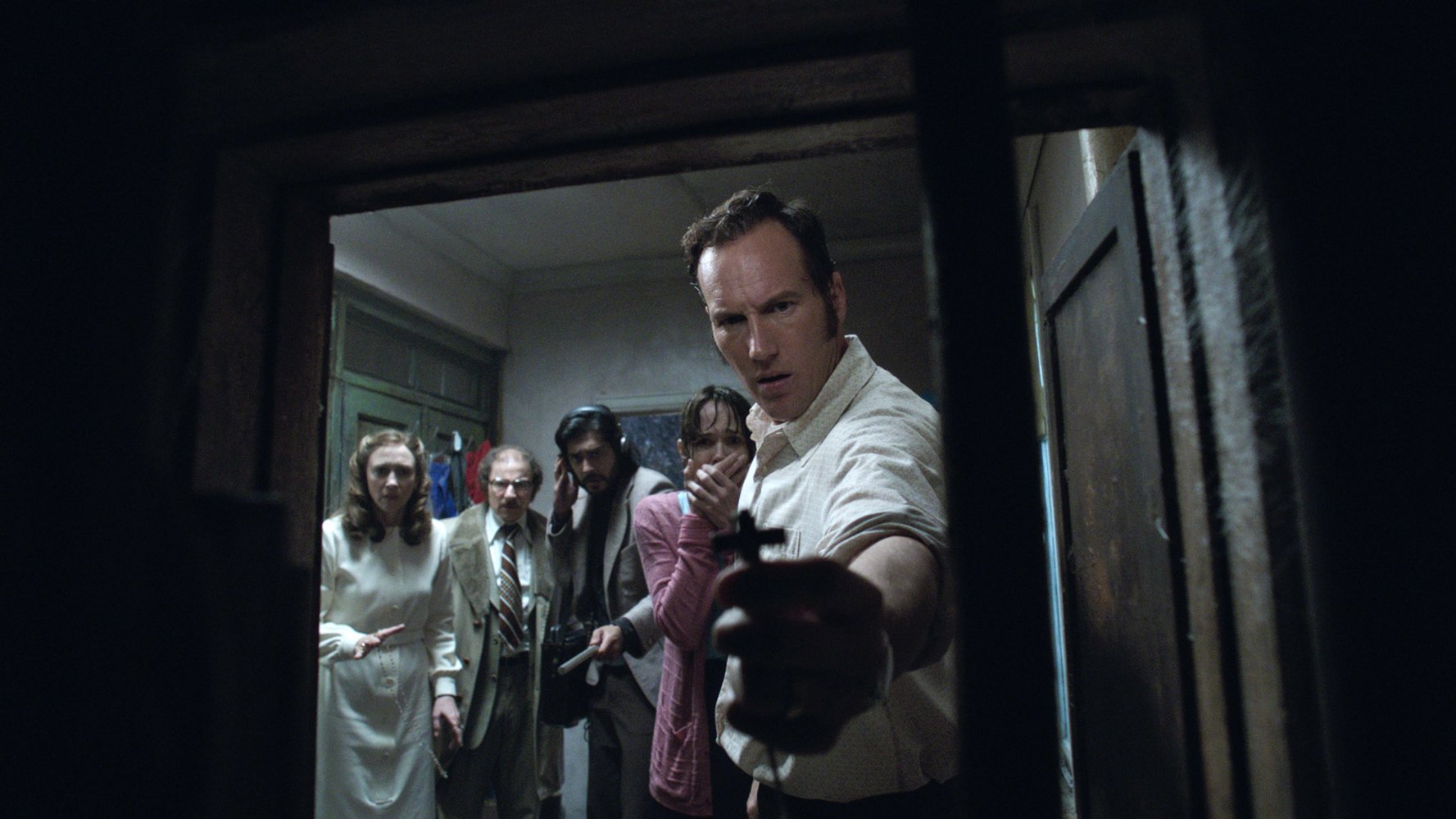 The first movie was a solid horror that flawlessly blended clever scares with old school tropes but the sequel tries too hard to replicate this, with less interesting characters (the Warrens aside) and a significantly less appealing setting. The creepy 'crooked man' initially feels like a consequential threat but eventually dissolves into a comical CG creation solely there to throw attention away from the real danger.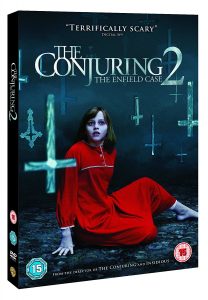 It's not all terrible. Wan's direction is as stylish as ever, complemented by Don Burgess' eerie cinematography which feels like an entity of its own. A scene in which the shadow of a malicious spirit walks across a wall and seamlessly fuses with a painting of itself is a masterpiece. Meanwhile, Patrick Wilson's acoustic rendition of Elvis Presley's 'Can't Help Falling In Love' is a delightful respite from all the horror, one of the few lighter moments in a film that feels bogged down by darkness.
The Conjuring 2 might have delivered big bucks at the cinema but it's in danger of becoming nothing more than a cash cow. We already know there's going to be a third film – potentially about werewolves and set in the 80s – and with a tighter, more original script, it could reinvent Wan's franchise for the better. Here's hoping.
★★★
The Conjuring 2: The Enfield Case is out on DVD, Blu-ray and Digital HD now.