The best non-fiction, quiz and coffee table books to give as presents this Christmas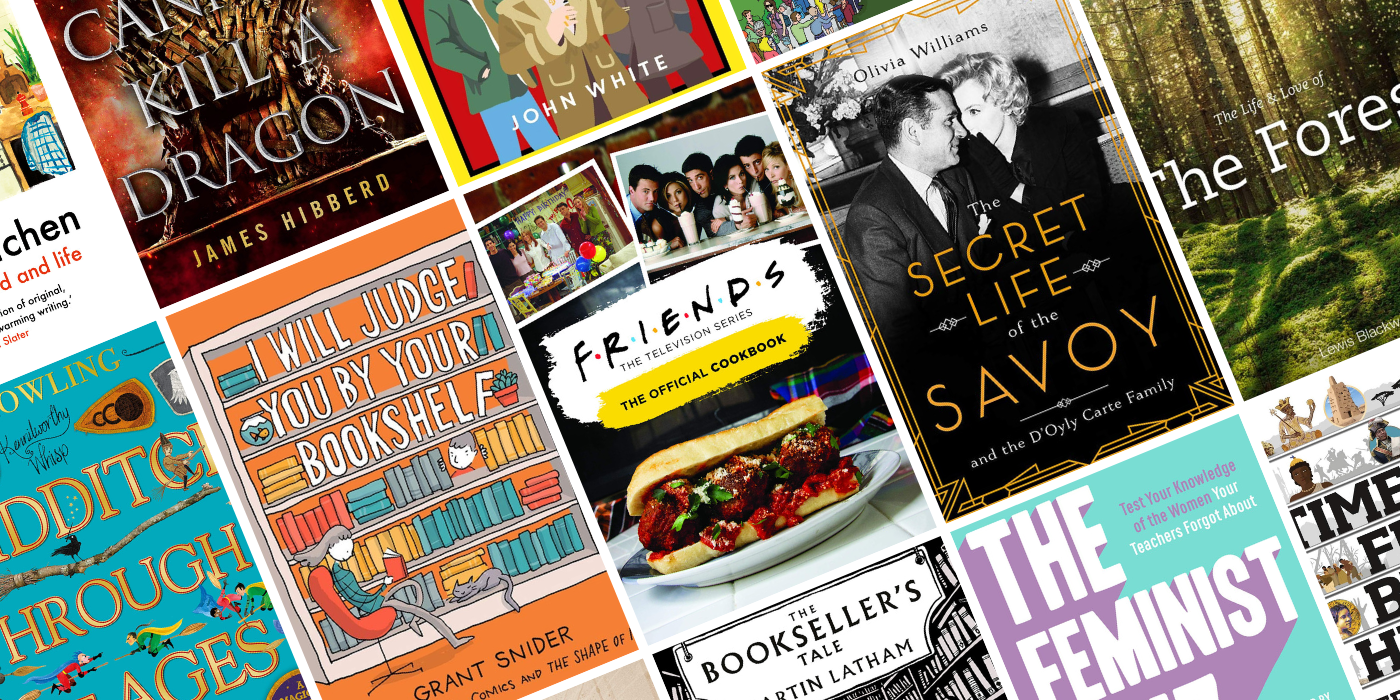 Whether you're looking for a thoughtful stocking filler, a fun Secret Santa gift or a special hardback that the recipient will treasure for years to come, we've filled our non-fiction gift guide with books that are guaranteed to bring a little happiness this Christmas.
In The Kitchen: Essays on Food and Life by Various
This follow-up to Daunt Books' wonderful essay collection At the Pond swaps outdoor swimming for musings about food and cooking. Bringing together thirteen contemporary writers including Daisy Johnson, Rachel Roddy, Ella Risbridger, Yemisi Aribisala and Joel Golby, these original essays capture our diverse experiences in the kitchen, exploring how both making and eating food can shape our lives. It's the perfect book for foodies who loved Ruby Tandoh's Eat Up. Add in a limited edition A2 poster of the cover art for an extra special gift.
Buy now: In The Kitchen – Daunt Books, £9.99
The Essential Compendium of Dad Jokes edited by Thomas Nowak
We've all experienced the groan that involuntarily escapes your mouth when someone utters a terrible joke. Dad jokes are simultaneously the best and worst of them – the kind of jokes that make you inwardly cringe and laugh at the sheer badness of them. Yet no matter how bad they may be, we can't help but love them, and The Essential Compendium of Dad Jokes is a chuckle worthy celebration of this. Be prepared for plenty of painful puns and fun accompanying illustrations.
Buy now: The Essential Compendium of Dad Jokes – Chronicle Books, £11.94
Timelines From Black History by Mireille Harper
If you're seeking a book that's both inspirational and educational, Mireille Harper's Timelines From Black History will make the perfect gift. With over 30 timelines to explore, it takes readers on a visual journey through the events and people that shaped black history – beginning with African origins and moving through the US Civil Rights movement, before arriving at the current black changemakers whose achievements continue to make the world a more diverse and equal place. It's an important and creatively presented book for young and old alike.
Buy now: Timelines From Black History – DK Children, £10.44
Where's Dom by Izzy Missing
Life might have ground to a halt for many of us during lockdowns one and two but – as we know too well – that wasn't the case for Dominic Cummings. Izzy Missing's brilliantly tongue-in-cheek Where's Wally inspired book follows Dom and his political pals on a sightseeing tour of the country. Eagle eyed readers can track Dom and co on cheeky day trips to Cheltenham Festival, Barnard Castle and Durdle Door, before finishing off as all great British adventures do, for a few pints at the pub. Only in 2020 could this book exist. When you see how hilarious it is, you'll be glad it does.
Buy now: Where's Dom – Welbeck Publishing, £6.49
The Life & Love of the Forest by Lewis Blackwell
Lockdown has given us all an opportunity to appreciate the natural world around us. Leaning into this, The Life & Love of the Forest is a visual feast for nature lovers, particularly those who enjoy wandering in woods and hiking in forests. Lewis Blackwell's captivating coffee table book showcases the work of leading nature photographers, capturing the vastness of our world's forests, as well as the microscopic details that often go unnoticed. This is the kind of book that should be treasured, just like our woodlands.
Buy now: The Life & Love of the Forest – Abrams, £25.44
Quidditch Through The Ages by J.K. Rowling and Emily Gravett
As Ron Weasely so famously said: 'it's the best game in the world.' He was of course talking about Quidditch, the sport played in J. K. Rowling's Harry Potter stories. This illustrated gift edition of Quidditch Through the Ages invites readers on a whistle-stop tour through the history of Quidditch, covering everything from its early origins and the fabled teams, to the great matches and moments as told by Rowling's fictional writer Kennilworthy Whisp. With a portion of proceeds from the sale of this edition going to children's charity Lumos, you'll be giving more than one gift this Christmas. The fact that this is such a beautiful book is a bonus.
Buy now: Quidditch Through The Ages Illustrated Edition – Bloomsbury Children's Books, £12.50
The World of Critical Role by Liz Marsham and the cast of Critical Role
This guide to Critical Role is an epic gift for role-playing game fans. It offers readers a behind the scenes look at the worldwide phenomenon, chronicling how it went from a humble home game between a bunch of friends and voice actors to the world's most popular fantasy RPG livestream. Featuring photos, illustrations, exclusive interviews and fascinating insights into locations, characters, the cast and the game community, it's an inside story like no other.
Buy now: The World of Critical Role – Del Rey, £19.99
Friends: The Official Cookbook by Amanda Nicole Yee
Could this book be any more amazing? Like the fashion and the catch phrases, the food of Friends is an iconic part of the TV series. From Ross' Moist Maker sandwich (MY SANDWICH!) and Chandler's grilled cheese, to Joey's beloved meatball sub and Phoebe's oatmeal raisin cookies (which are, apparently, the best in the world), this official cookbook is jam-packed with Friends inspired recipes to make your mouth water. More than anything, for anyone who watched and loved the show, this book is pure nostalgia. It even manages to make Rachel's famous meat trifle appetising. It won't taste like feet. Promise.
Buy now: Friends: The Official Cookbook – Titan Books, £20.60
Little Audrey's Daydream by Sean Hepburn Ferrer and Karin Hepburn Ferrer
Written by Audrey Hepburn's son and daughter-in-law, this personal biography introduces children to the late actress's extraordinary life from her own perspective. Opening in Brussels, 1929, it recounts her childhood in Nazi-occupied Holland, her rise to stardom as a performer and later her life as a mother and humanitarian. It reads like a young girl's daydream but is a real story of hope, perseverance, fame and family. Dominique Corbasson and Francois Avril's illustrations are absolutely charming too, complementing the tale's optimistic tone. You'd be forgiven for keeping this book for yourself.
Buy now: Little Audrey's Daydream – Princeton Architectural Press, £8.98
Only Fools and Horses Quiz Book by John White
Show you're not a total plonker with this Only Fools and Horses quiz book. It tests quizzers on everything from Rodney's middle name to the 'type' of Beaujolais Del Boy orders in a wine bar to who played Grandad. Each round is catagorised, so quizzers will need to brush up on specific episodes, as well as Christmas Specials, main characters and more obscure elements of the show too. It's a great opportunity to revisit the beloved British sitcom before taking on your family and friends, whether it's in person or via zoom.
Buy now: Only Fools and Horses Quiz Book – John Blake, £7.49
The Bookseller's Tale by Martin Latham
As a bookseller for over thirty years, Martin Latham knows a thing or two about books. In A Bookseller's Tale he writes about the history of books and our collective obsession with them, offering up insightful stories and anecdotes from a career and life surrounded by writers, readers, librarians, collectors and all-round bibliophiles. Witty, perceptive and wonderfully written, Latham's love for books shines through on every page. If you need a gift for a true bookworm, this is it.
Buy Now: The Booksellers Tale – Particular Books, £14.99
The Imperial War Museums Code Breaking Puzzles by the Imperial War Museum and Richard Galland
Seeking something to keep your dad or brother occupied over the festive season? Look no further than the Imperial War Museums Code Breaking Puzzles book, which has over 100 puzzles and enigmas to crack. Inspired by the code breakers of the 20th century, it's a head-scratching cryptographic challenge that will test even the brightest minds. Don't miss the tips, tricks and titbits, which will keep anyone who is reading and deciphering this book occupied for hours.
Buy Now: Code Breaking Puzzles – Welbeck Publishing, £9.54
I Will Judge You By Your Bookshelf by Grant Snider
There's no better gift for a bibliophile than a book about books. I Will Judge You By Your Bookshelf well and truly wears illustrator and comic strip artist Grant Snider's love for literature on its sleeve. Each page is full of the sort of thoughts, feelings, habits, judgements and behaviours that every true bookish person will identify with. It's a witty and perceptive love letter to not just literature itself, but to the art of reading and writing, and to all of us who share in Snider's adoration of books.
Buy now: I Will Judge You By Your Bookshelf – Abrams ComicArts, £8.99
Fire Cannot Kill A Dragon by James Hibberd
Game of Thrones might be over but the magic of the series lives on in James Hibberd's Fire Cannot Kill a Dragon – the official untold history of the TV series. Like the show's source material, this is an impressive tome full of intricate detail. It draws on Hibberd's extensive knowledge and journalistic coverage of the show, his time on location and his interviews with the cast and crew, to deliver a comprehensive look behind the scenes. It's an absolute must-have book for GOT fans.
Buy now: Fire Cannot Kill A Dragon – Bantam Press, £14.60
The Feminist Quiz Book by Sian Meades-Williams and Laura Brown
The Feminist Quiz Book is, primarily, exactly what the title suggests. But it's also so much more. With a foreword by the brilliant Sara Pascoe, it has interactive categories that range from literature, drama and music to geography, mathematics and politics – all of it centred around women who challenged systems, who led and discovered and dared to think and act for themselves. It's an inspiring and intelligent celebration of incredible women around the world, and there's no better Christmas present than that.
Buy now: The Feminist Quiz Book – Blink Publishing, £8.99
Be Amazing! by Chris Hoy
We all need a bit of motivation at the moment and Chris Hoy's Be Amazing! is just the thing to inspire us to be the best versions of ourselves. In the book, Hoy discusses his own inspirations and how he achieved success by following his dreams, working hard and believing in himself. The book is a fun, digestible guide that's packed with words of wisdom, practical strategies and personal stories from the world's most successful track cyclist of all time.
Buy now: Be Amazing – Walker Books, £6.41
The Secret Life of the Savoy by Olivia Williams
Telling the story of the D'Oyly Carte family for the first time, The Secret Life of the Savoy is a fascinating glimpse into the past. It explores three generations of the famous family who pioneered Britain's first luxury hotel – from Gilbert and Sullivan impresario Richard, to his son Rupert, who inherited the family empire and took it through two world wars and the roaring twenties, to Rupert's only daughter Bridget, the reluctant heiress. Williams' biography is informative and hugely entertaining, painting a deliciously decadent picture of the glamour, theatre and scandal that surrounded the D'Oyly Cartes.
Buy now: The Secret Life of the Savoy – Headline, £14.00
Only What's Necessary 70th Anniversary Edition by Chip Kidd and Geoff Spear
Celebrating 70 years of Snoopy and Charlie Brown, this special anniversary edition of Only What's Necessary is the ultimate gift for Peanuts fans. It takes readers behind the scenes of Charles M. Schulz's creative process, delving into his raw sketches, unpublished artwork, correspondence and the ephemera that have existed. It's basically a museum in book form; an eye-catching and fascinating tribute to a man whose comic book creation is still timeless all these years later.
Buy now: Only What's Necessary – Abrams ComicArts, £21.99
John Lennon 1980: The Last Days In The Life by Kenneth Womack
October 2020 would have marked John Lennon's 80th birthday. In a fitting tribute to the man and his legacy, Kenneth Womack's biography delves into how Lennon lived in his final year, a year of creative revival and possibility. It, rather gratifyingly, doesn't focus on how he died, but the way he lived, from the minutiae moments to the monumental. It paints a vivid image of creativity, humanity and warmth – things that will never go out of style. Like Lennon himself.
Buy now: John Lennon 1980 – Omnibus Press, £10.75
Let's Bake: A Pusheen Cookbook by Susanne Ng and Claire Belton
This year has seen so many of us turn to food for comfort, not just in the eating but in the making too. Let's Bake: A Pusheen Cookbook is a vibrant, colourful delight, filled with delectable Instagram-worthy creations to make and decorate. Whether you prefer cookies, cakes or breads, creator/artist Claire Belton and creative chef Susanne Ng have shared forty fun, adorable recipes to keep you busy over Christmas and well into the New Year. With food this cute, who could not be happy?