Swiss Army Man DVD Review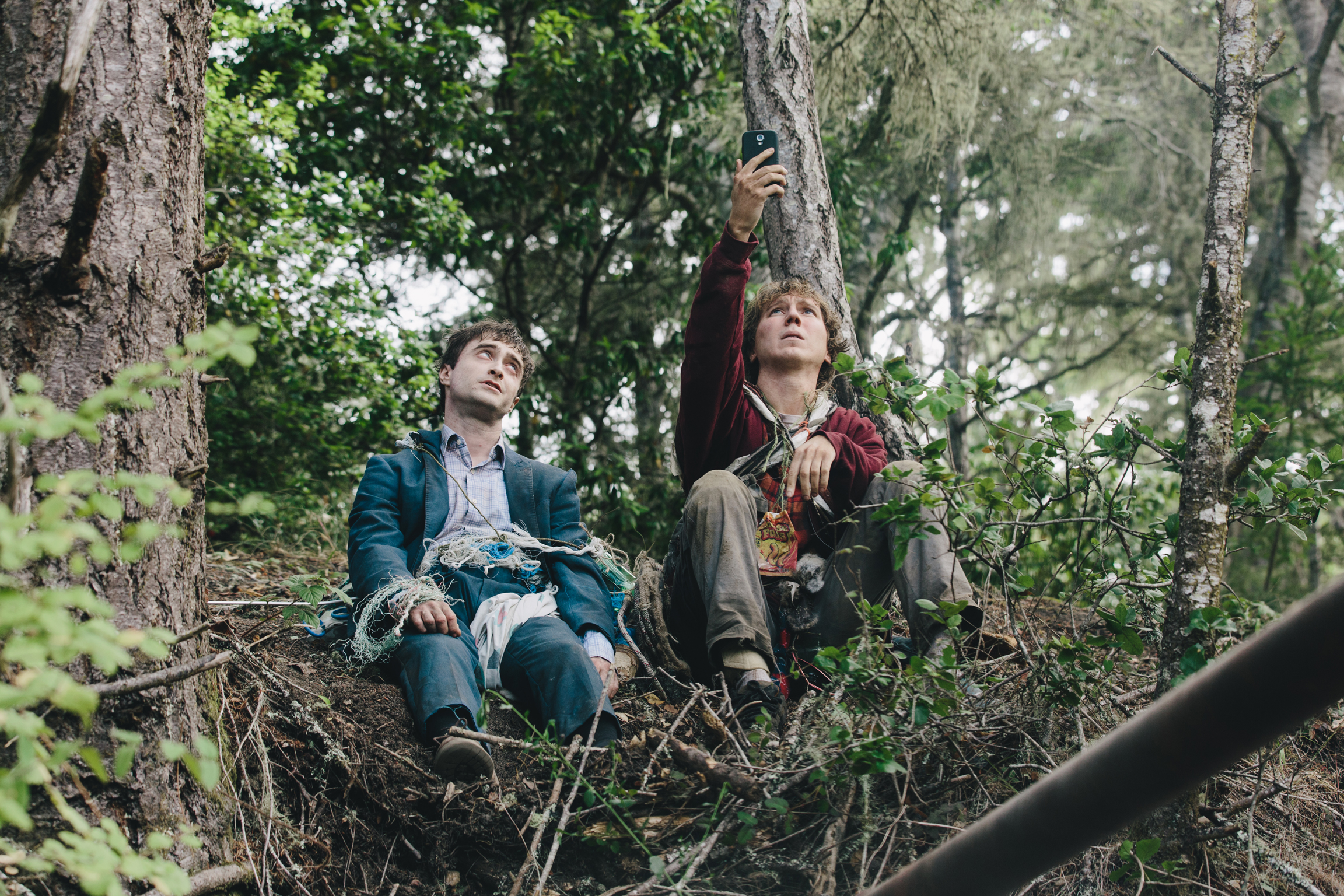 On a deserted island and about to kill himself, Hank Thompson (Paul Dano) is suddenly interrupted by a body washing up onto shore, disappointed to find it's a corpse and not another soul to help keep him company. It is, in fact, a corpse but, as he soon discovers, that doesn't mean it can't keep him company. Utilizing an array of bodily functions Manny the corpse (Daniel Radcliffe) is still capable of performing, his range making him the titular 'swiss army man', the two of them team-up and try to make their way back to civilisation, both of them learning about life from each other along the way.
A combined effort of 'Daniels', as the opening titles inform us, Daniel Kwan and Daniel Scheinert's first feature film is the very definition of "weird and wonderful". Its wonder is directly attributed to its weirdness, and vice versa. The jokes are gross but charmingly funny, and it never feels gratuitous or indulgent. It's an earnest look into societal perceptions of bodily functions, as well as love, friendship, and our relationship with death. It makes you sit back, completely thrown by what you are watching unfold on-screen, but not at all reluctant to admit that it completely works.
Swiss Army Man is a starkly creative film, unlike anything audiences have likely seen for a very long time, and probably won't see again. There's a remarkable amount of work and distinctness of voice oozing out of every pore, very much alive. We see it in the film's original score and song (Andy Dull and Robert McDowell), highlights of which include the self-aware montage song. And of course it would go amiss to not recognise the outstanding creativity on part of Kelsi Ephraim and Stephani Lewis for set and costume design, respectively. Again, these elements of the film, and the imaginative ways Hank uses his surroundings to construct educational scenarios for Manny of the every-day, with only leaves and twigs at his disposal, are as much of the magic as the eye the Daniels have for how they use the landscape to create a superbly pretty film.
At the same time, though, everything is stripped back, taking place mostly in an indistinguishable but very pretty wood, that gives it sincerity that is crucial to holding everything together.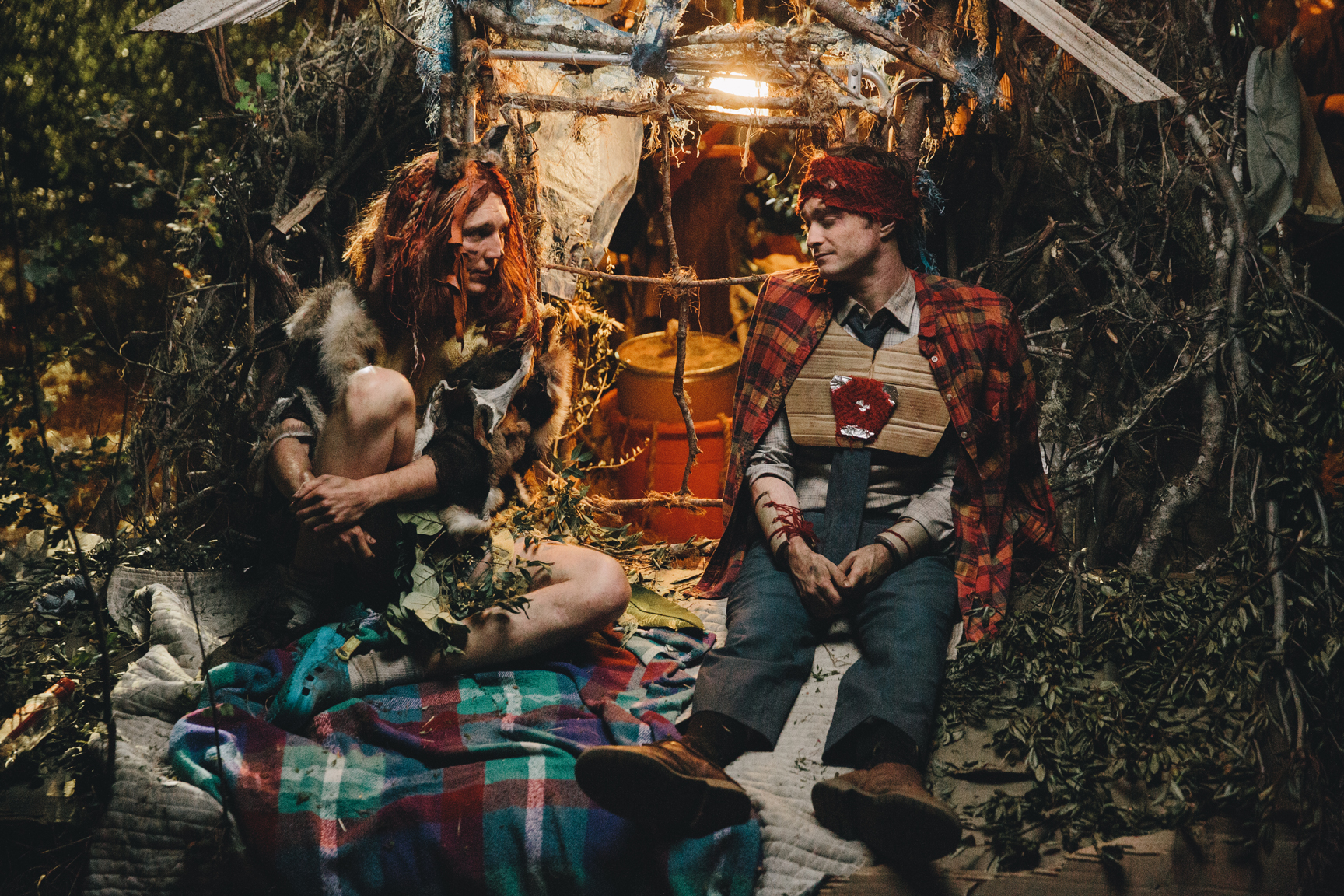 Dano, and his unwavering humanity, carries the film, making him likable despite Hank's very real flaws. However, it very much works because of Radcliffe's own incredible performance opposite him. One has to imagine that he will always feel the weight of The Boy Who Lived, and the role the world for better or worse will never let him forget, but this role will hopefully take its rightful place in a line of many that prove he is capable of a lot more than we might expect. The specific physicality and delivery never feels forced or unnatural – which of course, it is.
But it is simply the two of them for almost the entire venture, with strong but ultimately small parts by the likes of Mary Elizabeth Winstead, and making two dudes essentially role-playing quotidian [moments] in the woods always engaging is of course not only the work of the two actors, but of the way the film is paced. The editing is fast, fun and never lets you feel anything but hungry for more. It's an intimate, and at its core a very quiet story despite the larger-than-life (or death) premise.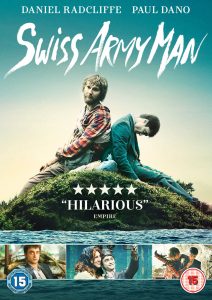 In a world of never-ending churning out of superhero movies, and dressing up old franchises in shiny new clothes, films like these exist as a reminder that there are delightfully original minds, waiting for their chance to surprise and captivate audiences. I can't quite say that Swiss Army Man is for everyone. Maybe if your tolerance for fart jokes is at absolute zero, you might not be able to stomach more than the first three fart-less minutes. But if you can stick around for longer, chances are what's left in store is to die for.
★★★★
Lionsgate UK Releases Swiss Army Man on DVD & Blu-ray from 10 April 2017