Spotlight on Matt Marcii and Robbie Hutton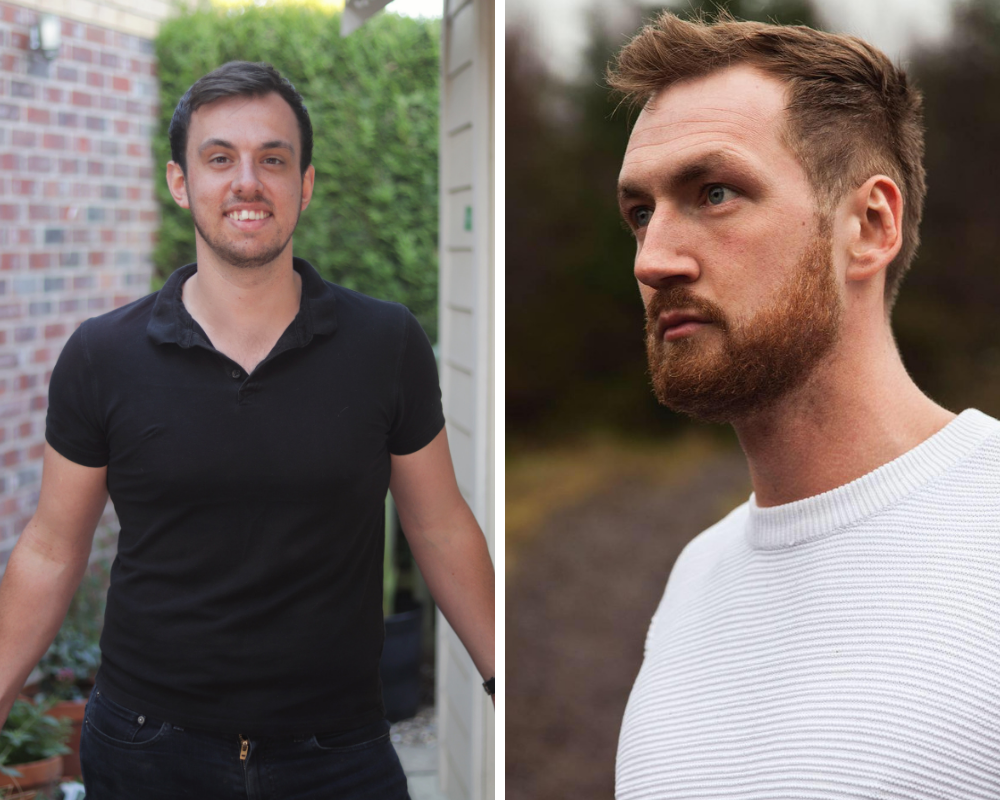 Lockdown may have left most of us with hardly anything to show for ourselves, but for Matt Marcii and Robbie Hutton, it has brought an entirely new musical adventure.
Matt Marcii, one half of the dynamic duo, is a music producing machine hailing from Cambridge and hides his three biggest inspirations within his namesake – no-one has guessed all three, we've tried. The second half of the duo is Robbie Hutton. Based in Stirling, Robbie has carved a unique sound with his genre-fusing mix of soulful pop and ballad-driven rock. Matt and Robbie have joined forces to create the next summer anthem dominating our airwaves – 'Sugar.'
We caught up with the pair to find out their favourite five tracks that have influenced their sound, and if they could set up any dream gig, what it would be.
So guys, what would be your first tracks that have influenced your sugary-sweet pop sound?
Matt: Mine would definitely be anything from the artist Max Martin. He has written the most amount of number-one singles in our generation. 23 in total! I study how he uses "song math" to carefully formalise hit songwriting.
Robbie: The first one that comes to mind would be 'Money for Nothing' by Dire Straits. The intense build up to that unforgettable guitar riff is timeless – it just gets you all pumped up!
Good choices! So Robbie, if you could put together any dream gig what would it be like? No need to worry about money or being realistic!
Robbie: If I could put on my dream show, it would be where everyone who bought a ticket had a choice to see 10 of their favourite bands ever in the one day. They could choose the scenery themselves, choose the refreshments/layout, basically everything themselves. They would still be at a crowd filled festival with their mates, but everyone would have their individual shows going on at the same time. If that makes sense? When you said "if reality wasn't a factor" my mind really wandered there!
Sounds incredible. So what's next on your bunch of fives?
Matt: No doubt the repertoire from Julia Michaels, she is just a savant and doesn't use any rules and just relies on emotion.
Robbie: My second influential track is 'It's Enough To Be On Your Way' by James Taylor. This song reminds me a lot of my childhood, and JT's technical composition of the chords around the vocal melody in this song is what makes it so nostalgic and heart-warming for me to listen to. I think in general, the way JT changes from each chord so rapidly in his songs yet keeping everything so melodic is a stroke of genius.
And for your third track on your bunch of fives?
Robbie: Next up is 'Let There Be Love' by Oasis. This is an absolute anthem. The amount of anthems Noel Gallagher has written is amazing. Especially the album Definitely Maybe. Basically every song on that is a hit. As well as What's The Story Morning Glory. That's probably my favourite Oasis album. Anyone that says he isn't a good songwriter IMO is wrong! I think Noel is a perfect example of somebody with hardly any musical training. Just a guy that picked up the guitar and started writing amazing songs. That's so inspiring to me.
Matt: My third influential soundtrack is the work from Michael Jackson. I love how he chased perfection and always had the audience in mind. The music wasn't for him, it was for his fans.
Is that something you think about when making music then, Matt? Any other artists that inspire that kind of process?
Matt: I'm fascinated by what makes a song catchy. It's my intention to crack the code and for people to be singing along with the chorus before the song has ended on their first-ever listen. A song that encapsulates this perfectly is 'Can't Feel My Face' by The Weeknd. I also want my music to hint at true musicality with a slightly jazzy feel, so something like 'South of the River' by Tom Misch is great example of something I try to encapsulate with my music. If I was left to my own devices I would just write piano ballads, so 'You Say' by Lauren Daigle is a beautiful song and the search for something "bigger" or having a higher meaning is a theme throughout my music. If you mixed those three songs together I don't think you would be far off my music!
Those are incredible artists to highlight. What about you, Robbie?
Robbie: The View – 'Face For The Radio'. The View were one of the main reasons I got back into playing guitar when I was 15, and this song brings back fond memories of my teenage years. Especially being with your mates at a party, getting the guitar out and strumming this classic. The View bring back good memories of my teenage years as they were on the rise as I was growing up. Kyle Falconer has the knack for writing some absolute hits (a bit like Noel). Some tracks that have really impacted my solo music is Kodaline and Oasis. I love how Kodaline convey emotion within their lyrics and 'Don't Look Back In Anger' by Oasis is so memorable, that chorus is almost anthemic! This really influenced by track 'Somewhere Unknown.'
You can totally hear that in the catchy chorus of 'Somewhere Unknown'. So Matt Marcii, what's your next influential track?
Matt: My next influence is anything from the works of Gregory Porter. He writes songs that are so beautiful they don't need to follow any rules. He can get away with a 12 minute song and I would listen to the end.
So would we! Matt, if you could put together your dream music event what would it look like?
Matt: My dream show would take place at the SEC in Glasgow. I lived in Scotland for four years and saw so many amazing shows there, including Justin Timberlake and Bruno Mars. Ever since being a child, I've loved orchestras and this still carries onto my music now. So it would be amazing to have a full orchestra as the backing to my music. One of the coolest things I've seen was at a Paul Carrack concert where he had two drummers who played perfectly in sync. I saw a Hans Zimmer recording session with 22 drummers in a circle playing in perfect time, so why not have that too?! Piano is my main instrument so I would be in the centre of the orchestra and invite my wonderful collaborators onto the stage one at a time to perform their songs live and talk a little about how we wrote it. Let's have Quincy Jones conduct the orchestra for good measure! 
We'd totally get tickets for that! What's last on the list for your influential tracks? 
Matt: Finally, for me it's the musician Carole King. She's an absolute grafter who wrote so many songs that stood the test of time. I feel more similar in terms of being a songwriter. With the greatest of respect, she isn't the best singer ever but her songs are so good and she gets the feeling right it doesn't matter.
Robbie: The last track on my list is 'Eternity' by Robbie Williams. Robbie Williams was my number one idol when I was a kid. I think it was everything about him – the showmanship and the character. He was an all round performer and I aspired to that. 'Eternity' hits a heart chord for me every time I hear it. The way the lyrics in the Chorus mix in with the beautifully constructed instrumental gives me those goosebumps every time.
With Robbie set to release a wide range of collaborations over the upcoming months and Matt producing several upcoming releases with Andrea Ekeli late this year, the future looks bright for these musical mates. Just in the nick of time, Matt and Robbie gift us with a lighthearted anthem to lift our spirits as we head into Autumn, and when it comes to 'Sugar', we'll take two.
'Sugar' is available now on all streaming platforms!