It's a chilly Wednesday evening in west London and to paraphrase Saxon, denim and leather seem to have brought us all together. It's early, but already a conga line of headbangers snakes from the door of the Apollo and back down the street, winding round the corner and out of sight. Damn near every punter is bedecked with rock'n'roll paraphernalia. Patches and bullet belts, fishnets and eyeliner, bandanas and spiked wristbands. Rock crowds believe, man, in a way that you won't find anywhere else in popular music. They're not here to be seen – not even the most devout would claim this musty-smelling mass to be a high point for fashion – but to see. To be blessed by one of the High Priests of Rock, the last guitar hero, the Cat in the Hat himself.
Fresh from Guns N' Roses' reformed canter through the world's enormo-domes, Slash is a man with nothing left to prove. The 'Not In This Lifetime' tour finally put one of rock's angriest closet skeletons to bed and confirmed that even the most catastrophically explosive break-ups aren't immune to multi-million-dollar paychecks. At the same time, the guitar-slinger put out a new album of originals with erstwhile collaborator Myles Kennedy, showing his continued worth as a writer of slab-sized riffs. All of that makes tonight something of a victory lap – the time for Slash to take his place on the hard rock pantheon.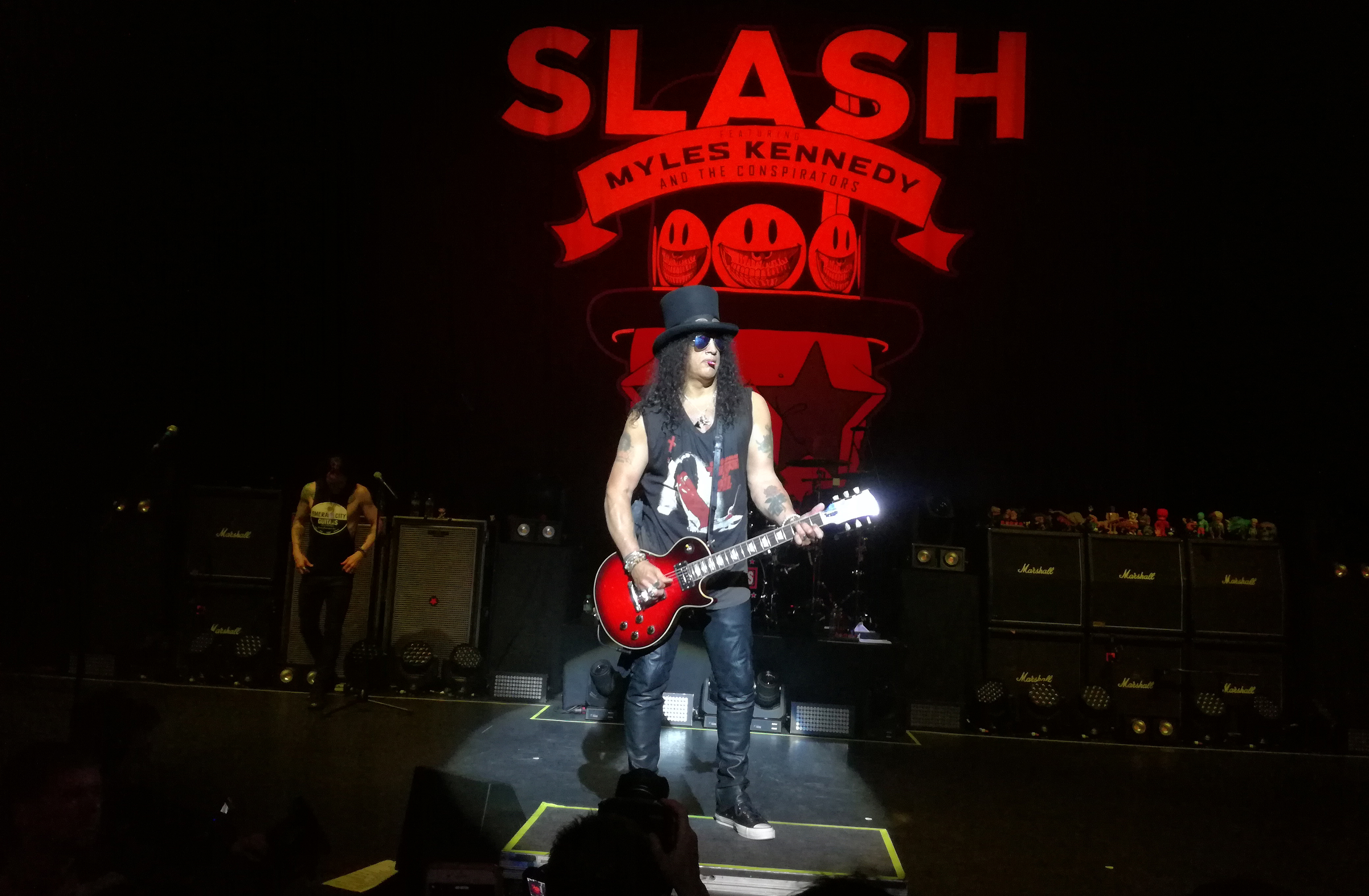 In the event, however, it was very nearly a fluffed opportunity. As the show gets a-rolling, the mix in the pit is truly, unforgivably terrible. Slash's guitar is swamped by the rumble of the rhythm section and Kennedy's voice is almost inaudible. What I'm listening to is not the sound of two melodic past masters painting aural images. It's a burbling bassline covered by my co-moshers' drunken bellowing of half-remembered phrases. This is bad. Really bad.
I know very little about live sound mixing, but among the things I do know is that the pit is famously hard to get right. In general, the sound from the house PA sails past the eager faithful on its way to the curious cheap-seaters, and the weedy fill-in speakers (if there are any – which tonight there aren't) struggle to push out enough volume to compete with the bass bins. It's a thing.
So how in the holy pants does an artist as experienced as Slash not have a sound team who can combat that problem? It's not like we're in some esoteric acoustic hellhole – this is the Apollo, for goodness' sake. We're here to listen to one man's electric guitar, but from this vantage point it sounds like his amp's been left under a mattress.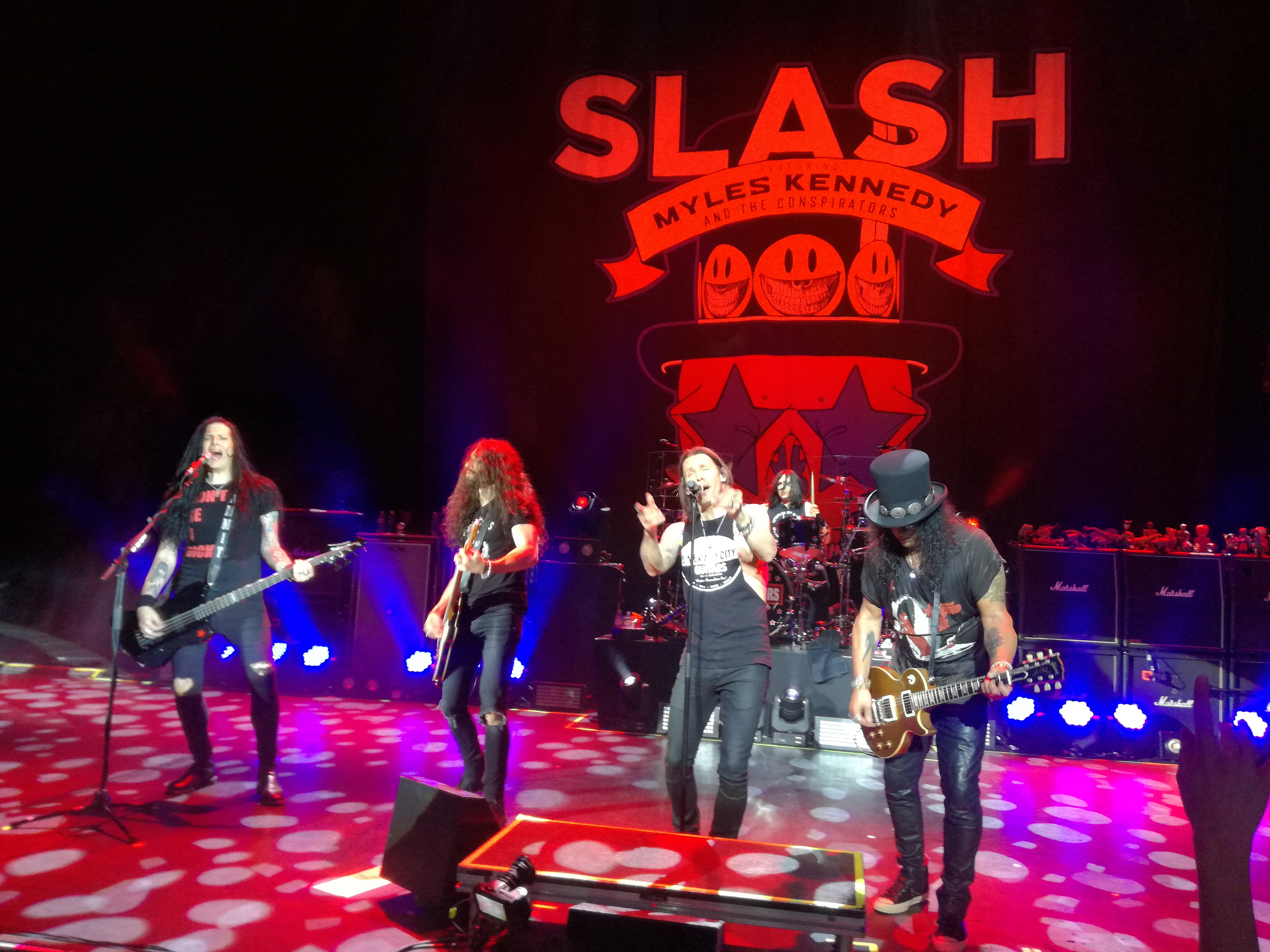 Fortunately, salvation comes in the form of 'We're All Gonna Die', a pogo-heavy ape-trundle of a song with the kind of riff that forces you to move. The sluggish crowd finally frees up and the red sea parts: my way to the barrier is cleared! I engage in a spot of mosh-surfing, letting myself wash up with each stageward surge and then standing my ground as the human flood rebounds. Inch by sweaty inch I gain on the front row, their shoulders hunched against the onslaught of elbows, their ribcages squashed against metal. Finally, when there are mere feet between the photographers and me, Slash's guitar, snarling out of his three Marshall stacks, blossoms into the audible frequencies. At long last, his squealing, flittering fretwork pours into my ears.
Once it starts, it's nothing short of a privilege to stand ten feet from Slash and watch him wail. Good lord, the man can play. He peels off spiraling blues-tinged riffs and gargantuan solos with a concentrated ease that's wondrous to behold. The speed at which he plays is staggering, the feel gut-wrenching, the glacial cool almost too much to bear. When you can hear him, you become keenly aware that this is the man who marched right up to the stone tablets bearing the names of Clapton, Beck, Page and Hendrix and graffitied his own signature on the bottom. His is the last word from the guitar gods, and his instrument speaks with a voice of searing power and fluidity.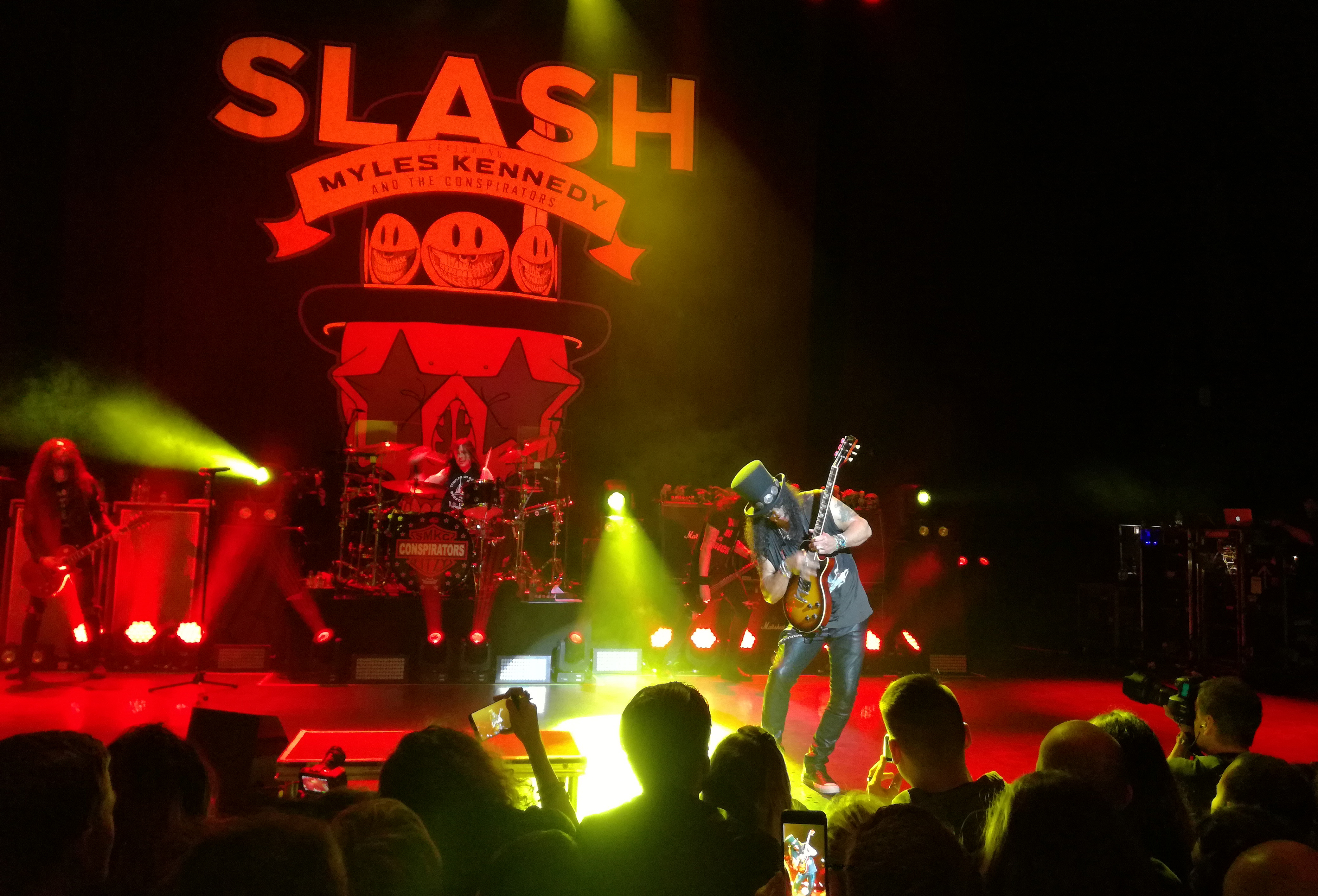 We only get one GN'R song tonight ('Nightrain') – the rest are all Kennedy & The Conspirators tunes. Funnily enough, no-one seems to mind. No 'Sweet Child O'Mine'; no 'Welcome To The Jungle'; no 'Paradise City'. That Slash can entertain us for two hours without dipping into that solid-gold catalogue is proof of his solo power as a songwriter and instrumentalist. We bang our heads and roar our hearts out.
This show was recorded for a DVD – let's hope they can pick him out of the mix in the studio…