Slash rides again with 'Living the Dream'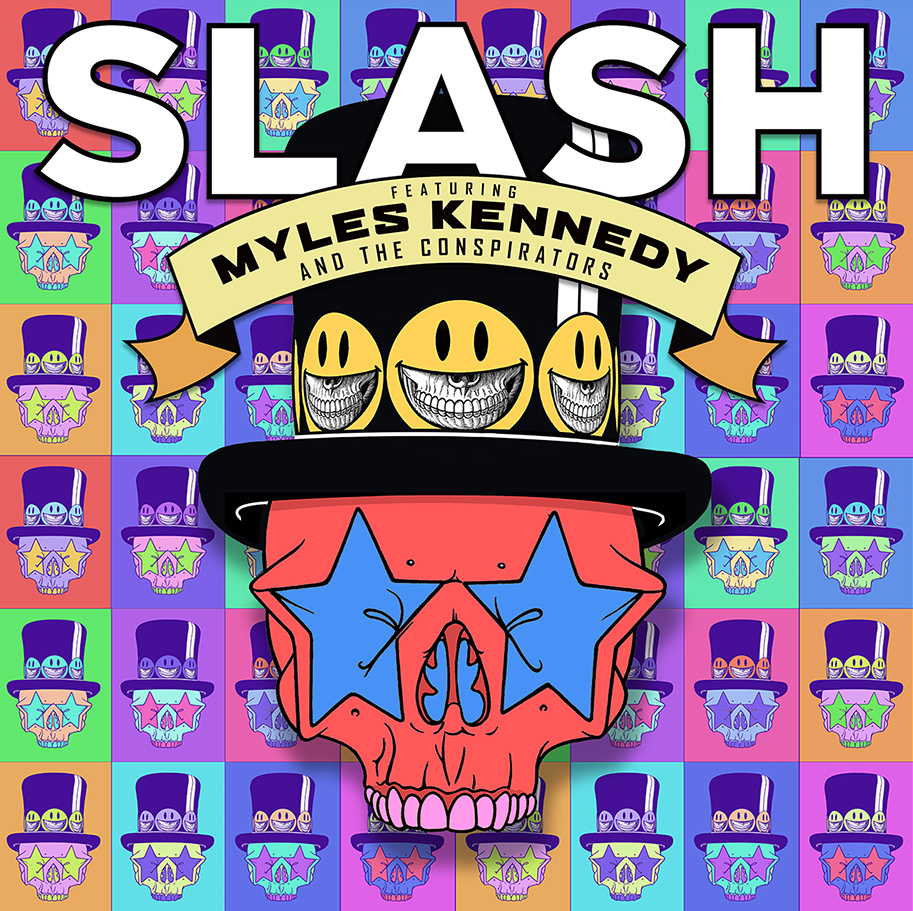 Psst. Hey kid. You want to know a secret?
Come closer. It's dynamite.
Slash's partnership with Myles Kennedy is the best of his career.
Sure, he made some albums with a ginger guy once, and they were pretty good. But in terms of sheer guitar glory, his solo albums with Myles Kennedy & The Conspirators have reached peaks of ferocity and inventiveness that challenge anything his other band put out. No-one's going to say that about Chinese Democracy, Duff McKagan's Loaded or Izzy Stradlin & The Ju Ju Hounds. Or Slash's Snakepit, for that matter. They were to Guns what Wings were to the Beatles, but Slash, Apocalyptic Love and World on Fire are the Cat in the Hat's Full Moon Fever, his Rhymin' Simon: the works that proved that his genius could stand alone.
Something about working with Myles Kennedy, Todd Kerns and Brent Fitz seems to bring out the best in Slash: the knack for a vicious riff, the jaw dropping fluidity and the sonic freshness which slept for seventeen long years after the collapse of Guns N' Roses. Happily, his recent hiatus on tour with GN'R hasn't reset the clock, and new LP Living The Dream is more of the same good stuff. Slash's songwriting chops are as polished as ever, and his guitar playing remains one of the great wonders of the world. He sounds every bit as far beyond the league of mortal men as he ever did, retaining an uncanny knack for making you want to punch a wall and cry at the same time.
The album's bookends give a good sense of the breadth of sounds on offer here. Opener 'The Call of the Wild' is a classic slice of Slasher rock'n'roll, full of spiralling riffs and bluesy frills, all tied round Kennedy's earnest wail. It tears out of the gate, all cylinders firing, like the flaming guitarmobile from Mad Max. You know you're in safe hands. The Last Guitar Hero is on form.
Closer 'Boulevard of Broken Hearts', on the other hand, sees him pushing the stylistic envelope a little. It starts on a bouncing staccato riff that's almost reminiscent of Stevie Nicks' 'Edge of Seventeen', and then bursts out into a minor-key workout that would sit quite happily on an Alter Bridge album (Kennedy's day job). By melding Slash's familiar blues-based wizardry with Kennedy's portentous post-nu-metal leanings, the band brings the album to a close on an epic note, heavy but retaining the cocky braggadocio that's always made Slash's music so damn fun.
Other highlights include 'Sugar Cane', the riff to which is gold-plated excellence, and the curious 'Slow Grind', which has a tinge of 'It's So Easy' going on. It's not what you'd call a varied album – we're here to rock, and rock we do – but there are some more reflective moments. Songs like 'The One You Loved Is Gone' and 'Lost Inside The Girl' bring Kennedy's sensitive-boy skills to the fore, and the former shows some real melodic inventiveness on Slash's part.
The only fault I can level at Living the Dream has to do with its production. It's a little-acknowledged fact that Apocalyptic Love was the best-produced rock album in history, with a sound that pinned you to the wall and let you feel every creaking string and booming drum. It was a thing of wonder, and since then I've been hoping that Slash would repeat the feat. Sadly Living The Dream sounds flat and over-compressed in comparison, the guitars mushing into one layer, the drums sitting meekly behind a baffle. Don't get me wrong – it's still a big, hairy rock record – but it could have been Perfection Part Two, and it isn't. And that's a shame.
That minor quibble aside, this is every bit as good an album as you'd expect from heavy rock's chief standard-bearer. Even after all these years, there's still a rich seam of riffs to be mined. As long as Slash is alive, rock will never die.
★★★★