You know how everyone always tells you that the Beatles are the root of all modern pop music? Well, The Magic Gang really make that clear. Their twin-guitar, triple-singer guitar music is a delightfully twangy update on the things that made the Fab Four so great: strong riffs, singalong choruses, boyish charm. Tonight's show at the Kentish Town Forum – their biggest UK headline show to date – is a euphoric blast worthy of the comparison to rock's original tastemakers. They're cheeky, playful indie lads, a bit more homemade than contemporaries like Wolf Alice, but still with enough melody and stagecraft to make one hell of a dent in this young crowd.
The first thing that strikes you is just how singable their songs are. At most gigs you sing the first line and the chorus and then mumble incoherently while jumping up and down for the rest. But The Magic Gang have a way with a repeated, monosyllabic line that means the words quickly get rooted in your brain. It is such fun(Miranda style) to bellow along to big ol' arm-wavers like 'Oh Saki' and 'Caroline'.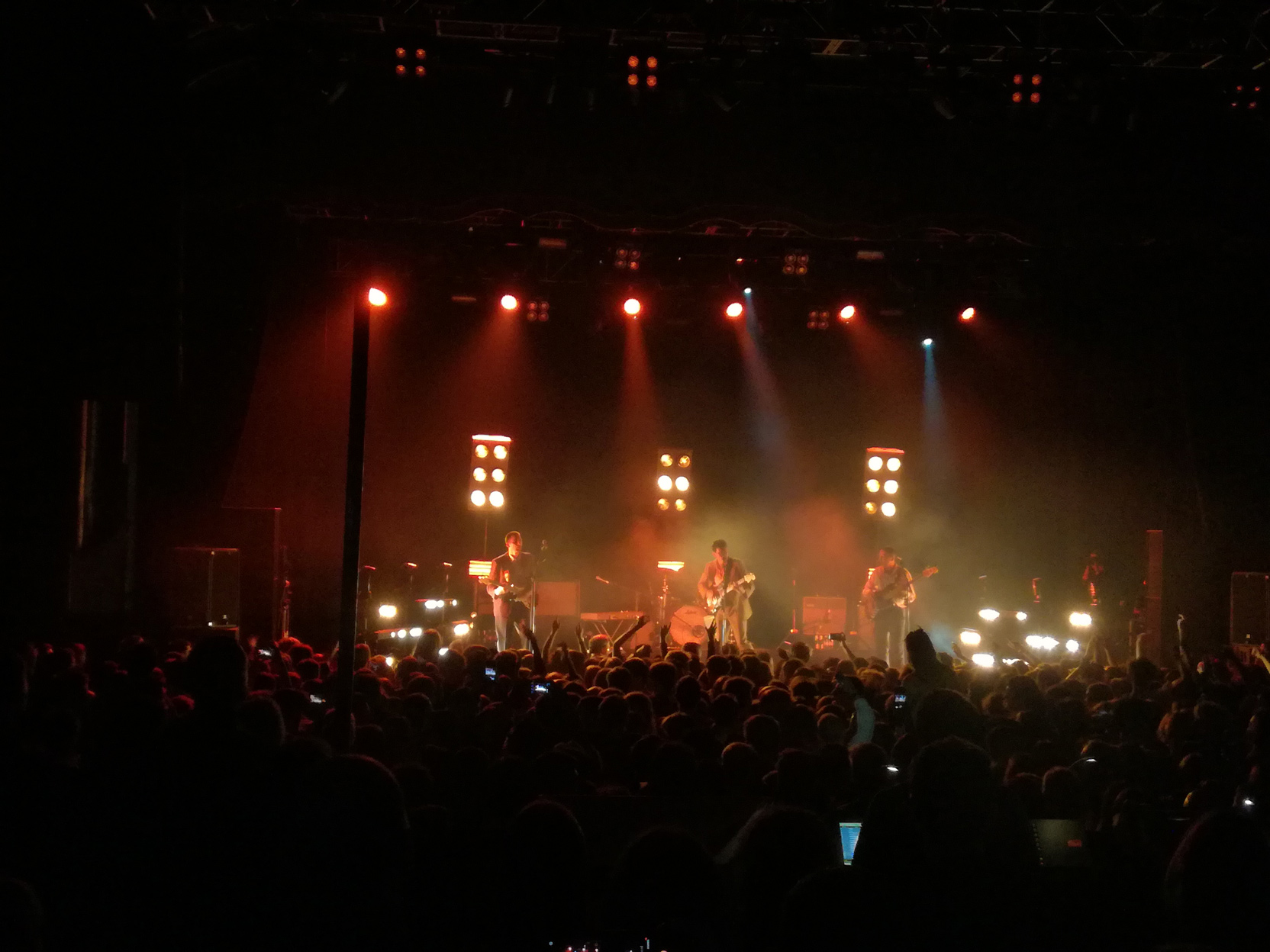 There are a lot of crowd participation opportunities, and we lap them up. Most of the downstairs is mosh pit. The sound takes a while to get going – there's lots of onstage gesticulating at guitars during the first couple of numbers – but once the techs find the 'on' switch, the band make a pleasingly raucous racket.
As an outfit they're quite sweet, clearly a little starstruck by the 4,000 fans beaming back at them, still on their first outing as a band with an album in the racks. There's something so endearing about catching young bands on the way up: they're so full of wonder, so giddy with the modest height of their own success. They still have their humanity, but they're just starting to gain the Alex Turner swagger that takes them that little bit closer to Rock Star. On the first go round, there's a sense that this could be the only time they get to play somewhere this big – who knows, maybe it's a fluke! – and that makes it all the more frenetic. The Magic Gang are clearly enjoying this every bit as much as the pogoing mass before them, and that's a good feedback loop of which to be a part.
A couple of the slower numbers do fall a little flat: 'I'll Show You' and 'Take Care', the piano numbers on the band's debut LP, lack the conviction and the songwriting chops to stand up next to the headbangers. But when they open the encore with an almost-a-capella 'Life Without You', complete with choirboy harmonies, they prove that they can actually manage different shades of indie very well. Maybe a focus on the Flyte-alike group vocals would serve album two well…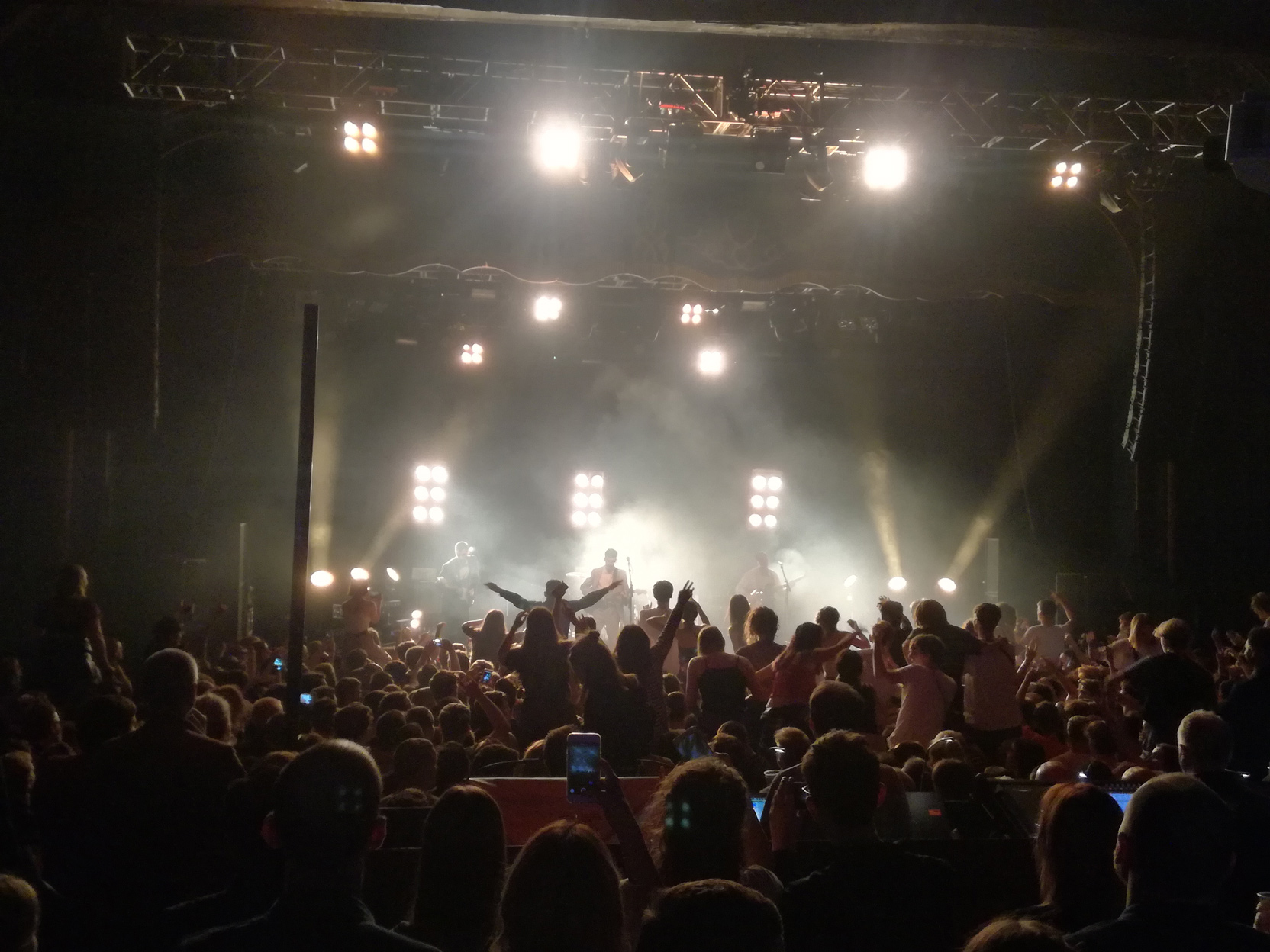 The best word to sum up The Magic Gang is 'fun'. Like most bands of their generation, they exhibit some anxiety in their lyrics, but unlike support act Spector or the aforementioned Wolf Alice, they don't wallow. Their show tonight was a delicious throwback to the days when a crunchy guitar and a memorable chorus were all that went into rock'n'roll – streamlined, not basic – and they do it with such joie de vivre.
Here's hoping the boys from Brighton can find the next steps on the slippery rock'n'roll ladder. By this showing, it'd be a hell of a lot of fun travelling along with them on their way to greater things.