Maniac Review: Netflix's trippy new show will play with your mind

If you're looking for a new show that you can't stop watching and can binge on every episode over a rainy weekend, then Netflix's Maniac is the show for you.
Created by Patrick Somerville (who wrote episodes of The Bridge and The Leftovers) and directed by Cary Fukunaga (True Detective), the show starts with Jonah Hill's Owen Milgrim. He's from a wealthy New York family background but is struggling through life and has been sacked from his job. He's also lonely, suffers from a mental illness – potentially schizophrenia– and sees things that aren't real. His family are putting pressure on him to lie in a court case to save his brother from a sentence, placing more of a burden on his already crumbling life. So when he gets a package out of the blue which offers the promise of a new kind of pharmaceutical treatment that can repair the mind, Owen begins his journey down the rabbit hole.
Another lost soul is Annie Landsberg (Emma Stone) – a habitual drug user, who dwells on her fractured relationships with her mother and sister. She's had a traumatic experience that she can't let go of and subsequently bribes her way into the pharmaceutical trial. And so our two broken characters meet, their lives becoming entwined as the trial unfolds.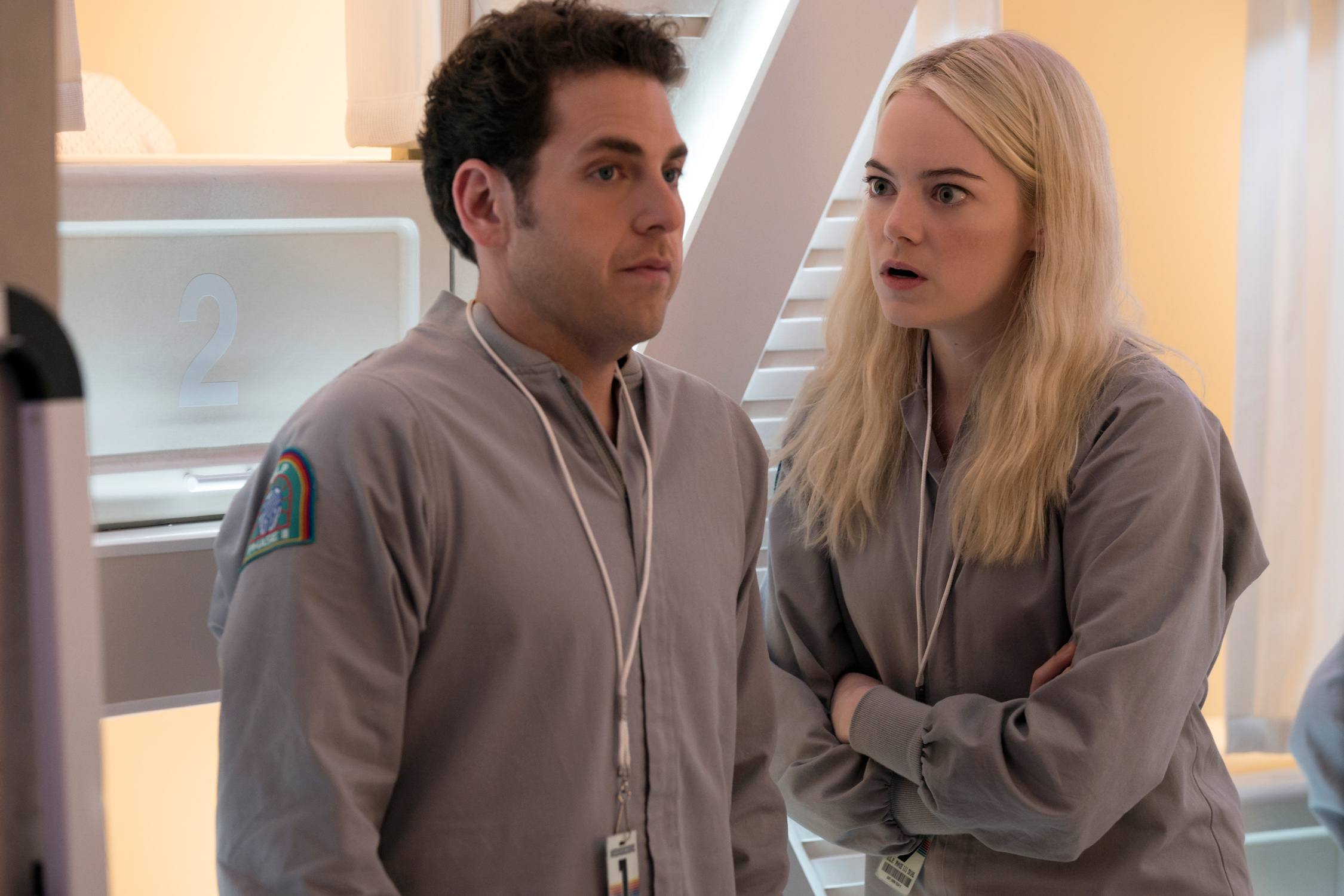 The medication based treatment promises to cure all Annie and Owen's problems with no complications or side effects. Little do they know what's about to happen to them. The trial comprises of a series of pills: A (acceptance), B (behavioural) and C (confrontation). During each sessions of treatment, the lab rats are hooked into a matrix style computer, which documents their experiences and helps them through their traumas. This computer – G.R.T.A – has been given feelings, and through heartbreak has become depressed and unstable; she's also collected some of her previous subjects and trapped them with her. If you think that sounds pretty crazy, you're right.
With her black bob, glasses, doctor's coat and constant smoking, Doctor Azumi Fujita (Sonoya Mizuno) is the femme fatale of the series. She created the computer and, along with Dr James K. Mantleray (Justin Theroux), is leading the trial.
Each episode shows a different experience within the computer treatment, building relationships, questioning reality and seeing the problems from the doctors' perspectives. Throw in some interesting situations with a ring tailed lemur, a gang war and a séance and you have a compelling, mind-bendy series.
Maniac is primary a series about friendship in a modern, technological driven society where we often shut off from our feelings and shut people out of our lives. Each episode might leave you in a state of confusion, with your head spinning, but Jonah Hill and Emma Stone's amazing performances will lead you through the spiralling questions in this dark comedy show.
This is one of the best series that I've seen in quite some time. It's well written, has incredible visuals, engaging sub-plots and so many little intricacies that you might need to watch the series twice to notice them all. Don't be surprised if Maniac pops up on lots of 'best TV shows of 2018' lists towards the end of the year.
★★★★