Rafiki – BFI London Film Festival Review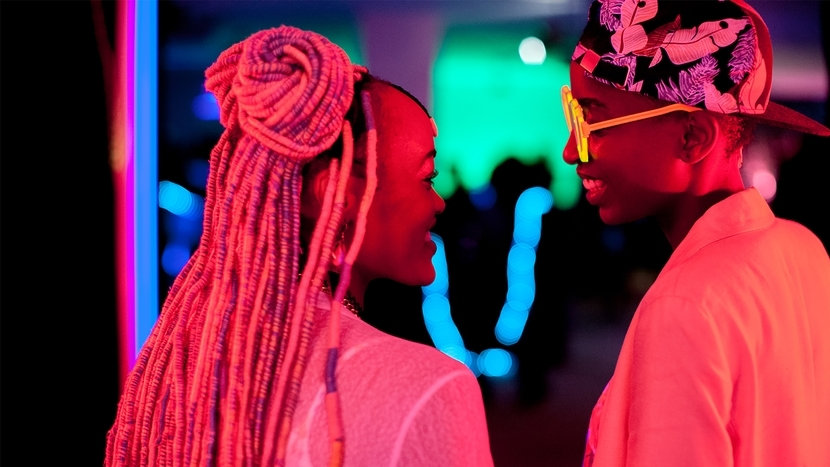 Wanuri Kahiu's thesis statement for Rafiki perfectly sums up the message of the film: "Feel all the feelings of love, because they're inside you already."
Not only is this a beautiful, applicable sentiment for coming out, but so is the journey our main characters go on themselves; the arc of the film is them facing and embracing that very message.
Kena and Ziki are the daughters of two political rivals in a tight-knit and gossiping community in Nairobi, Kenya. Their connection is loaded from the start. Even before a seemingly unlikely friendship is struck (the name of film comes from the swahili word for 'friend'), the glances the two exchange are so intense and heavy with meaning that once they do become close, it's a clear matter of time before it develops into something more.
The film, set where homosexuality is outlawed and where the film was banned, does not shy away from the heartbreaking and devastating reality this creates not just for the characters, but for the state of the members of the LGBT community living in Kenya today. Prior to their closeness, Ziki and Kena sit through Christian sermons serving to further ostracise them. While it is mostly a two-hander, Kena is who we first meet. She's studying to be a nurse and lives with her mother, her parents seemingly informally separated. Ziki, with her bright pink and blue dreadlocks, is more of a free spirit; she wants to travel, but that's as solid as her plans go. In their own ways, they are trapped, and trapped in large part by the men in their life. Even Kena has to deal with a close male friend who brings up several times that if she'd marry him, he'd make her happy.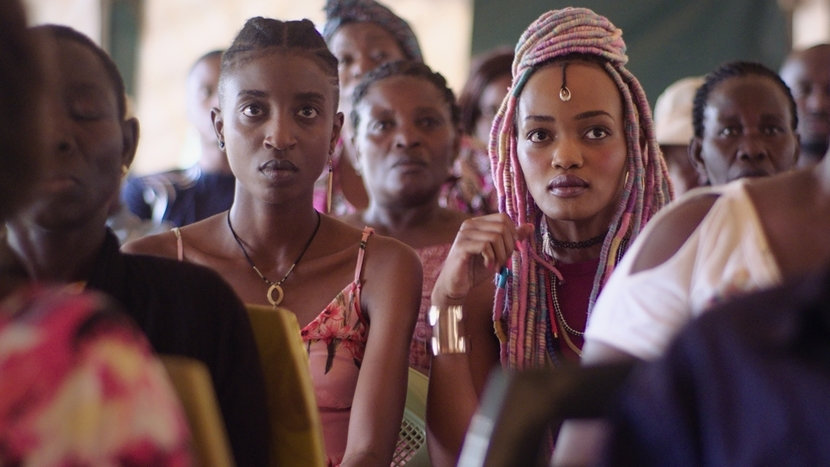 The film concerns itself with plenty of coming-of-age themes of legacy, agency, making career choices and the responsibility to our elders, particularly our parents, who have such major places in Ziki and Kena's own lives and their relationship to each other. On a rooftop surrounded by drying laundry, Ziki and Kena link pinky fingers and promise they will never be like the rest of them, "down there."
Rafiki is also a deeply, earnestly romantic film. It's quietly powerful to see a mutual, genuine and healthy attraction between two women taken seriously, without fetishisation or portrayed as a youthful experiment or "phase". There is a level of female closeness that's accepted among friends, allowing them to "hide in plain sight", so every touch feels both permitted and forbidden; at times an overwhelming combination. Their moments alone, free from any potentially suspecting eyes, feel like a sigh of relief.
It's very much a story about coming out, and even more specifically about what it means to be gay and in love when your country and your loved ones views that as criminal, sinful, or even the result of a demonic possession. The intimacy here is so raw that it's at times painful, yet never uncomfortable to watch. Instead it feels like a tender, almost familiar caress; a reminder of "those feelings inside us".
What should also be celebrated is the happy ending; no-one is killed, or dies of AIDS, or ends up in a forced or settled marriage with a man. It's optimistic yet realistic. Despite all odds, there is hope. Rafiki's ban was lifted, in order for it to be eligible for the Foreign Language Film Oscar category.
Chances are being afforded every day for women attracted to women, though we fight tooth and nail for it. It's about time we gave that same privilege to the women in fiction – telling stories not just about hope, but reminding us that there already is.
★★★★