I had no idea that Alexandra Palace was this big, or that The War on Drugs were popular enough to fill it. As it is, venue and band are a match made in heaven. The gorgeous Victorian architecture makes for a fitting background to TWOD's rich, rolling wall of sound. Reverb-drenched guitar washes around the room in great waves, bouncing off the giant circular window at the back and running over us again. The stage is flooded with instruments, guitars, keyboards, saxophones and drums jostling for space, filling the air with noise. It's a dreamy experience, topped off by a stadium-sized light show which periodically shifts from atmospheric to full-on air-raid barrage.
For new initiates, The War on Drugs are an American indie-folk-rock group formed in 2008 by frontman Adam Granduciel and Kurt Vile, who is now off gallivanting through his own stellar solo career. Their music is strangely hard to categorise – they pair warm and hazy soundscapes with upbeat, metronomic drumbeats, and although it's hard to detect anything remotely like a verse-chorus structure in their six-minute songs, there's no shortage of catchy hooks and memorable riffs.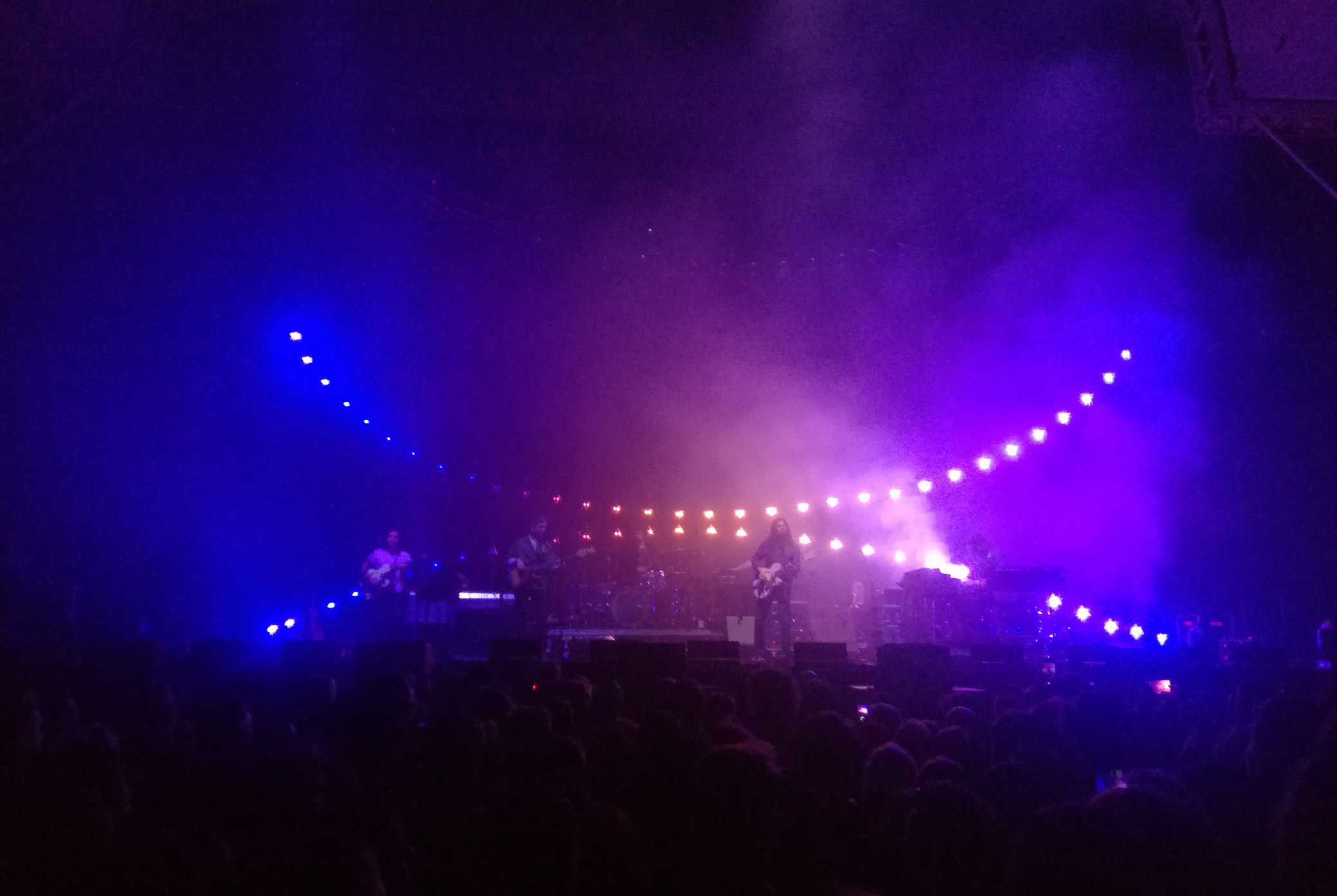 It sounds like Bob Dylan mixed with Bryan Adams fronting Pink Floyd playing John Denver mixed by Beach Fossils with beats provided by a drum machine. It's driving but gentle, half country, half stadium rock, and it makes for a blissful live experience.
The songs tonight bleed elegantly into one another, each guitar-change underpinned by swirling keys. It feels as though we're watching one long jam, a two-hour epic of rolling vibes. Granduciel takes his time between numbers, tuning his guitar and tapping away at his (count 'em) FOUR pedal boards before giving some imperceptible signal and bringing the faultless band down onto the next groove. It must be said that the songs are quite samey – it's something of a one-dimensional show, but it's a lovely dimension and we're happy to sway in it for as long as TWOD are happy to play.
The show's climax comes in the form of 'Under the Pressure', which is the closest thing that TWOD have produced to a dance tune. Balanced out though they are by off-the-clock city types, the pot-smoking hippies in the crowd are well and truly happy at this late point in the set, and the chugging intro sees several shirtless revellers hoisted onto shoulders around the room. They wave and whoop gleefully, and the atmosphere picks up to a lively jig.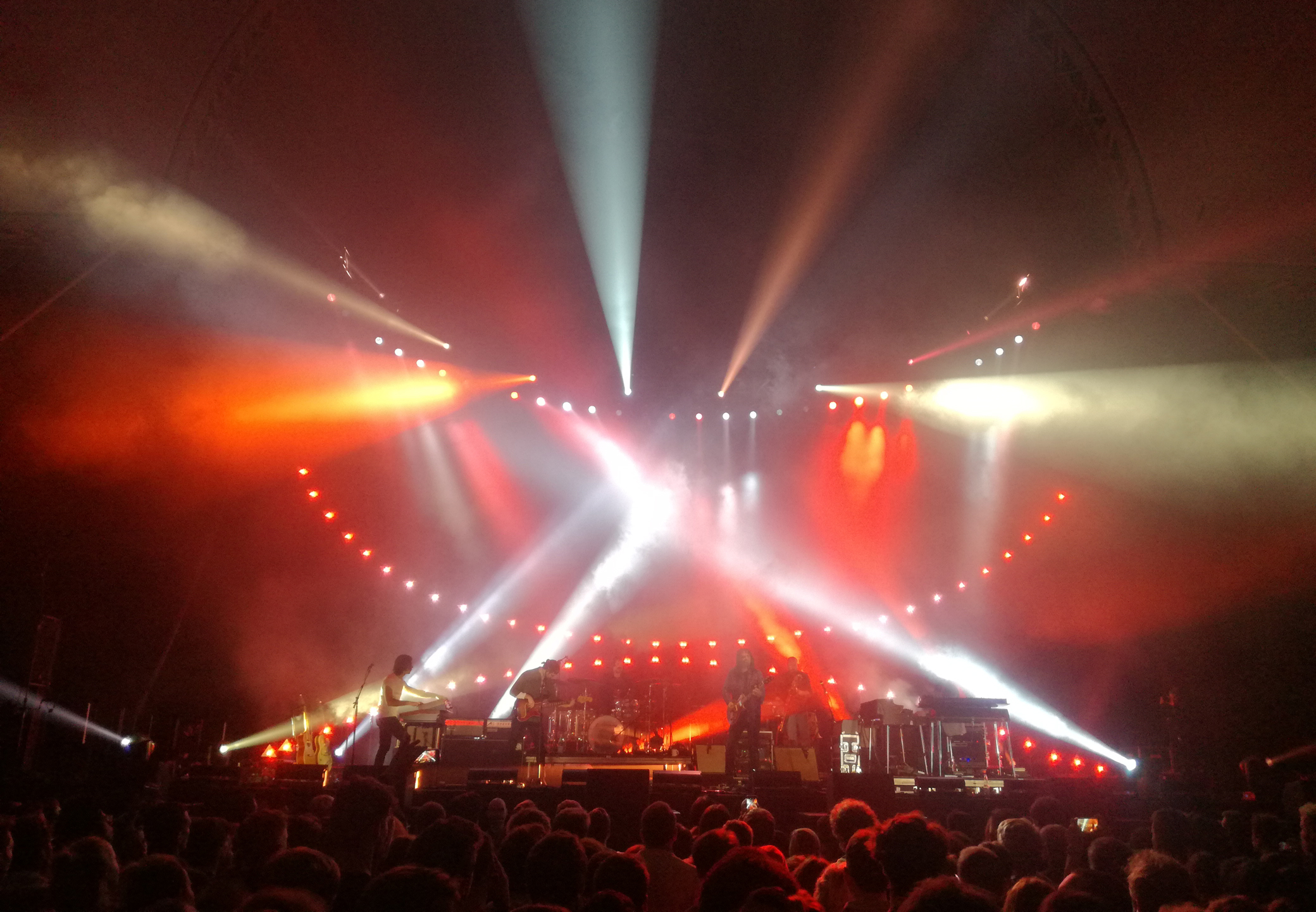 Then the song hits its backed-off bridge and Granduciel begins a glorious exercise in brinkmanship, holding off the breakdown for whole minutes as we cheer, coming slowly to the boil. Charlie Hall, the delightfully mad-looking drummer, pounds his hi-hat like it's insulted his mother and then finally, finally the bass drum kicks back in, the lights go ballistic and we're bathed in reverby goodness. Pure class.
This was a triumphant performance from a band that has built a career on high-quality musicianship and perfectly-accomplished vibes. Warm, spectacular and happy, their show is testament to the simple power of good music played well. Well worth the lengthy hike out of town.