Wolf Alice are the kind of band that's easy to mythologise. They look like they should be leading a movement, and in a way they are. In the strange world of the post-MP3 music industry, when clearly-defined movements like grunge or new wave are a thing of the past, Wolf Alice have managed to establish themselves as the flagship of an indie flotilla that's mounting an assault on the corridors of power. Slaves, The Magic Gang, Superfood, Black Honey, INHEAVEN, JAWS – there's a new generation of guitar bands making headway on the live circuit and in the charts, capitalising on the wide reach of Spotify and YouTube to build their following without major corporate backing. In the olden days someone would have attached a label to them and their tribehood would have been codified by the music papers, but now it's up to the fans to create their own clubs.
Nevertheless, with or without an official title, tonight's show at Alexandra Palace confirms Wolf Alice as the band of the decade. In two and a half years they've progressed from sweatbox bars to this 10,000-capacity barn, and on this stage in north London they plant their flag as rock stars for the age, the sound of youth after the crash.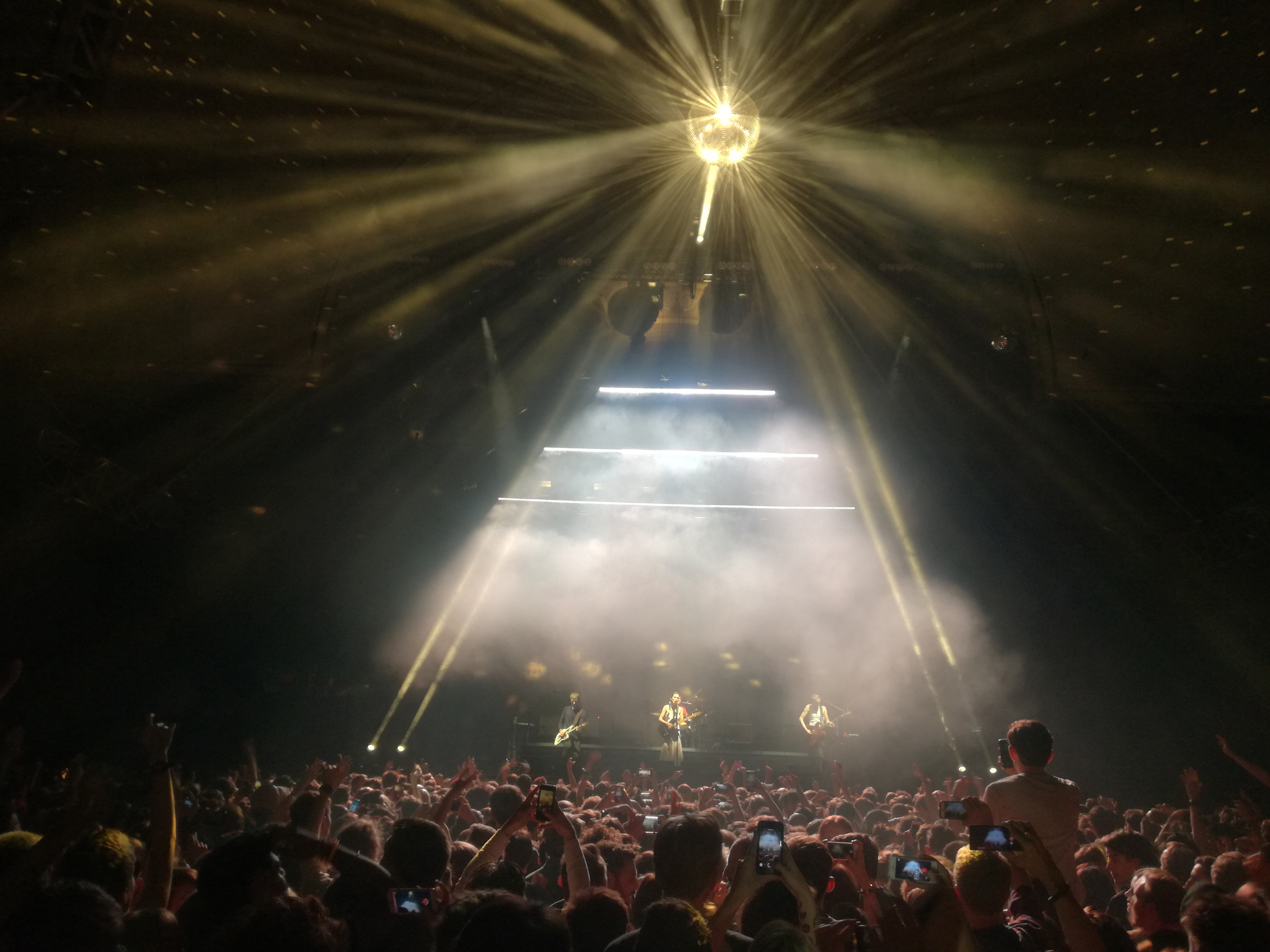 Like U2 in the early '80s or The Sex Pistols in the late '70s, they make music that you can rally behind. Their uniform is glitter and their power is their angst. They give form to the crippling mixture of individualism and isolation that plagues Generation Z. They're convincing and real and angry and tired and alive just like you are. They care and they couldn't give a damn and they scream and they whisper just like you. Their music sounds like it's ours, whoever 'we' are, and that gives them a vitality and an urgency that push them beyond momentary fashion into real cultural significance.
Tonight the promise of world domination that's been growing in their music since their first singles becomes embodied onstage, fully grown and ready to rule. Their gawky, 'ordinary-kids-swept-along-by-fame' vibe is more polished and controlled than a year ago, part of their emblematic identity, relatable but Other. Maybe it's just standing in front of ten thousand screaming fans that does it, but the Wolf Alice up there tonight feel totally in control, no longer members of the pack but alphas instead.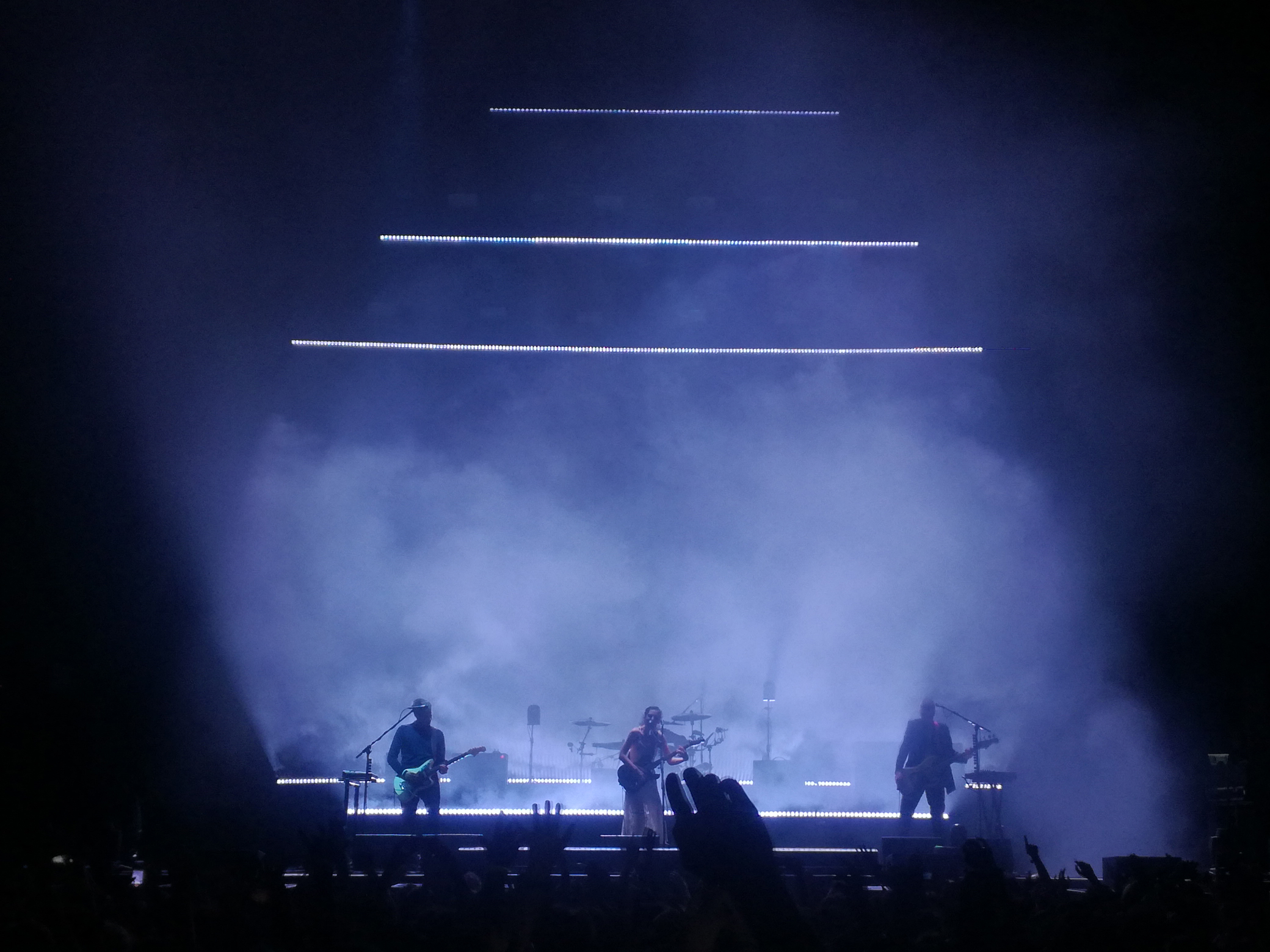 There's nothing distant about them, though. They bring a fan up onstage to play the riff during 'Moaning Lisa Smile' (balls of steel!) and halfway through the set bassist Theo Ellis shouts out 'hope you're enjoying yourself, Nan – I know you're out there somewhere'. 'Beautifully Unconventional' is about a friend of Ellie Rowsell's who's down the front. They're people, not gods, and that's why they matter. This is the age of exposure, the age of 'talking about it' – Wolf Alice make no effort to act like superhumans and so, paradoxically, they have become icons instead.
The light show is massive, and the lavish use of giant disco balls in particular gives the show a triumphant feel, the teenage crowd piling onto each other's shoulders to sway and scream as Ellie yelps the words. It's euphoric with a tinge of darkness, never po-faced, always self-aware but smiling at the edges, mature and young-headed at the same time. Perhaps the best way to sum it up is to say that Wolf Alice make art that happens to be pop music, rather than pop music striving to be art.
As a rock show it's a thrill, replete with massive riffs, rowdy mosh pits and ragged singalongs. As a pop concert it's a dream, drenched in misty keys and mournful choruses. As a moment in history it's essential, the instant when Wolf Alice became a phenomenon.
Legend is now theirs for the taking. The question is – do they want it?
SaveSave
SaveSave