Live Music Review: London Grammar at the Eventim Apollo, Hammersmith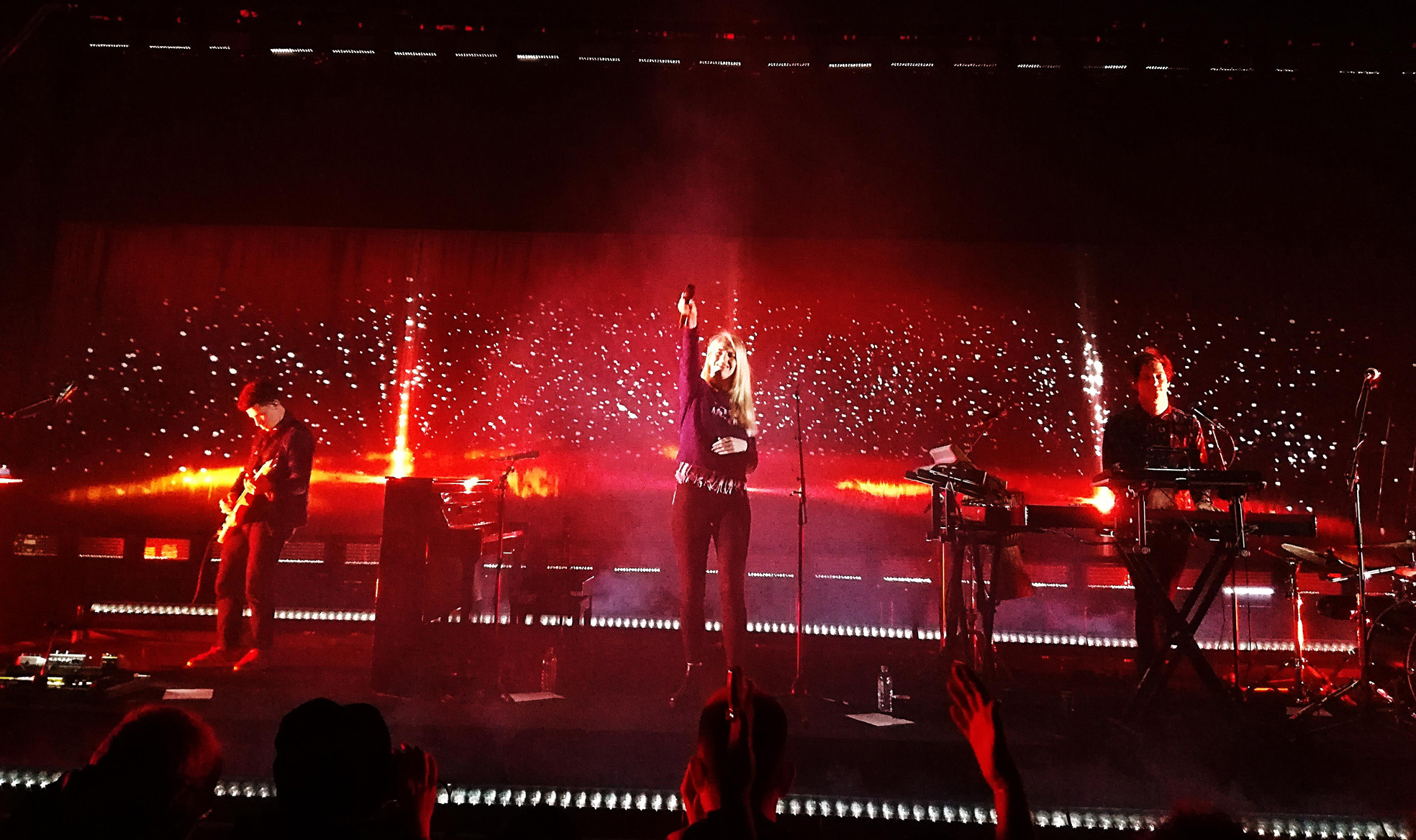 This is a homecoming show of sorts for London Grammar. As guitarist Dan Rothman admits, it's 'been a while' since the trip-hop trio played a straight run of UK theatre shows, and bar an intimate performance at the Round Chapel in April, this is their first major London gig in years. It feels special to witness their return, one of the great white hopes of modern British music treading the Apollo's hallowed boards.
The band – Rothman, vocalist Hannah Reid and multi-instrumentalist Dot Major – have been touring the world on and off since the release of 2013's If You Wait, and the endless hours onstage have paid off. Tonight's gig is a masterful affair. Each delicate song floats off the stage with understated perfection, Reid's much-lauded voice keening overhead while Rothman's staccato licks provide a skeletal framework beneath, always restrained, never boring. The stage set is equally beautiful, a translucent screen behind the band running reels of forests, mountains and soundwaves as banks of strobes flicker with the beat. Close to the barrier, the effect is powerful – widescreen and bright, in harmony with the ethereal music.
The band opens with 'Who Am I', a slow burner from new album Truth Is A Beautiful Thing, and it acts as a fitting overture for the show as a whole. They edge out with quiet piano chords and Reid intones the opening lyrics: 'there is life in the dark / so small, but there you are'. Behind her, embryonic cells roll around the screen, splitting and meeting in monochrome, and white spotlights search the stage. When the chorus hits, the sound broadens and lifts, Major and Rothman driving up the volume as the beat kicks in. It's a rich, compelling noise, sitting deftly between electronic music and Floydian rock, uplifting and strong.
As with all of London Grammar's music, though, it's Reid who really puts the tingle down your spine. Her voice is quite simply wondrous. It's the crux on which their sound turns, the swift, pure cry that lifts them from pop also-rans to era-defining artists. She has a gift that ranks with those of Janis Joplin, Aretha Franklin, Joni Mitchell and Kate Bush for memorability and power – original, haunting and gut-wrenching, a melancholy joy. As she launches into the fluttering soprano chorus, nailing every note dead on, you begin to understand how Odysseus felt sailing past the sirens.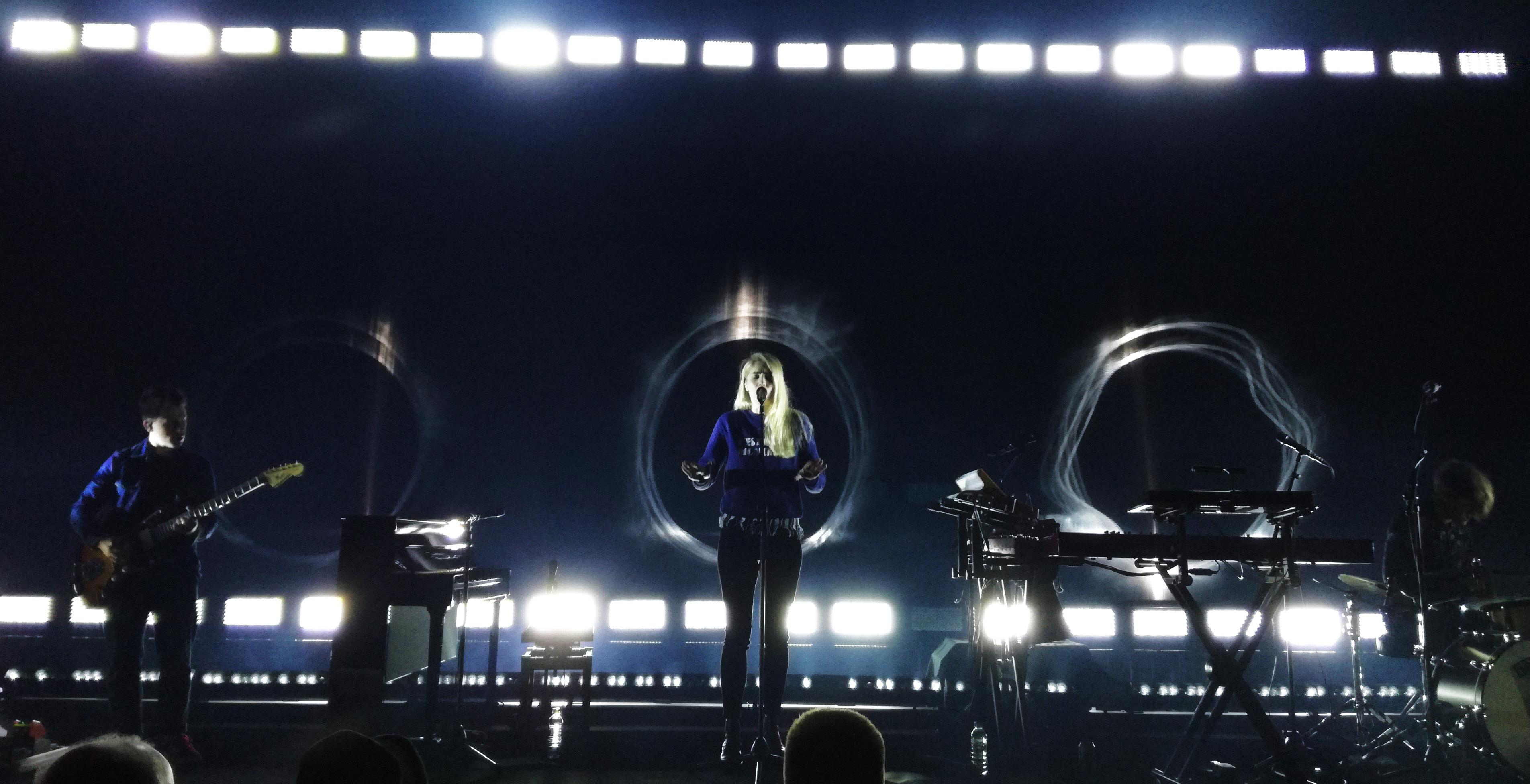 There's also a moment of vulnerability from Reid when she relates the story of new single 'Rooting For You', which features a high F­­# usually reserved for choirboys and violins. After a period of vocal strain, she vowed only to write 'easy stuff', before penning this acrobatic aria of a song. She sits to give herself the best chance of getting it right, and then, in darkness, unaccompanied and with the crowd in utter silence, delivers a flawless and soaring performance, gliding over the top octave like wet glass. The audience go wild, and with good reason. This is Hendrix, Stephane Grappelli, Robert Plant – a rare musical talent in full flight.
Tonight London Grammar deliver a sharp, ice-cool performance with plenty of heart, passing from crystalline trance to stadium-sized riffs with ease. They are thrillingly perfect, the pop equivalent of Da Vinci or Rachmaninoff. Here's to another four years – and let's hope they return to London before 2021.
SaveSave