Reading's Face Bar is a tiny box of a room with a serious 'school disco' vibe. Cheesy 90s-looking coloured lights spin around at the back and when the speaker stacks get going they make the walls rattle. The stage itself is just another part of the bar raised up a step. It's what you might call cosy. But somehow tonight, for the cheeky chappies of Bad Sounds, it feels just right.
The band, led by madcap brothers Callum and Ewan, make an infectious fusion of funk, indie and hip-hop, mixing the analogue and the digital in a toe-tapping blend of 70s soul and noughties post-Britpop riffing. They're the 21st-century music industry model personified. Pumping out homemade videos on YouTube and occasionally dropping a new track when they can scrimp together enough time and money, they've still managed to generate some serious buzz on Radio 1 and the Instagram grapevine, building a loyal following of eager teens. Their tunes have been officially dubbed Hottest Records In The World by the BBC on multiple occasions, and Spotify is partial to a bit of Bad Sounds in its new music playlists. Their cottage industry is threatening to go global.
Live performances, though, are a whole different kettle of fish to the studio wizardry that clearly comes so naturally to Bad Sounds. How will they fare in this miniscule room, eye-to-eye with the crowd?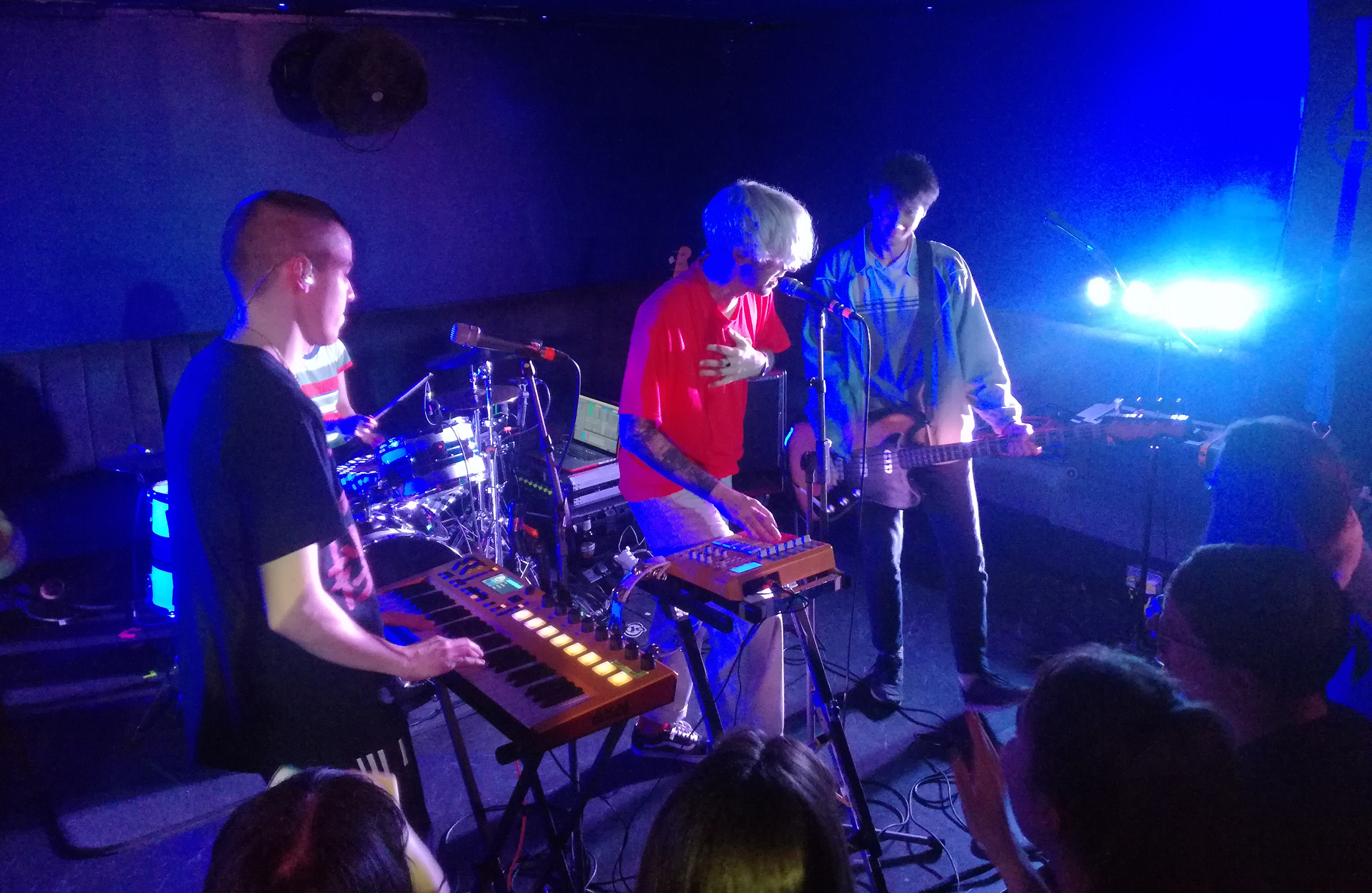 In a word: brilliantly. Mugging furiously, the band hoon their way through a rock'n'rolling hour-long set, leaping about the stage like wannabe gymnasts and launching themselves onto each other's backs, yelping and laughing with obvious delight as the crowd shouts their lyrics back at them. They have an undeniable stage presence, half likely lads, half groovy space pilots, bashing away at their keyboards and Casios with lashings of chutzpah.
'It's still quite a surprise to be in a room thousands of miles from home where everyone knows the words!' grins Ewan after a particularly boisterous sing-along from the glittery 16-year-olds in the pogo pit. The band look like they're still right in the middle of the honeymoon phase, when every fan is a bonus, every conversation with a breathless youngster at the edge of the stage a novelty. The whole thing feels like a scene in Almost Famous, all the young dudes living out their fantasies. It's a lot of fun. You could cut the potential in the air with a knife.
On a side note, when did teenagers get so cool? My own memories of puberty are a haze of grease, spots and crushing awkwardness. The crowd here tonight is a vision of tastefully arranged outfits, perfect skin and buoyant hair. Maybe Reading is an undiscovered fashion paradise. It feels very unfair to me.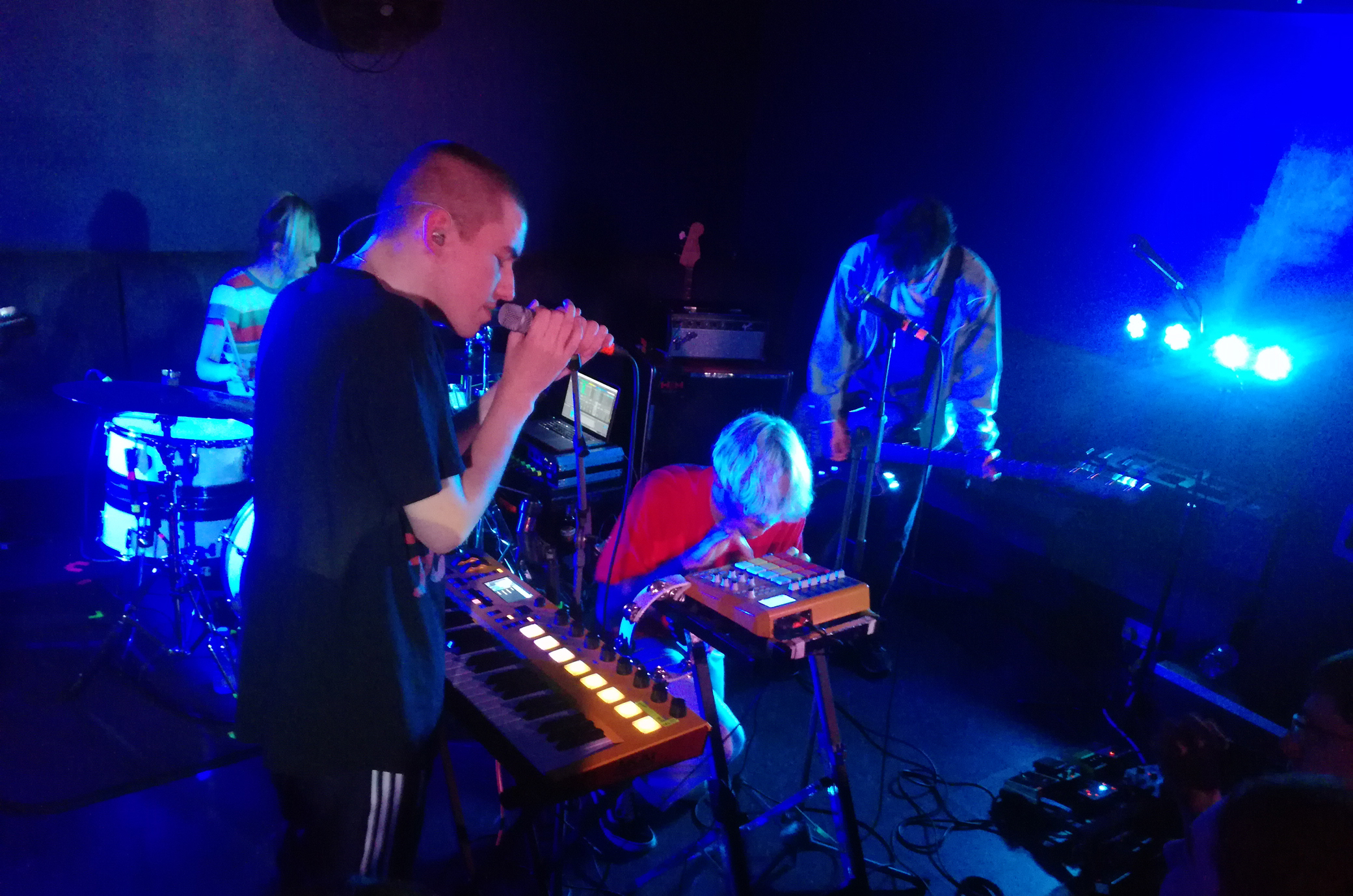 There's only one hiccup in proceedings tonight. When we get to 'Enough', the band (Sam Hunt, Olivia Dimery and Charlie Pitt) put down their instruments and pick up egg shakers while the Bonkers Brothers deliver the whole track via keyboards and sample pads. It dampens the momentum a bit, and it adds nothing to the vibe to see Hunt perched on his amp looking glum rather than just playing the bass riff himself. Vocal samples and synth effects are one thing, but pre-tracking a whole song is a buzzkill.
Happily, it all picks up to astronomical heights again with 'Avalanche' as the band gets room to open the taps and rock out. Pitt's guitar is a righteous chainsaw, Dimery a thunderous force of nature, Hunt an unstoppable funk machine.
Bad Sounds are not well named. Tonight was a happy, brilliantly tight sign of things to come. Watch out, world – the Sounds are coming for ya.
SaveSave
SaveSave
SaveSave