Simply put, Killing Eve is one of the best television shows of 2018. Powered by two excellent performances from Sandra Oh and Jodie Comer as two international spies who become obsessed with each other, and buoyed by Phoebe Waller-Bridge's whip-smart writing, this deadly game of cat-and-mouse has rightly enthralled audiences for the last eight weeks.
Comer immediately grabs your attention as international assassin Villanelle. Both childish and sophisticated — lovingly realised by designer Phoebe de Gaye with Villanelle's now famous puffy pink dress and combat boots outfit — the villain is electric to watch, alluring and horrifying in equal measure. You never know how a scene is going to play out, and she creates palpable dread when she walks into a room. Comer, with an untraceable accent, switches between youthful naivety and ensnaring seductress within a beat. In a stand out sequence in a Berlin nightclub, her viperish smile imprints itself in your brain, and your heart drops for the character foolish enough to follow her.
Yet, for all of Comer's greatness, it is Oh who gives the best performance as Eve, the office worker turned spy. Oh has the hard job of making a relatively boring character — there are no flights of fancy or showy moments — engaging, but she succeeds by revealing how Eve's addiction to the case is her way of escaping the claustrophobic trappings of being a woman in modern society. Her concerned husband, played by Owen McDonnell, wants her to drop the case because it is jeopardising her safety, yet there is an undercurrent of selfishness as he sometimes feels Eve's new obsession is pulling her away from the comfortable life she affords him.
Like most cop or spy dramas of Killing Eve's type, Eve and Villanelle gradually become obsessed with each other, and Waller-Bridge and her team challenge this dynamic. The fact both characters are women already enlivens what is often a tired trope, and the writers cleverly keep the sexual tension, lending Killing Eve a queer subtext.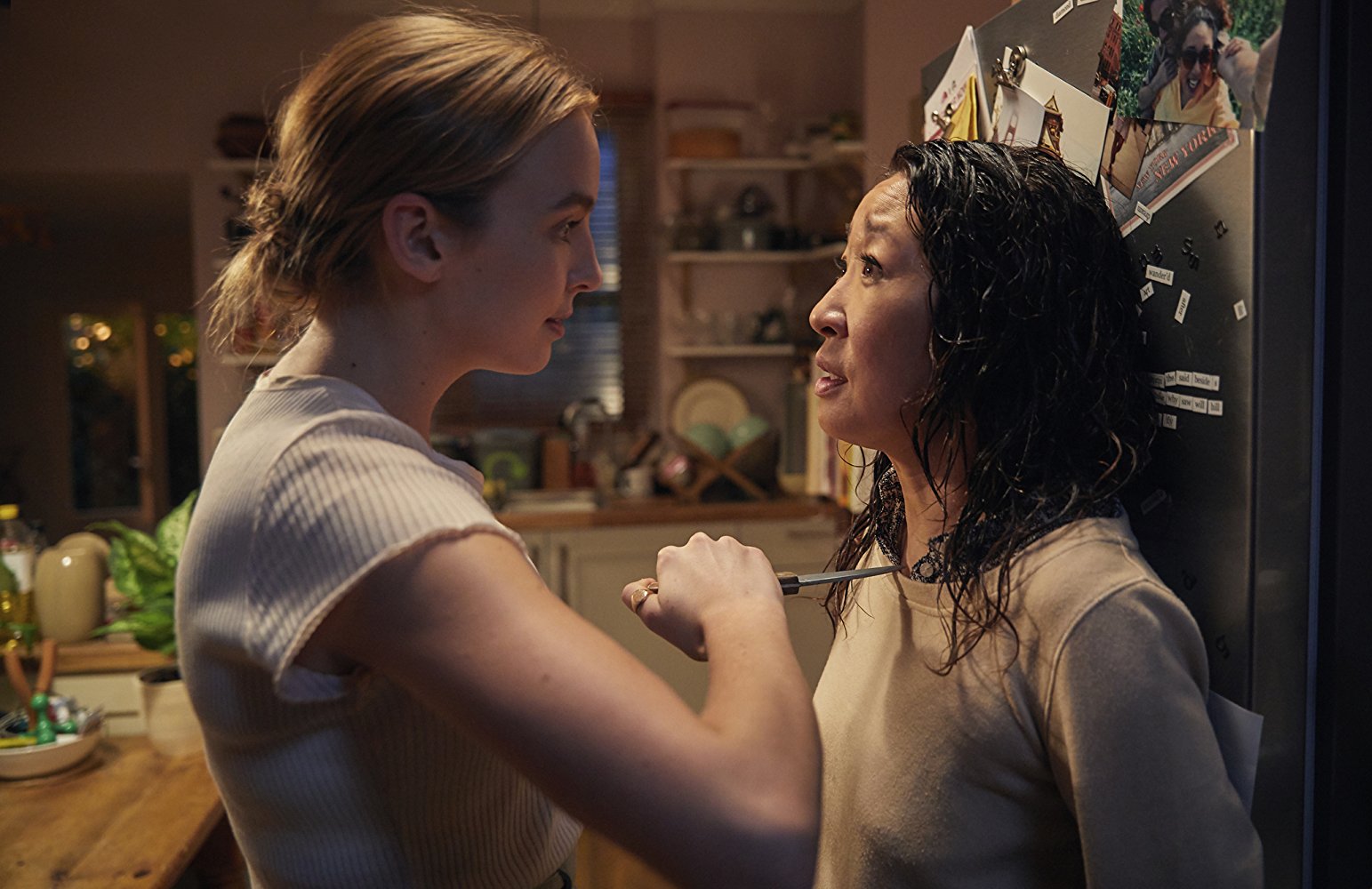 The writers go deeper into this obsession than having one character say to another that they're obsessed. Visually, Killing Eve uses wardrobe and composition to link the characters. When Eve decides to try on the tailored and expensive clothes Villanelle sends her, the metaphor is effective as we learn Eve maybe wants to be Villanelle, the latter's exotic and expensive life contrasting her own humdrum existence as a civil servant.
Likewise, Villanelle breaks into Eve's flat for some cottage pie because she wants normalcy she has never had — the assassin is desperate for domesticity and is willing to kill to get it. Hints of this dynamic are sowed in the silent opening scene as Villanelle wants a child's attention. She mimics the actions of the waiter who already has the young girl's attention and when her attempts don't work, she knocks over the girl's ice cream.
It's a darkly funny moment that reveals how Waller-Bridge blends spy tropes with humour. It shouldn't be surprising that the creator and star of Fleabag has crafted a serious drama that is incredibly funny. As Frank (Darren Boyd), desperately runs across a field fearing for his life, he does so while "running and crying", starkly contrasting the efficient and cold spy aesthetic film and TV often displays. As Konstantin (Kim Bodnia) makes a getaway, he flips the bird, a reaction that lightens the tone while maintaining the stakes. Killing Eve might be the only spy show to say the word: "Dickwad." It's a unique tone, and the sharp writing let's you overlook the rushed conclusion and dangling subplots.
Oh, Comer and Waller-Bridge succeed because of the supporting cast. Fiona Shaw is excellent as Eve's boss, always ready with a severe putdown or sexual innuendo. Bodnia plays Konstantin with slippery malice and both actors' authoritative careers lend the show some gravitas. While Darren Boyd and David Haig deliver excellent comic relief. Bring on season two in 2019.
★★★★★